Posted on
Sun, Mar 27, 2011 : 12:56 a.m.
Michigan hockey team headed to Frozen Four after 2-1 win over Colorado College
By AnnArbor.com Staff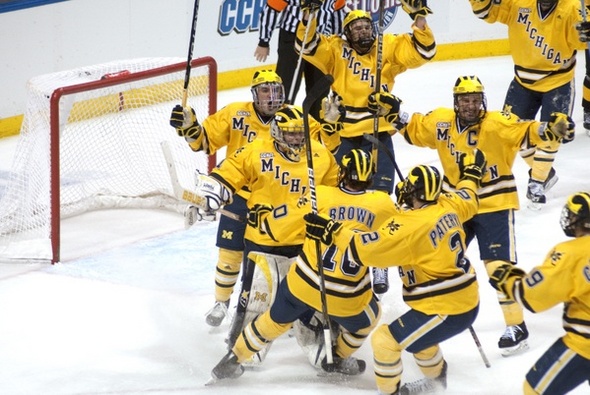 Tim Vizer | Icon SMI
This time, the Michigan hockey team had some control over the final anxious moments on the Scottrade Center ice.
A Wolverines defense that had shut down Colorado College for the first 56 minutes of Saturday night's NCAA West Regional championship game in St. Louis held off a late Tigers rally for a 2-1 win and a trip to the Frozen Four.
On Friday night, Michigan stirred nervously near its bench during a 10-minute video review before Kevin Lynch's overtime game-winner against Nebraska-Omaha was allowed.
On Saturday, goalie Shawn Hunwick handled the final moment himself. He knocked away one last wrap-around chance by Colorado College at the regulation buzzer and the Wolverines swarmed him to celebrate their nation-best 24th trip to the Frozen Four and their first since 2008.
It was a fitting end to a game that Michigan coach Red Berenson said was determined by his team's penalty killing and goalkeeping.
"It's pretty easy to stay in the game when you're playing to go to the Frozen Four," said Hunwick, who didn't see much action as the Wolverines' defense bottled up the Tigers. "They didn't really get anything going too much until they got into the power play. Once they got into the power play, I really had to be sharp."
Michigan (28-10-4) took a 2-0 lead in the first period and limited opportunities for a Colorado College (23-19-3) team that chased two-time NCAA champion goalie John Muse of Boston College with seven goals in two periods during an 8-4 regional semifinal win Friday.
"For Colorado College to score like they did (Friday) night, against arguably the best team in college hockey, might have put the fear of God in our team and made us play better out of respect," Berenson said.
The Tigers finally got on the board at the 16:25 mark of the third period when Rylan Schwartz scored on the Tigers' seventh power play opportunity of the game.
"Obviously, we got outshot badly, but all in all there we are with 30 seconds left with a chance to tie it and a couple good chances to boot," Colorado College coach Scott Owens told the Associated Press. "We didn't have quite the same jump we had (Friday) night.
"We were a little tired in some areas, and part of that had to do with Michigan."
Michigan outshot the Tigers 43-22, with Tigers goalkeeper Joe Howe making a career-high 41 saves (Boxscore), but the Wolverines only needed one to take an early lead.
Scooter Vaughan weaved through the Colorado College defense on a 2-on-4 break and scored on the first shot of the game just 2:23 into the first period.
Sophomore defensemen Lee Moffie, who assisted on Vaughan's goal, added a 5-on-3 power play goal at the 17:33 mark of the first period that would prove to be the game winner.
Vaughan's goal was his first in six NCAA tournament games and helped his senior classmates return to the Frozen Four for the first time since their freshman season.
"Being freshmen, I think we were followers of the seniors," Vaughan said. "Now it's our senior year and we really showed these young guys how to play the game of Michigan hockey.
"It means a lot to get back there and is really a lot more special this time."
The Wolverines head to St. Paul, Minn., for Thursday's national semifinal. They'll play the winner of Sunday's Northeast Regional title game between North Dakota (31-8-3) and Denver (25-11-5).