Posted on
Tue, Dec 7, 2010 : 6:02 a.m.
Michigan hockey team gets its first taste of outdoor environment in laid-back skate at Michigan Stadium
By Jeff Arnold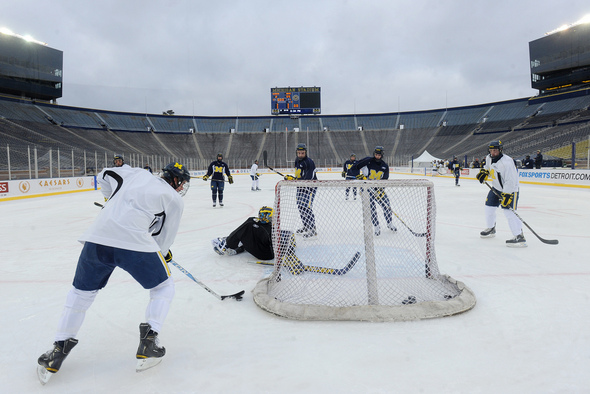 Melanie Maxwell I AnnArbor.com
When Michigan hockey players venture inside the school's storied football stadium, the purpose is usually to run its steps.
The conditioning drill is a tiresome team-building exercise used by coach Red Berenson to physically prepare the Wolverines for the rigors of the long season ahead.
Clearly, many of Michigan's players weren't fully ready for the conditions they faced inside Michigan Stadium Monday. A day before the Wolverines begin formal outdoor practices for Saturday's Big Chill At The Big House (3 p.m., Fox Sports Detroit), they got their first dose of the environment in which they will face Michigan State.
Forward Louie Caporusso jokingly wondered if there was hot chocolate in the Gatorade bottles. Goalie Shawn Hunwick inquired about the availability of hand-warmers. Sophomore Chris Brown, a Texas native, was just plain cold.
"I warmed up, eventually. It took me a couple seconds," Brown said Monday afternoon, his cheeks still reddened from an hour spent in the elements. "But you take a second to look around and you see actually how big it is when the fans aren't in there, you don't have to run the stadium and you actually get to skate around in it and have a little fun.
"But it's pretty amazing to come out and see everything and you see the rink and all those empty seats. It's pretty awesome."
The Wolverines will practice on the Big House rink for the rest of the week, leading up to Saturday's showdown with rival Michigan State. But Monday's skate took place, for the most part, without coaches watching, allowing the Wolverines to relish their first on-ice experience inside an empty stadium.
Adding to the ambiance was the light snow and bitter temperatures that greeted Michigan's players as they emerged from the tunnel.
"This takes it back to the old days, when you were a kid skating on the pond," Swedish senior forward Carl Hagelin said. "It was all about being out there, having a little fun.
"You love the game so much and when you come out there, you love it even more."
Beginning Tuesday, the focus will shift to an all-business mentality. The No. 12-ranked Wolverines are coming off a weekend split at Ohio State that dropped Michigan into third place in the CCHA standings.
With a lot of hype surrounding the sold-out event, Berenson has done his best to keep his team's focus on the business at hand. He limited how much players talked about the Big Chill, well aware it would be here before he knew it.
"Now, we can say it's our next game so we don't have to keep it off in the distance and worry about current games," Berenson said Monday. "We can start worrying about it now. It's a reality.
"You can't pretend it's not going to happen. Let's face it - people are talking about it, it's on the internet, it's all over. But we're used to playing in big games and this is a big game coming up."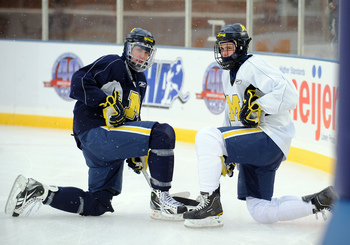 Melanie Maxwell I AnnArbor.com
Monday, however, was all about fun. It rekindled childhood memories of playing outdoors, although none of the players could boast having to shovel 3 feet of snow off frozen ponds like Berenson did growing up in Regina, Saskatchewan.
"I always thought I was Steve Yzerman or Sergei Fedorov on the pond," said Hunwick, who played on a pond with his brother, Matt, a defenseman with the NHL's Colorado Avalanche. "You hit each other in the snow banks, all that kind of stuff. It's just a lot of fun."
While many of Michigan's players had experienced the elements, they admitted skating inside a football stadium that is expected to draw more than 109,000 fans Saturday was a bit different.
"You're used to trees and snowbanks and my dad's make-shift Zamboni, which was an old lawn mower with a shovel on the front of it," goalie Bryan Hogan said. "So it was a lot different today."
Jeff Arnold covers Michigan hockey for AnnArbor.com and can be reached at (734) 623-2554 or by e-mail at jeffarnold@annarbor.com. Follow him on Twitter @jeffreyparnold.