Michigan hockey team hopes to rebound against Notre Dame after embarrassing loss to Michigan State
Posted on Thu, Nov 15, 2012 : 5:34 a.m.
A.J. Treais is off to the best start of his Michigan hockey career. Through nine games the senior captain leads the NCAA with eight goals. With his five assists, Treais has 13 points, which is sixth in the nation.
For a player that struggled with consistency throughout his career, it appears Treais has put it all together for his senior season.
But when he skated off the ice last Saturday night, Treais didn't feel like a player playing the best hockey of his career. After a 7-2 loss to Michigan State, Treais was disgusted.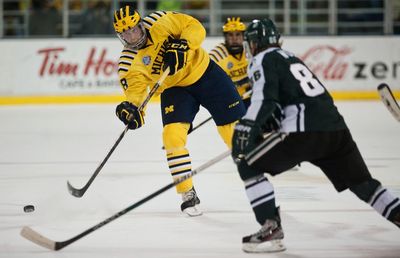 Daniel Brenner | AnnArbor.com
"Since I've been here, that's the most I've been embarrassed in a game," Treais said after practice on Monday.
The seven goals against and the five-point losing differential are both the highest for a Michigan team since 2008.
What made Saturday especially frustrating for Treais and his teammates is the fact that they dominated Michigan State the night before in a 5-1 win.
"If you look at us on Friday, we looked like a really dominant team. It's kind of confusing how you can kind of show up one night and poop the bed then next day," Treais said.
Offensive production hasn't been the problem for the Wolverines this season, who as a team are second in the nation with 4.22 goals scored per game. It's on the other end of the ice where Michigan has struggled, giving up 3.56 goals per game.
Over its past five games Michigan (4-4-1 Overall 2-3-1-1 CCHA) is 1-3-1 with 20 goals against.
"How are you gonna win when you're giving up four goals a game?" said Michigan coach Red Berenson.
"As a D-corps, you know, you have to take it personally. And we've been letting up too many goals the whole year," said senior defenseman Lee Moffie. "It's not just the seven. We've been averaging three or four goals against a game, which is unacceptable. We have to take it personally as a whole group."
Berenson believes his team needs to become tougher mentally.
"Absolutely they're not there yet (mentally). The captains the leaders the seniors and right down through, even the young players need to learn how to win back-to-back games," Berenson said.
In three two-game CCHA series so far this season, Michigan is undefeated in openers, but has yet to muster a point in the second game.
"If you're going to sweep a team you need to play better than you did Friday because they're going to play better. That's just the way college hockey is," Berenson said. "You don't win by relaxing after the first game and thinking it's going to be easy the next night."
Thirteenth ranked Michigan will look to right its wrongs this against No. 8 Notre Dame (6-3-0 Overall 3-1-0-0 CCHA) in a Thursday-Friday series at Yost (Thursday, 7:35 p.m. CBS College Sports Network; Friday, 7:35 p.m., Xfinity 900)
"I hope (Saturday's loss) is a wake up call for everyone. We're 4-4 right now and that's not a Michigan record," Treais said. "Obviously we've got to put that behind us, Notre Dame's going to be probably the best team we've played so far, so we've gotta refocus."