Posted on
Tue, Mar 2, 2010 : 10:31 a.m.
Michigan hockey team has right mindset to begin CCHA playoffs
By Jeff Arnold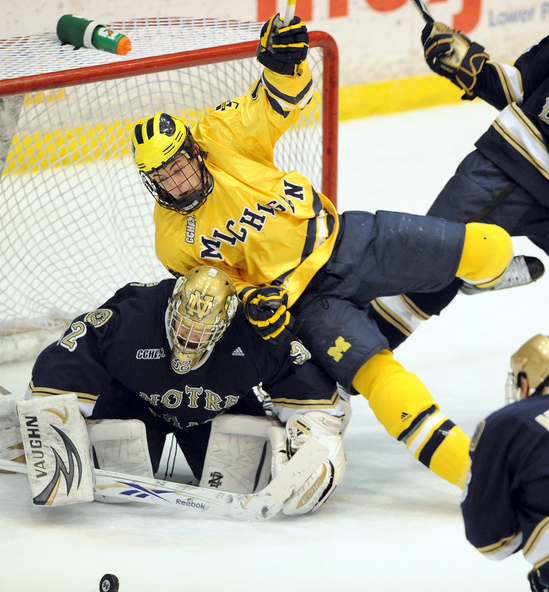 Never mind that the CCHA tournament doesn't begin until Friday. The Michigan hockey team has been in playoff mode for weeks.
Following a finishing stretch when every game mattered and a mere points separated the league's top teams from the middle of the pack, the No. 7-seeded Wolverines feel well prepared for this weekend's best-of-three series against No. 10 Lake Superior State.
Michigan has won two of its last three games and is 6-1-1 at Yost Ice Arena during the second half of the season. Although the Wolverines already own two wins against the Lakers this season, those victories came in October.
In the final weeks of the season, Michigan coach Red Berenson said he liked the sense of urgency the Wolverines played with. And despite failing to finish in one of the league's top four spots, the dogfight Michigan found itself in over the past month has readied the Wolverines for the postseason.
Michigan (19-17-1) likely needs to make a deep run into the CCHA Tournament - if not win it - to earn its record 20th straight NCAA appearance.
"We've been on the brink here for a long time this season and we've been trying to play playoff hockey trying to get us back in the groove," junior forward Matt Rust said Monday. "But playoff hockey is playoff hockey and, obviously, if we lose now, we're done."
Unlike a regular-season weekend, Michigan faces the possibility of having to play three straight days with the winner moving on to next weekend's CCHA quarterfinals. Outside of an undisciplined second period Saturday at Notre Dame when the Wolverines allowed four goals in a 5-3 loss, Michigan has played well overall despite struggling at times on the power play.
Despite finishing five games under .500 in the CCHA, Lake Superior State's brand of hockey is similar to Notre Dame with the Lakers stressing tough defense.
Berenson said his team will need to put a lot of pucks on net, hoping to generate the kind of offense did in a 4-0 shutout of the Irish last Thursday at Yost.
"The mindset is right, and I think we're fine," Berenson said Monday. "We have to have a good week, we have to be ready Friday and we have to be ready if we need to play Friday, Saturday, Sunday. It's not like two regularly scheduled games. Friday's game is huge and Saturday's game is huge."
Shawn Hunwick remains top option in net Berenson said it's likely junior goalie Shawn Hunwick will again be in net this weekend after starter Bryan Hogan continues to nurse a groin injury.
Hogan did not practice Monday after suffering the injury in the first period of Thursday's victory over Notre Dame. Hogan watched Monday's practice from the stands with his upper leg heavily wrapped.
"Hunny's going to play - that's the way I'm looking at it," Berenson said.
Berenson didn't rule out that Hogan could practice later in the week. If Hogan were to get in a couple of practices, Berenson would consider using him after seeing his string of 41 straight starts snapped Saturday night.
Hunwick made 20 saves in Saturday's loss, but was rattled after Notre Dame beat him for its first goal in the second period after Hunwick made five saves over the first 20 minutes.
"He got out of sync," Berenson said. "He still made a couple of good saves, but those goals, he would save every day in practice. Those aren't goals that wouldn't normally go in, and he knows that. He needed to put that behind him and say, 'never mind' and move on. And he didn't."
Upon review Berenson said he plans to send a video of Saturday's game to the CCHA offices in Farmington Hills after what appeared to be a Chris Brown goal was waved off by game officials.
Despite TV images that indicate that Brown's shot flew under the crossbar and into the back of the net, referees determined the puck instead hit the crossbar. The goal would have extended Michigan's lead over the Irish to 3-1. Instead, the scored remained 2-1 before Notre Dame scored three more times in the period en route to the 5-3 win.
On Monday, Berenson produced a still photo from a camera angle that showed the puck in the back of the net. At issue is the lack of technical equipment that would have linked the Big Ten Network's replays to the ice-level for game officials to review.
Instead, referees had to depend on an out-of-focus image from an overhead camera to make the call.
Two years ago, league officials vowed to purchase two sets of the linking equipment that would allow TV footage to be used on reviews.
Berenson said the league asked Michigan to purchase the equipment, which it did and which is used on a regular basis at Yost. But the league did not buy the equipment leaving rinks like Notre Dame's to depend on a single view.
"The system did not work," Berenson said. "Everybody on TV can see the puck go in the net, and it's an embarrassment. Here's schools like Notre Dame and Michigan and the CCHA and their reputation goes down. What the hell is that?"
Playoff tickets Tickets are available for this weekend's series with Lake Superior State. Friday and Saturday night's games will begin at 7:35 p.m. as will the deciding game on Sunday, if necessary. Tickets are available at MGoBlue.com or at the Yost Ice Arena ticket office. Friday's game will be televised on Comcast. Saturday's will be broadcast by Fox Sports Detroit.
Jeff Arnold covers Michigan hockey for AnnArbor.com. He can be reached at jeffarnold@annarbor.com or 734-623-2554. Follow him at Twitter @jeffreyparnold.