Posted on
Fri, Mar 22, 2013 : 5:45 a.m.
Michigan hoping to parlay unlikely CCHA Tournament run into NCAA Tournament berth
By Kyle Austin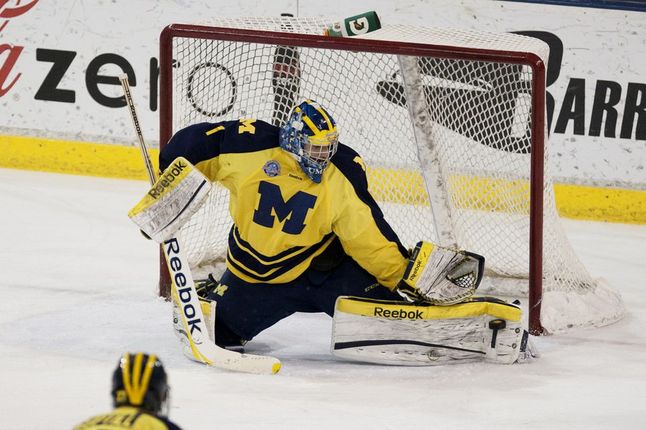 Andrew Kuhn | AnnArbor.com file photo
For the 24th time in 24 years, Michigan is headed to Joe Louis Arena for the CCHA tournament semifinals.
And for the second time in four years, it does so with its back against the wall.
The Wolverines head into a 4:35 p.m. matchup with top seed Miami needing a win to extend its unlikely tournament. With a sub-.500 record, Michigan needs a win Saturday and a win in the tournament final Sunday to extend its 22-year NCAA tournament streak.
For Michigan's coaches and seniors, the situation isn't unfamiliar. In 2010, Michigan came into the tournament as the No. 7 seed, before sweeping six tournament games and winning the title.
After Saturday night's quarterfinal-clinching win in over Western Michigan, seniors A.J. Treais and Kevin Lynch said this run feels similar. Coach Red Berenson sees the similarities, too, for a team that also started this tournament as the No. 7 seed.
"When you look at 2010, we ended up in seventh place, we couldn't seem to put two good games together," Berenson said. "Our goals against, our offense, a little bit of everything was sputtering. And then all of a sudden we got going."
In its 2010 run, goaltender Shawn Hunwick backstopped a Michigan team that gave up only eight goals in six CCHA tournament games.
This year, while improved goaltending has been a big part of Michigan's turnaround and current eight-game win streak, Berenson doesn't see goaltender Steve Racine's play as the sole catalyst.
"I don't think that we've had any one individual," Berenson said. "I think that our team has kind of just got going."
That's very similar to 2010. Though Hunwick put the team on his back in the 2011 run to the NCAA finals and was a star throughout his Hobey Baker finalist senior season, in 2010, the former walk-on was still very green. It took a unified defensive effort to push Michigan on, much like what is happening now.
Like in 2010, Michigan will start the weekend with a semifinal game against Miami. And while Michigan is by far the hottest team in the league, coming off back-to-back sweeps in the first two rounds of the tournament, Berenson doesn't see his team as a favorite.
"When we used to go against them we were always the favorite, and now we're the underdog," Berenson said. "It just shows you that they are definitely a legitimate first-place team."
But he also acknowledged that Michigan's NCAA tournament future is still on the line, while Miami's is secured.
"Obviously they have a lot on the line," Berenson said. "But they're going to be in the tournament."
Michigan hasn't faced Miami since Oct. 26-27, when the teams split a series in Ann Arbor. Berenson said he was very impressed with Miami that weekend.
"When they left here I wasn't even sure they would lose a game," Berenson said.
Racine started the first game of that series, earning a 4-2 win. But he's not putting much stock into that now.
"That was a long time ago, they've obviously probably gotten a lot better this year, they've had a great year," Racine said.
After that start, Racine struggled through the next two months of the season. When he took over at Ohio State to start Michigan's current eight-game win streak, Berenson said it was less because Racine had looked better in practice than because it was his turn.
"He came back in by default, not because he looked any better than anybody else," Berenson said. "Everybody else had been given that good chance and hadn't been doing it. It was his turn."
A month later, Racine's turn is still not up.
Racine's improvement, plus improvements in defense and goal-scoring has Michigan looking like it could make another unlikely CCHA Tournament run and parlay it into another NCAA Tournament berth.
"It's the whole team playing better and helping me out," Racine said. "And my confidence has grown, too."
Kyle Austin covers sports for AnnArbor.com. He can be reached at kyleaustin@annarbor.com or 734-623-2535. Follow him on Twitter @KAustin_AA.