Justin Meram sticks with one Michigan sports team for now, plus Wolverines' football injury report before Bowling Green
Posted on Fri, Sep 24, 2010 : 2:03 p.m.
When Justin Meram scored a game-winning goal for the Michigan soccer team in the 89th minute last week against Oakland, he was thrilled to see good friend Brendan Gibbons cheering in the stands.
At some point, he plans to return the favor.
Meram, who became friends with the Michigan placekicker while practicing with the football team during summer camp, expects Gibbons will boot a game-winner for the Wolverines.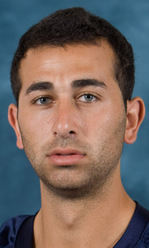 "It's like soccer or any other sport," Meram said. "When you have, say, some swagger, your confidence is high and everything is going right. I told Brendan after the Notre Dame game, if he would have made the first, chances are he would have made the second."
Gibbons instead missed both field goal attempts against Notre Dame, and started the season 1-for-4 overall before being replaced by Seth Broekhuizen, who missed his only attempt last week against UMass.
Michigan coach Rich Rodriguez said he didn't know who would handle kickoffs, field goal attempts or extra points against Bowling Green on Saturday (noon, ESPN2).

For now, Meram is a spectator to the competition. He's concentrating on soccer this fall.
The senior initially tried to continue practicing with the football team, but the soccer team (4-1-3) played seven games in 15 days, including road trips to Seattle and Marquette. He needed rest.
That, combined with the complication of splitting his NCAA-allotted practice time between two teams, made the decision inevitable.
"Getting my mind focused with one sport is what you need to do at this level," Meram said. "Hopefully I can take my skills to the next level, and with some hard work and dedication, take whatever adventure is next for me."
The Michigan soccer team hosts Ohio State at 7 p.m. Saturday in its Big Ten opener. Meram, who led the Wolverines in scoring last year with seven goals and six assists, is a central part of their plans.
So far this season, he is the team's second-leading points-getter, with two goals and four assists, including that game-winner against Oakland and a game-tying goal against Notre Dame.
Still, there's a part of him drawn to football.
He excelled kicking and punting at Utica Eisenhower High School. Meram hadn't initially thought about carrying that interest to Michigan, but Zoltan Mesko offered him pointers during his freshman year and that rekindled his interest.
He worked out with the Wolverines football team during his junior year, and last spring nailed 6 of 7 field goal attempts during the annual spring game.
Right now, Meram is leaving his football future for others to decide.
"I'm a strong believer in whatever happens is going to happen," he said. "If I get a phone call, I get a phone call. If not, I'm all in for Michigan."
Injury report
Earlier this week, Rich Rodriguez had hoped Brandon Herron (ankle) would be ready to play against Bowling Green. He won't play. Fellow linebackers Carvin Johnson (knee) and Mike Jones (leg) have also been ruled out.
Safety Marvin Johnson (shoulder) and running back Fitzgerald Toussaint (knee) are listed on the team's injury report as probable.