Posted on
Sun, May 5, 2013 : 4:05 p.m.
Michigan softball turns beanballs into long-balls in regular season finale
By Pete Cunningham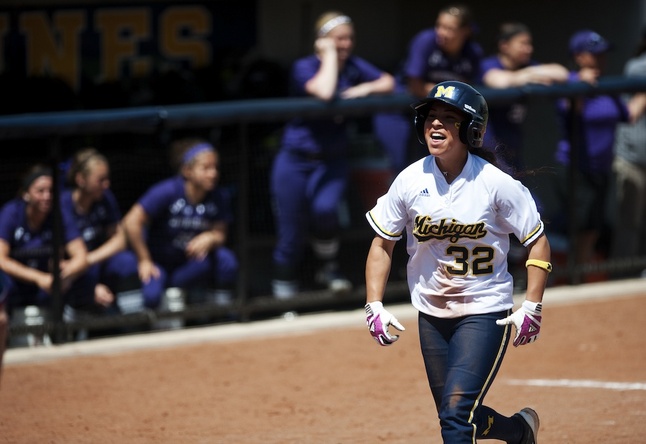 Daniel Brenner | AnnArbor.com
The
Michigan softball
team has more than one hitter in its lineup. Northwestern found that out the hard way on Sunday at Alumni Field.
A day after freshman shortstop Sierra Romero hit her 22nd homerun of the season, a new single season record for the Wolverines, the Wildcats did everything to keep Romero from hurting them. Northwestern pitcher Amy Letourneau pitched around and at Romero, beaning Romero in her first two plate appearances and walking her on her four straight pitches before intentionally walking her in her final appearance.
The middle of the Wolverines lineup made Northwestern (30-21, 12-10 Big Ten) pay for the strategy, bringing Romero home after each of her four walks to power Michigan to a 9-3 win at Alumni Field on Sunday.
More coverage: Photo Gallery | Boxscore
"We have more than one hitter in our lineup and I think we showed that," Michigan coach Carol "Hutch" Hutchins said. "Our game plan was, if she hits you, let's make it a run and she made it runs."
Romero was hit in the head by a pitch in the bottom of the third inning, sending the crowd at Alumni Field into a chorus of boos as Letourneau had hit Romero in three straight plate appearances dating back to Friday. The boos quickly turned into cheers as Caitlin Blanchard sent the very next pitch over the right centerfield fence to give Michigan a 4-3 lead.
"It felt really good. It was just great, the crowd was all fired up, booing the Northwestern pitcher and everything and when the crowd's into and when the whole team's into it, it's just so much easier to just go up there and just get the job done," said Blanchard, who finished 2-for-2 with four RBIs and two runs scored.
Blanchard was met at home plate by an ecstatic Romero. Blanchard said what she was greeted with shouldn't be repeated as emotions were running high after the hit-by-pitches.
"I was pretty pumped about it," Romero said with a grin. "I have so much confidence in Caitlin, I just know she can get the job done and when she does, it's just a great feeling."
Blanchard and Romero were walked back-to-back the next inning - this time with Blanchard getting hit by a pitch - and Ashley Lane made the Wildcats pay with a three-run homerun to put Michigan up 7-3.
"The thing that we focus on is just do your part and Caitlin, they walk Romo and she had an opportunity, as Ashley did, and if you get your opportunity, make good on it," Hutchins said.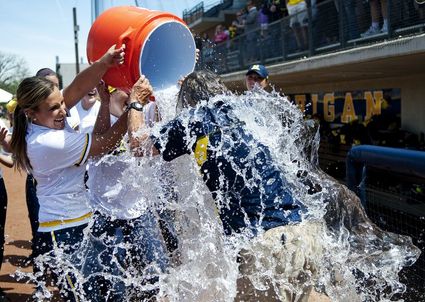 Daniel Brenner | AnnArbor.com
Hutchins received an overdue ice water bath as Michigan was presented with the Big Ten Trophy following the game. Michigan (44-9, 20-2 Big Ten) wrapped up
its sixth straight conference championship on Friday
and will be the top seed in the Big Ten Tournament next weekend.
After four years of not having a conference tournament, Hutchins said she's looking forward to its reintroduction.
''It's a good way to get ready for regional tournaments," Hutchins said. "The games are very meaningful because it's a one and done … . it should be very competitive and you want your kids competing hard at this time of year."
Pete Cunningham covers sports for AnnArbor.com. He can be reached at petercunningham@annarbor.com. Follow him on Twitter @petcunningham.