Posted on
Tue, May 3, 2011 : 2:49 p.m.
More details on Ypsi High School's 1921 'Retro' Mr. Basketball winner George Haggarty
By Rich Rezler
George A. Haggarty has met some of the state's Mr. Basketball honorees in his role on the committee that selects the Detroit Athletic Club's high school athlete of the year.
When he was forwarded a link to an AnnArbor.com article from April 20, he learned that his father - also named George Haggarty, with no middle name - had earned that same award 90 years after graduating from Ypsilanti High School.
"It just tickled me that this buddy of mine saw it," said Haggarty, a 69-year-old resident of Grosse Pointe Farms.
At the time that the Basketball Coaches Association of Michigan named the elder Haggarty a recipient of the 1921 'retro' Mr. Basketball award, AnnArbor.com was unable to verify much about what he did after high school beyond playing basketball at the University of Michigan.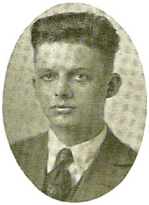 Courtesy Ypsilanti Public Schools
Haggarty's exploits at Ypsi High are documented in the previous story. George A. Haggarty filled us in on the rest:
Haggarty, who had moved from New Orleans to Ypsilanti to live with an aunt, was one of just four two-sport athletes in his class at Michigan and was the captain-elect of the basketball team in 1925.
George A. Haggarty has a New Orleans newspaper clipping that reported in 1924 Haggarty "was acclaimed the greatest basketball player of the Big-Ten and was almost a unanimous selection for the mythical all star cage team."
Haggarty also played baseball at Michigan. The same newspaper clip says he was "one of the fastest men on the paths and is an accurate and steady fielder as well."
After playing a little professional basketball after graduation, Haggarty attended law school at Michigan. Upon graduation, he went to work at Dickinson Wright law firm in Detroit for 20 years.
Haggarty opened his own law practice in the late 1940s and, in George A. Haggarty's words, "eventually combined his legal knowledge with his business acumen to become a very successful private investor in both real estate in the Detroit area as well as mineral interests in Texas."
Haggarty fed another athletic pursuit by purchasing the Lake Point Country Club, which is now a St. Clair Shores municipal course. He was a nationally competitive senior golfer in the 1960s and was honored by the Michigan section of the PGA in 1968.
He died in 1971 after a brief battle with leukemia. He was 68.
"In the last month of his life, he was able to play golf once, shooting a round in the mid-70s," George A. Haggarty said. "He was a wonderful husband, father, and grandfather. Throughout his life, his competitive zeal made him a success in everything he did."
Rich Rezler is a sports producer for AnnArbor.com. Contact him richrezler@annarbor.com or 734-623-2553.