Posted on
Mon, Mar 25, 2013 : 6:15 a.m.
Team USA NTDP hockey player Steven Santini balances family, school while chasing dream
By Joseph Tobianski
The presence of the University of Michigan ensures that Ann Arbor is never a stranger to world-class athletes as future NFL, NBA, NHL and Olympic stars regularly spend their formative years in the college town.
Right down the street from the Big House and Crisler Center is another hotbed for elite talent at the Ann Arbor Ice Cube, the home of USA Hockey's National Team Development Program. The NTDP invites the top 16, 17, and 18 year olds in the nation to train to play for their country. It's the reason Steven Santini moved from the small New York town of Mahopac to Ann Arbor two years ago.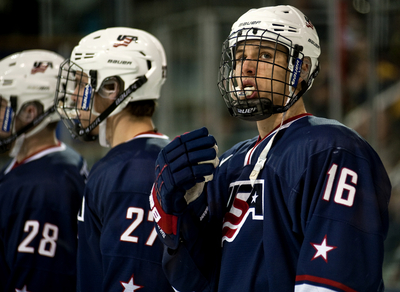 Joseph Tobianski | AnnArbor.com
Santini was born into a hockey family. His father, also named Steven Santini,
played for the University of Maine in the 1980's and owns an ice arena.
"It was pretty obvious at a young age I was going to be a hockey player," Santini said.
Santini's upbringing proved beneficial when he was invited to train with the NTDP U-17 team before his junior year of high school.
Despite the fact that their son would have to move 10 hours away from Mahopac, Santini's parents were very excited for him, and supportive of his decision to play for his country and pursue his dream to playing hockey at the highest level.
"It's just weird being away from my parents and being at a new school is kind of a tough transition, but my family supported me and it made it a lot easier," Santini said.
Santini's daily schedule is more comparable a collegiate athlete than it is to a typical high school student. He and his teammates attend Pioneer High School during the day, and immediately after report to practice at the Ann Arbor Ice Cube.
Head coach Don Granato along with his staff conduct a highly intense practice. The training consists of conditioning and lifting weights twice a week in addition to their practice which is just about everyday. The NTDP U-18 team plays in the United States Hockey League and in exhibitions against top college programs across the country in addition to their national tournaments around the world.
The U-18's beat the University of Michigan and Michigan State in exhibition contests this year.
"The team is just the best in the country at developing players. I have seen the success that a lot of good players had coming out of here, so it was kind of a no-brainer for me to come out here and play," said Santini.
After the day is through, it is time for Sanitni and his teammates to head to their host homes. Since the players come from every part of the country, families in the Ann Arbor area volunteer to host the players for the year.
Steven lives with the Bullinger family with host-mother, Jodi, father, Chris, brother, Wyatt, 12, and sister, Autumn, 9.
Santini is the second player from the NTDP to live with the Bullingers.
"Family can be defined in so many way. They become a part of your daily life," Jodi said.
The Bullingers got started in the program in August of 2009, a few short months after the death of Jodi's father. When Jodi was a young girl, her father, a former teacher, opened their home to a student in need who quickly became just as much a part of the family as those born in.
Joseph Tobianski for AnnArbor.com
Jodi wanted to help commemorate her father and she saw helping a NTDP player as the perfect opportunity.
"(Steven) is a really solid human being. He has been a fantastic role model and he adds an awesome energy to our household," Jodi said. "He is one kid who is wise beyond his years."
This year the NTDP has the highest combined GPA in the program's history with a 3.54. With plans to play at some some of the best schools in the country, most of the players look to keep up the good grades, but its clear where their focus lies.
"They are very serious about school work and our attendance and keeping up our good grades, but at the end of the day I want to be a hockey player and that is very important to me," said Santini.
Santini has a bright future ahead of him. He'll play for Boston College next year and this summer is projected to be a high selection in the 2013 NHL Draft in June as one of the country's top-rated defenseman.
The dream he's worked so hard and so long for is quickly becoming a reality.
"He has the great foundation of work ethic and competitiveness," Granato said. "He is a guy who should have a good long career in this business."
Joseph Tobianski is a freelance photographer for AnnArbor.com.