Posted on
Thu, Aug 11, 2011 : 5:30 p.m.
NCAA opens formal investigation of Eastern Michigan women's basketball program
By Jim Knight
The NCAA wants to take a closer look at the Eastern Michigan women's basketball program.
The university announced Thursday that it received a Notice of Inquiry from the NCAA, the official start of an investigation.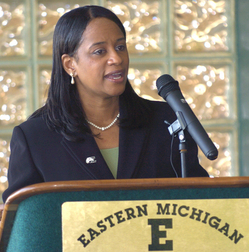 Eastern self-reported four major NCAA violations and suspended head coach AnnMarie Gilbert for 30 days without pay in September 2010. The violations included "exceeding limits on practice time, improper coach involvement in voluntary practices, and two individual violations regarding prospective student athletes participating in organized workouts," the university said in a release today.
Eastern also put a salary freeze on Gilbert, ordered her to attend counseling and gave her a letter of reprimand. Eastern also suspended assistant coach Darin Thrun, who was accused of telling players to lie about practice hours, and gave him a letter of reprimand. Thrun left the program in May and accepted an assistant coaching position at Saginaw Valley State. Associate head coach LaTonya Tate also received a letter of reprimand.
The NCAA notes there are three triggers for its enforcement staff to investigate a school. Those are:
Information indicates an intentional violation may have occurred.
There is a chance a significant competitive or recruiting advantage was gained through violations.
False or misleading information was given to the NCAA.
"We will continue to cooperate fully with the NCAA, and will work through this matter until its resolution," Eastern Michigan athletic director Derrick Gragg said in a statement.
The notice from the NCAA said the enforcement team expects to complete its investigation by October.
Eastern went 24-13 last season and reached the third round of the Women's National Invitation Tournament. Eastern is 71-55 in four seasons under Gilbert.
Eastern's original report to the NCAA said the Eagles exceeded the daily four-hour limit for practices, sometimes by as much as two hours. The investigation was launched in July 2010 when a player approached officials in the athletic department.
Download the Notice of Inquiry: NCAA letter 082011.pdf
VIDEO FROM EASTERN'S ANNOUNCEMENT OF VIOLATIONS IN SEPTEMBER 2010