Posted on
Sun, Apr 24, 2011 : 5:58 a.m.
New Eastern Michigan basketball coach Rob Murphy talks philosophy, influence and staff
By Michael Rothstein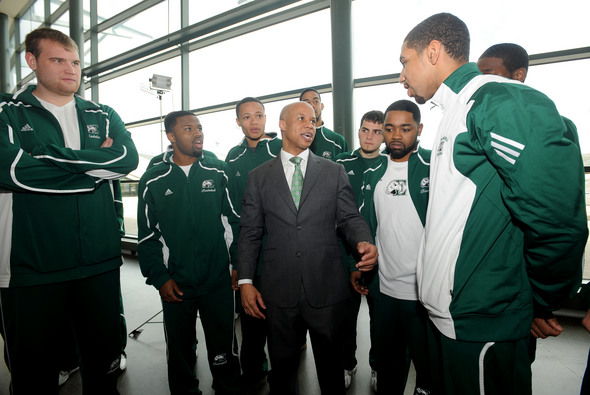 Angela J. Cesere | AnnArbor.com
When Rob Murphy was hired as Eastern Michigan's new basketball coach this week, he brought connections to his home city, Detroit, as well as a breadth of experience as an assistant coach.
He also happens to be the rare under 6-foot man who coached primarily forwards at Syracuse.
"We used to go at it," former Syracuse forward Terrence Roberts said. "He's very competitive, and I'm very competitive. It made me a better player. He just wanted me to finish. He knew I could dunk, I had a 40-inch vertical, 41-inch vertical when I was in college, so there was no point in laying the ball up.
"He did a great job. Little guy being the big guys coach, that's not an easy task right there."
Murphy has a larger task now trying to rebuild the Eastern Michigan program. In a 20-minute interview with AnnArbor.com two hours after he was hired by the Eagles, Murphy explained his coaching philosophies and more.
Q: How would you describe your philosophy because you haven't been a head coach in a long time?
Rob Murphy: My philosophy is simple on offense. You put players in position to be successful, to make plays for themselves and their teammates. I'm an uptempo type of guy. When you get the opportunity, you want to get out in transition and if you can get early opportunity layups, offensive layups, that's a good thing. If not, depending on our personnel and everything is predicated on personnel, if we can get the ball inside, that's always good. High-percentage shots, high-percentage offense. Our offensive philosophy will be an uptempo style of play, executing in the halfcourt and, for the most part, let players make plays and don't overcoach.
Q: On defense do you take the 2-3 (zone, which is run at Syracuse)?
RM: Defense, I love man-to-man, hard-nosed man-to-man, deny, help-type of guy, in-your-face pressure, ball pressure. I think the 2-3 zone the way we play it at Syracuse is special, so I'll definitely implement that into our system. It's been successful because of the way it is run and the principles involved with it. More of a man-to-man guy, may press here and there. It just depends on the personnel. If I have my way and have everybody in place, I'll press some, I'll trap and just exciting basketball.
Q: You said during your introductory speech you want to win. What's your realistic timetable for that?
RM: I want to win now. I'm a now kind of guy. Losing doesn't sit well. I know you have to look at your personnel and be realistic, but at the same time I want to get the best out of the personnel we have here with player development and getting these guys better. I want to make sure the strength-and-conditioning program is implemented and (it's) really important for our guys to get stronger. But the timetable, I haven't set a timetable because I don't know what I have, but I want to win as soon as possible."
Q: The timing on this, you can't even go on the road (recruiting) now (until the summer).
RM: It kind of puts you behind the clock, so you have to use your relationships to try and get a player or two. We only have two scholarships now, so I'd like to pinpoint some guys who can play and help right away. But what's important is the 2012 class. That class will dictate how we'll be for the next three, four, five years. Extremely important."
Q: When you look at your maturation process as a coach, who influenced you the most?
RM: It was really my high school coach, Venius Jordan. That's who gave me the vision from Day 1 and I never let it go. All through college different people wanted to do different things. All I wanted was to graduate with a degree in education and come back and be a coach. Throughout the process of high school, I had a chance to learn from some great minds. Tom Izzo, spending time at his camps talking with him one-on-one. Tommy Amaker is great. I went down to the Bobby Huggins team camp and spent time down there and saw how he implemented the defensive rebounding drills. Rick Pitino's 1-on-1 camp, went down there and worked his camp twice and watched him do individual instruction. So even at the high school level, along with Perry Watson, who was at the time at the University of Detroit and had a really, really phenomenal program and was doing great things there, so I would go up there daily and watch him practice and the way he ran practice. At least twice a week for sure. Perry Watson did a tremendous job for the University of Detroit and there was a lot of teaching going on, a lot of teaching concepts offensively and defensively, so I learned a lot from him.
So those five guys. And then you go on to Kent State and work for Jim Christian and he really was an offensive genius, really good at getting guys in different places and having them really execute so I learned a ton from him. Then going to Syracuse, that experience speaks for itself being with coach (Jim) Boeheim and the doors he was able to open for me on the NBA level in training camps watching Larry Brown. Just watching a host of different coaches each and every year different coaches. Went to the Detroit Pistons training camp two straight years and watched Larry Brown. Watched Flip Saunders. Watched Scott Brooks down in Oklahoma City and was part of the USA Basketball and watched how they handled that. Just all the learning and watching and being around basketball, I was just soaking it up and soaking it up and soaking it up hoping one day I would get an opportunity to be a head coach.
Q: Going back to those high school days, did you ever envision being a college head coach?
RM: I wanted to be a head coach at the high school level, that's all I ever thought. Then when I got into coaching, you start building relationships through recruitment, and I had some of the top players, worked with some of the top AAU programs in the area with the Michigan Hurricanes so you're building relationships. So then you're like 'Wow, I can do what he do. I can do what he do.' Then you start envisioning, I'm a dreamer and I have a vision, so I start looking at those guys and said, 'That looks interesting. Let me give that a thought. I'll build this program (at Crockett), be successful and get to the next level.' Built it, worked hard at it and that's what happened.
Q: Getting back to when you were in high school, do you remember that first conversation where you wanted to get into coaching?
RM: It was in the fall of my senior year and I was going on official visits for football, but I was in love with basketball. So I kept going back and forth with him, what should I do, because I have a close relationship (with my high school coach). He said, 'You don't have to rush a decision but whatever you do, go to school and get your education.' When I told him I was so in love with basketball he said, 'Are you sure you don't want to play football?' Well then he said, 'You know you're not going to be a professional player in basketball. It's just not going to happen.' Very realistic. But he said if you want this game to do something for you, go to school, get your education and come back and coach. That's what I did. It was his advice that gave me the vision to coach.
Q: As far as a staff, do you already have an idea? Have you been getting a ton of calls?
RM: Yeah, I'm getting a ton of calls. You have no idea. It's overwhelming because you can't use your phone to make a call because a text or phone call is coming through. At some points you literally can't use your phone because one stops, one calls and goes to voicemail, empty your voicemail and 10 minutes later, it's filled again. So it's just different people with ambition. I can remember at one point I never really called and did it that way, but I can understand people wanting to coach and get an opportunity. So I understand that comes along with the job of being a head coach. You have to make decisions and not everyone is going to be happy but I have to make decisions for what's best for Eastern Michigan basketball and help get us to the next level.
Q: Do you have an idea of who you want to have?
RM: Guys who are well rounded as coaches, guys who can teach, relate to players and take their jobs serious. And loyal. Loyalty is very important and being a team player is being a very important. It's never about you, it's always about the team. I learned that."
Q: Do you want a guy with head coaching experience on your staff?
RM: It depends on the right fit. You can have head coaching experience and you may not. They came into this search looking for a guy with head coaching experience, and I was fortunate enough to get the job so I can't look at it like that. I just look at it as good guys and guys I want to bring in that can build the program up whether you've been a head coach or not.
Michael Rothstein covers University of Michigan basketball for AnnArbor.com. He can be reached at (734) 623-2558, by email at michaelrothstein@annarbor.com or follow along on Twitter @mikerothstein