Posted on
Thu, Jul 25, 2013 : 1:30 p.m.
Official says canceling Ann Arbor women's amateur golf championship saved city $4,000
By Pete Cunningham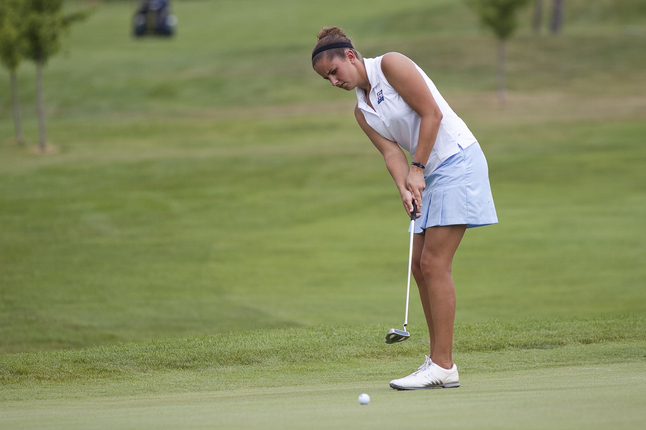 Jeffrey Smith | AnnArbor.com file
Canceling the Ann Arbor city women's golf amateur championship
was not a fun decision, but it was responsible one, according to
Doug Kelly
, director of golf for the city of Ann Arbor.
Kelly decided to cancel the annual tournament last Friday because only four women had registered. Last year the tournament drew 21 participants, and Kelly said the lowest he was willing to go was 18 - which would be sent off as six threesomes. When it became evident that number would not be reached, Kelly decided to pull the plug on the tournament, which was scheduled for July 27 and 28 at Leslie Park Golf Course.
"Ultimately, I have a fiscal responsibility to the city," Kelly said. "I have to keep several hours blocked off for the tournament and that's $176 per tee-time and on Saturdays and Sundays we normally fill them."
Kelly said blocking off the tee-times with that low of a participation rate would have cost the city approximately $4,000.
"With only four people signed up for the tournament a week out, we needed to release the tee-times to the public," Kelly said.
Kelly said last year's tournament drew 21 golfers compared to 33, 24, 27 and 35 in the four years previous. He said 50-60 percent of golfers are normally registered a week ahead of time.
One of the women registered for this year's tournament was former Grand Valley State All-America Sarah Hoffman, who has won the past four tournaments and was hoping to make it five straight.
"It kind of stinks, I was looking forward for a chance to defend my title," said Hoffman. "It's a really fun tournament and I was looking forward to it. It's too bad."
Hoffman said if the tournament is rescheduled, she'll try to make it. Kelly said there's no plan to reschedule the tournament later in the summer, but that he wouldn't be opposed if there's enough interest.
The tournament - which was first held in 1927 - is traditionally played near the end of June, but Leslie Park wasn't in tournament condition because of the Traver Creek Project. The streambank stabilization project was conducted on the portion of Traver Creek that goes through the golf course. The ceremonial opening of Leslie Park didn't take place until the weekend the tournament is normally held and Kelly said the course wasn't ready for tournament play at the time.
Kelly said the date change lost the tournament regulars right out of the gate.
"I had been talking to several of the normal ladies and they were apologetic because they had a bike trip planned," Kelly said. "It was a scheduling conflict."
Some, including Saline High School boys golf coach Debbie Williams-Hoak, have said the tournament wasn't marketed well enough.
"The men's we never seem to (have a problem)," said Kelly in response to the criticism. Last weekend's men's championship drew 111 golfers. "We posted on websites, there were movie-sized posters in the clubhouse here, Miles of Golf, Travis Pointe and other clubs around town and Miles of Golf sent an email blast.
"I'm not sure what more we could do, but I'm open to ideas."
Pete Cunningham covers sports for AnnArbor.com. He can be reached at petercunningham@annarbor.com. Follow him on Twitter @petcunningham.