Posted on
Wed, Sep 15, 2010 : 7:02 a.m.
Pat Forde gives thoughts on Denard Robinson's early success; Reggie Bush coughs up Heisman Trophy and more
By Kaleb Roedel
ESPN.com's Pat Forde gave his rundown on all things college football.

In his column, The Dish, Forde writes, "Without a doubt, Michigan sophomore quarterback Denard "Shoelace" Robinson and South Carolina freshman running back Marcus Lattimore deserve all the praise received for their heroic performances in big victories Saturday."

He later adds, "But keep this in mind about Robinson: At this time last year, we all were frothing about another Michigan quarterback who sliced up Notre Dame, Tate Forcier. He threw for 240 yards, ran for 70 and accounted for three touchdowns, and everyone said coach Rich Rodriguez had found his ideal spread quarterback. Except then the Wolverines finished 5-7 and Forcier is now a third-stringer. Robinson looks like the real deal, but let's hold off on constructing a statue outside the Big House for now."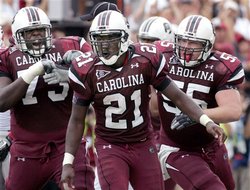 MORE COLLEGE FOOTBALLCOLLEGE BASKETBALL