Posted on
Sat, Aug 11, 2012 : 8:05 p.m.
Ann Arbor wrestler Jake Herbert believes anti-American bias influenced controversial Olympic loss
By Pete Cunningham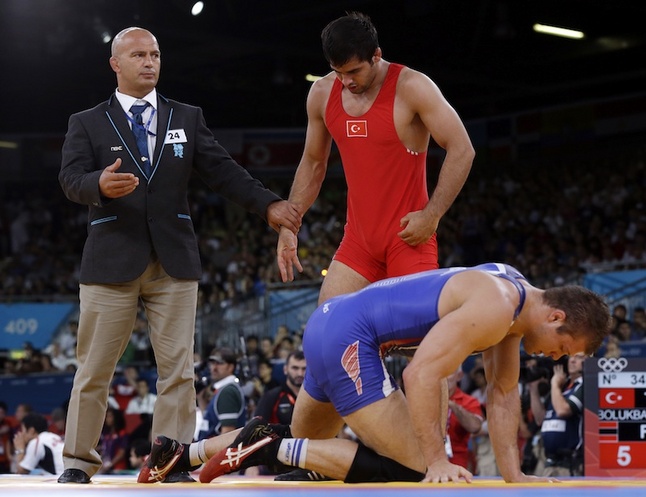 Paul Sancya | Associated Press
The 2012 London Olympics ended in controversy for Ann Arbor resident
Jake Herbert
on Saturday and he believes an anti-American bias had something to do with it.
Herbert, who represented the United States in the 84 kilogram division of the freestyle wrestling competition, won his opening match, but lost in the second round to eventual gold medalist, Sharif Sharifov, of Azerbaijan. A hotly contested scoring decision in the second period ended the match in Sharifov's favor, much to the dismay of Herbert and American coach Zeke Jones, an Ann Arbor native.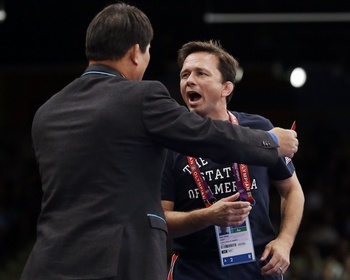 Paul Sancya | Associated Press
In an
interview the Cleveland Plain Dealer
, Herbert suggested politics might have been involved in the scoring decision.
"That's how the sport is," Herbert said. "It's unfortunate it comes down to that. I wish I could find a more fair way. Some people are going to be in the ref's favor and some aren't. Unfortunately, I'm wearing the United States of America and it's the greatest country in the world. These guys are all mad about that and they have to prove it some other ways."
Sharifov closed out the match in the second period with a six point flurry that had Jones going after officials and resulted in him receiving a yellow card and a near ejection.
Jones challenged a scoring decision after Sharifov was awarded three points and Herbert none following a scramble, believing that Herbert had thrown Sharifov during the scramble and thus deserved points as well.
The challenge couldn't have gone any worse for Herbert as officials not only gave him zero points following video review, but also awarded Sharifov enough additional points to end the period. A six-point differential ends a period in international wrestling which is scored best out of three periods. Herbert had lost the first period and therefore lost the match with the decision.
LOCAL OLYMPIANS

Jake Herbert was the last of several Olympians with Ann Arbor ties to compete in London. Visit the AnnArbor.com
Olympics page
for stories from throughout the games. Follow along with Michigan athletes at
MLive.com/Olympics
.
Jones said the referees ruled in favor of Sharifov, the defending world champion, while a separate jury ruled it in favor of Herbert. Herbert was 2-0 in his previous matches with Sharifov.
"I can beat one guy on the mat but not one guy and three officials." said Herbert after the match.
Herbert recently relocated to Ann Arbor to train for the Olympics with the Cliff Keen wrestling club under University of Michigan assistant coach Sean Bormet.
In an interview with the Chicago Tribune, Bormet was more politically correct, but questioned the scoring decision, nonetheless.
"It doesn't make sense," Bormet said. "To get to this point in this level of tournament and have a match decided on a lot of unanswered circumstances is difficult and disappointing."
Because Sharifov advance to the gold medal match, Herbert had a chance for a bronze medal, but later lost in his consolation round opener. Prior to the games Herbert was considered by most prognosticators to be a medal contender.
The Associated Press contributed to this report.
Pete Cunningham covers sports for AnnArbor.com. He can be reached at petercunningham@annarbor.com. Follow him on Twitter @petcunningham.