Posted on
Thu, Dec 9, 2010 : 6 a.m.
Outdoor hockey as a child led to lifelong love of game for Michigan coach Red Berenson
By Jeff Arnold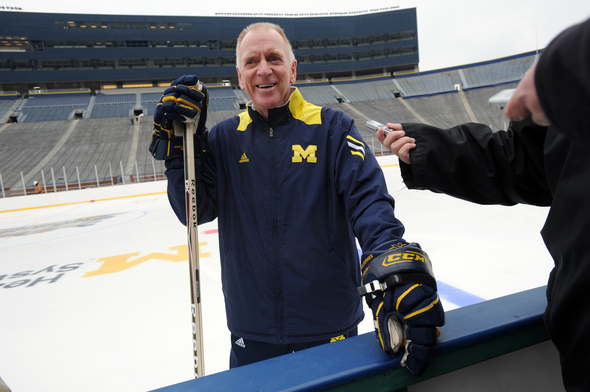 Lon Horwedel | AnnArbor.com
The frozen ponds and creeks that dot the plains of Western Canada create a scenic, snow-covered backdrop on an otherwise wide-open canvas.
They also serve as proving grounds for young hockey players. For Michigan coach Red Berenson, hockey started on Wascana Creek in Regina, Saskatchewan.
Berenson often skated alone on the creek, maneuvering around pylons that hung from a bridge. In his imagination, each pylon was an opposing defenseman that stood between him and a chance at a goal.
"It was just a dream - that classic, outdoor hockey you would see on a Christmas card," Berenson recalled last week. "A kid playing on a pond all by himself, skating around. I just loved it."
Berenson's longtime love of outdoor hockey continued throughout his playing career Michigan and then the NHL. Even during his 17-year NHL career, Berenson's teams would practice in the elements in Montreal, New York and St. Louis. Although a professional hockey career meant playing in front of sold-out old barns, the occasional outdoor skate carried Berenson back to his roots.
Perhaps that's why the Big Chill At The Big House on Saturday holds a dear place in Berenson's heart. On an Olympic-sized rink inside Michigan Stadium, Berenson's Michigan hockey team will face Michigan State (3 p.m., Fox Sports Detroit), in front of a world-record sized crowd of more than 100,000.
For Berenson, in his 27th season as Michigan's coach and who turned 71 on Wednesday, the game is a throwback not only to hockey played in its purest form, but also to his childhood in Regina.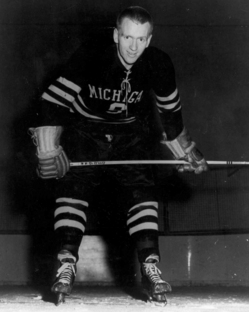 Courtesy of Michigan sports information
Games were simpler then. Berenson would often be the first to arrive, clearing the snow off the surface in what usually was a city-owned corner lot. When bigger amounts of snow fell, covering the rink with up to 3 feet of snow, Berenson began phoning his friends instructing them to report to the park for shoveling duty.
Most were simple sheets of ice surrounded by banks of snow while one rink was reserved for hockey, enclosed with boards and illuminated by park lighting. But a formal rink wasn't a necessity. If Berenson and his friends weren't playing in the park, they would play in the streets, interrupted only by the occasional on-coming car. Games would start with a few players and grow as the day went on.
Berenson had used skates and often looked forward to Christmas when he might receive a bamboo pair of knee pads or mismatched hockey glove. Children who couldn't afford shin pads often had store catalogs strapped to their knees.
Equipment was hard to come by. Kids played with wooden sticks and added to their collection by finding broken sticks and gluing them together. The lucky kids wore jerseys representing their favorite NHL teams. Berenson was 6 when he received a Toronto Maple Leafs sweater for Christmas.
Games at the parks weren't always fair, often dominated by older players who would take advantage of smaller, less-experienced skaters. Playing in elements that sometimes reached 30 degrees below zero made colder by biting winds, players learned to stand on their own.
"There was a lot of fear - the big kids would bully the little kids and you had to learn to survive," Berenson said. "But I think it was good for us."
Berenson would arrive home after dark, the bottom of his ears discolored by the cold. After a day outdoors, he often couldn't feel his toes or fingers. He would go to bed and arise early in the morning to start to repeat the previous day's schedule.
Growing up, Berenson played indoors only once a week, skating at Regina Stadium with the Regina Pats, a team Berenson watched by sneaking into games or working as a volunteer stick boy. Games indoors began at 8 a.m. and Berenson would have his mother wake him at 5 and he would put his equipment on and walk the mile to the arena.
Once there, he would slip through a window, arriving long before the janitor. Even with no lights, he would skate in an empty arena. The time alone - indoors or out - helped Berenson develop into a sound skater, a skill that served him well during his lengthy pro career.
Early on, his teammates knew Berenson was special.
"He was a tall, gangly guy, but he would just as soon run over you than go around you," said Joe Lunghamer, who played junior hockey with Berenson with the Pats before enrolling together as freshmen at Michigan in 1959. "But he was big for his age, and he had a great shot and he only got better the more he developed and, my God, was he good."
This week, Berenson is preparing his Michigan team to play in the outdoor elements that shaped his game. The Big Chill will be the third outdoor game the Wolverines have played under Berenson.
Berenson sometimes returns to Regina, where that city park he played in as a kid remains. During the summer months, the corner lots serve as playgrounds, leading up to the winter when park workers flood the surface and begin packing snow for hockey games.
Each trip, he remembers the early-morning games when he would play with friends such as Bill Hicke, who, like Berenson turned humble park beginnings into an lifetime in hockey that continues today.
"When I am back there, I will drive through that neighborhood and I see that park," Berenson said. "And I still have good memories."
View Larger Map
Jeff Arnold covers Michigan hockey for AnnArbor.com and can be reached at (734) 623-2554 or by e-mail at jeffarnold@annarbor.com. Follow him on Twitter @jeffreyparnold.