Posted on
Thu, Dec 2, 2010 : 11:31 a.m.
Parking, traffic for The Big Chill at the Big House similar to football Saturdays in Ann Arbor
By Jeff Arnold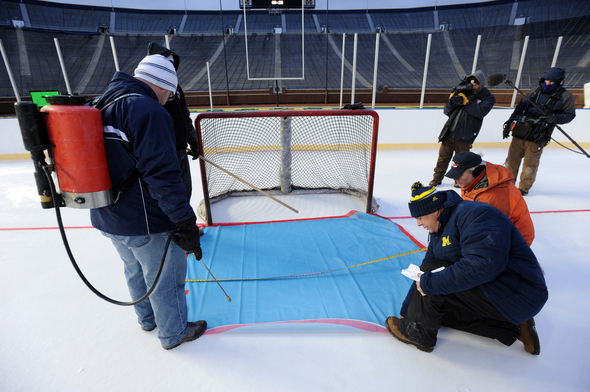 Lon Horwedel | AnnArbor.com
College football Saturdays in Ann Arbor always mean more business for Fingerle Lumber Company.
On a typical game day, 100 cars and more than a dozen RVs park in Fingerle lots, which are just a short walk to Michigan Stadium. John Fingerle doesn't expect The Big Chill At the Big House to be different.
Just colder.
Fingerle is among the normal parking areas that will be used for next weekend's Michigan-Michigan State hockey game that is expected to draw a world-record crowd of more than 100,000.
"I'm curious to see what it's going to be all about," Fingerle said Thursday morning. "Plopping a hockey rink inside Michigan Stadium is unprecedented, and if they get the 109,000 that bought tickets, it's going to be a big day in Ann Arbor."
But those parking cars and those in charge of controlling traffic flow are treating the event like a home football game.
All of the University of Michigan lots, including at the Michigan Golf Course, will be used, weather permitting. Each lot and the golf course will charge $20. Limited parking will also be available at Ann Arbor Golf and Outing for $30. Gates will open at either 11 a.m. or noon.
Due to construction at the Michigan Golf Course, no parking will be permitted on the driving range.
Parking at Fingerle will be $30 for cars and $120 for RVs and will begin ushering cars into its lot at 8 a.m. Parking for RVs will be open Friday at 5 p.m.
Fingerle said the fact it will be dark when the game ends will give those on parking lot duty an idea what it will be like next season when Michigan hosts Notre Dame on Sept. 10 in the first night game at Michigan Stadium.
With similar crowds expected for the hockey game as would attend a Michigan football game, all traffic rules used on fall Saturdays will apply.
The only thing that could affect how quickly traffic moves is the weather.
"Obviously, we're not in control of that," Lt. Renee Bush said. "We're all curious to see what we're in for (weather-wise). It will be like a normal football Saturday, but we know it's going to be colder."
Bush said police staffing will be the same as it would be for football games in an effort to get fans in and out of the stadium smoothly.
The same one-way traffic route that runs south from Stadium Boulevard to 1-94 used for football games will be used for the Big Chill.
"Patience is the key," she said. "We're going to get people in and out as safely and as quickly as possible."
The Ann Arbor Transportation Authority will also use the same shuttle routes it does for football Saturdays, charging $1.50 each way. The service will begin at 1 p.m. and continue for two hours after the game.
Public skate schedule | Slideshow | Web cam of rink
Jeff Arnold covers Michigan hockey for AnnArbor.com and can be reached at (734) 623-2554 or by e-mail at jeffarnold@annarbor.com. Follow him on Twitter @jeffreyparnold.