Posted on
Thu, Jan 7, 2010 : 6 a.m.
Pioneer field hockey coach Jane Nixon on the road to recovery
By Pete Cunningham
The National Field Hockey Coaches Association will announce its high school coach of the year on Friday. Among the five finalists is Pioneer High School head coach Jane Nixon.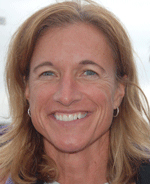 Nixon's candidacy is no shock. Seventeen state championships are enough to warrant a lifetime achievement award. But that might indicate Nixon has the intention of hanging up the whistle.
While that's far from the case, it appeared that choice might be out of her hands not long ago.
Weather conditions had just begun to sour on an otherwise typical fall evening on Nov. 18. Around 8 p.m., the roads in downtown Ann Arbor were turning slick and that's when, according to police reports, a motor scooter lost control in the slippery conditions at the intersection of Packard and East University, colliding with a Dodge Intrepid.
The driver of the Intrepid was unharmed. The same could not be said for those on the scooter, Nixon and University of Michigan field hockey coach Marcia Pankratz.
Nixon and Pankratz were rushed to University of Michigan Hospital. Both were wearing helmets, but Nixon, the passenger on the scooter, had sustained life-threatening injuries, and was admitted into the intensive care unit of the Burn and Trauma Center.
"It was just shock," said Pioneer athletic director Lorin Cartwright, who is also a close friend of Nixon's. "I didn't know what to do or say."
The shock echoed across the field hockey community and beyond. The constant force that had pushed the Pioneers through adversity, on and off the field, the one who motivated a dynasty, taught them to pick themselves up whenever down, had fallen.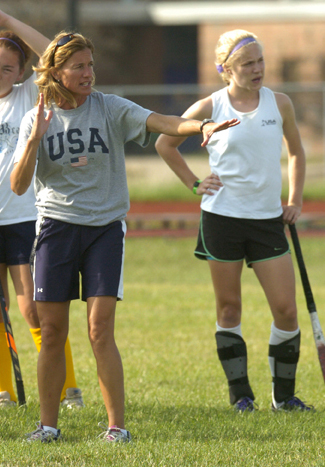 "It was just so deflating. She's always the one pushing us and driving us. You never imagine that anything could happen to her because she's just so strong," said Pioneer senior captain
Kelsey Thompson
.
"When I heard she was lying in a hospital bed, I couldn't even imagine that because I couldn't picture her even ever sleeping."
By the afternoon of Nov. 19, Nixon's condition was upgraded to stable. Prayers shifted from survival to recovery and the effect Nixon has had on so many young lives would soon become evident.
"I've been blessed by positive energy and prayers of those close to me. It's been very inspiring for me to do my best to get back in action," Nixon said. "We always say that, at Pi-Hi, we're a family. That's the greatest motivator we could ever have."
"People have been so strong and so supportive … even the River Rats," joked Nixon, referring to the cards and messages she received from players and coaches from cross-town rival Huron.
Unrivaled support for Jane Nixon
The University of Michigan Health System partners with an online support service called "CarePages" as a way for people to send messages of support to patients. Nixon's condition was such that visitors weren't an option during her stay, which would last more than a month, so the CarePages were as close as most could get.
Among the more than 1,000 messages, Bible verses and inspirational quotes are common. But Nixon's board was filled with quotes and stories from the most inspirational figure in her circle's lives: Her.
"All those words of wisdom you gave US, right back to YOU! We love you and you're in our prayers," reads one. "You taught our daughter, and many others, how to find a way to not only survive but flourish," reads another. "I just want you to know that you have been that bright light in my darkest days ... your smile, your greeting, and the Nixon hug," reads another.
Current and former athletes across the Ivy League and Big Ten, and a Who's Who list of coaches, left messages and sent cards. Nixon's team went a step further, constructing a poster board Thompson described as "about the size of half a room," decorated with pictures and quotes, most of which Nixon herself had given to her players to inspire them during the course of a season.
Cartwright, one of the few to see Nixon's hospital room, described it as a collage of cards, pictures and flowers that barely fit in the room.
"Most of us in times of need have our close friends and family and that's about it," Cartwright said. "Jane has support from people all over the United States. People were calling me saying, 'how can I get a message to her?' Cards, flowers, all those things, the pouring out was incredible."
The Pioneer team didn't stop at a poster board. They cooked meals for Nixon's parents and siblings so they could focus all their energies toward Jane. They did all of Nixon's yard work, raking leaves, mowing the grass, and everything in between.
"Anything we could do was the least we could do," said Thompson. "She's been there for us so many times. It was our turn."
Road to recovery
Nixon was able to return home with her family for the holidays. She now spends five days a week doing physical rehabilitation on the hips, ribs, toes and - in her words - the "whole bunch of other stuff" injured in the crash. She's unable to live on her own just yet, but is expected to recover fully from her injuries.
"It's going to take some time, but everything should be back to 100 percent eventually," she says.
She hopes to return to her special education classroom at Pioneer within the next couple of months.
"I'm just going to have to work hard at it," she said before pausing to laugh. "I'm just going to have to practice what I preach now."
Forever the competitor, her focus quickly shifts to the field.
"I'm just working hard at getting back in the groove. The doctors, they said I'll be able to run eventually, which is good because all those athletes coming through Pioneer, I've gotta work hard to be able to beat them," she said.
She doesn't remember the accident, or even the day leading up to it, for that matter. Pankratz, who declined to comment through a University of Michigan spokesperson, will fully recover from her injuries and has resumed her off-season duties with the Wolverines.
"The fact that we're going to get back to 100 percent is incredible and just a blessing," Nixon said. "All those around us and at the U of M Trauma Center were just so great, I'm just so grateful."
Coach of the Year
Her sense of humor intact, along with her spirit, Nixon laughs at the coincidence of being named the NFHCA West Region coach of the year on Dec. 16, shortly after the accident.
"I said, 'Wait a minute, something's fishy here. They better not be giving me this because people are feeling sorry for me,'" Nixon said. "But, really, it's an award for the program and all the great athletes who have come through Pioneer through the years."
With Nixon at the helm, as co-head coach from 1990-2003 and head coach from 2004-2009, Pioneer has won the state championship in all but three seasons, including the last five in a row.
When the NFHCA announce its national winner during its annual convention on Friday, Nixon has just one expressed desire for its outcome: "I better not get any sympathy votes."
Pete Cunningham covers sports for AnnArbor.com. He can be reached at 734-623-2565 or petercunningham@annarbor.com.