Posted on
Mon, Jul 2, 2012 : 10:19 p.m.
Pioneer grad Kara Lynn Joyce a 3-time Olympian, Michigan's Connor Jaeger also London-bound
By AnnArbor.com Staff
The final two races of the 2012 Olympic swimming trials resulted in two Olympic bids for swimmers with Ann Arbor ties.
Pioneer High School graduate Kara Lynn Joyce finished second in the women's 50-meter freestyle and University of Michigan junior Connor Jaeger was second in the 1,500 freestyle.
Associated Press
Joyce, who didn't get out of the preliminaries of the 100 freestyle, came back in the 50 free to make her third Olympic team. She finished in 24.73 seconds, second to Jessica Hardy (24.50).
"I didn't start out the meet very well," Joyce said. "I did my best to visualize and prepare my body. It was my one chance to lay it all the line for this 50. I can't believe I did it."
Joyce was part of a silver medal-winning 400 relay team at the 2004 Games in Athens and finished fifth in both the 50 and 100 freestyle races. In 2008, Joyce again brought home a silver medal in the 400 freestyle and was sixth in the 50 freestyle.
Related: Kara Lynn Joyce now inspiring others on her quest for a third Olympic bid
In a press conference, Joyce was asked about how emotional she became after the race.
"Tears of shock and joy," she said. "A lot of happiness."
In the last event of the eight-day trials, Andrew Gemmell won the grueling 1,500 freestyle in 14 minutes, 52.19 seconds. Jaeger was right with him all the way, taking the second spot for London in 14:52.51.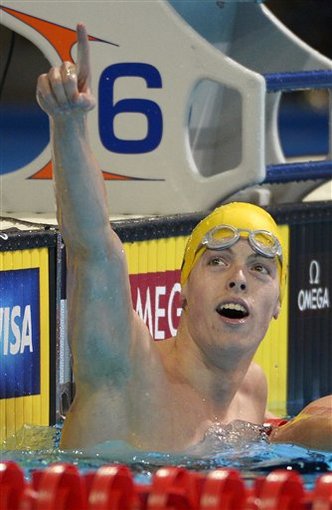 Associated Press
"I knew I needed to get going but fatigue was kicking in, and the last 100 (meters) I put everything I had into it and still wasn't enough for the first," Jaeger said. "But I'm happy that I placed where I did and happy that the competitors were there to push me the whole way."
According to the official Michigan swimming Twitter account, it was just the fifth time Jaeger has competed in a 1,500 race.
The Michigan program will be well represented at the Games.
Tyler Clary, who swam at Michigan from 2008-10, finished second in both the 200 butterfly and 200 backstroke to earn a pair of spots in London. Peter Vanderkaay (2003-06) won the 400 freestyle.
Former Wolverines Charlie Houchin (2007-10) and Davis Tarwater (2003-06) were named to the 800 relay team. They'll swim a leg on the relay in preliminary races in London. The two fastest times will join Michael Phelps and Ryan Lochte in the final.
Phelps, who served as a Michigan volunteer coach while training with Club Wolverine, will swim in seven events in London.
He dropped out of the 200-meter freestyle on Monday, giving himself more time to recover between races at the London Games.
"We're not trying to recreate what happened in Beijing," Phelps told The Associated Press during a hotel interview before he got out of Omaha. "Swimming that many times, it's just brutal and there's no need to put myself through that."
Phelps will compete in five individual events - 400 IM, 400 freestyle, 200 butterfly, 200 IM and 100 butterfly - and three relays.
Former Michigan men's swimming coaches Bob Bowman and Jon Urbanchek were named to the U.S. Olympic coaching staff.
Current men's coach Mike Bottom will be the head coach for Serbia at the Games while two of his assistants - Josh White (Barbados) and Mark Hill (Ireland) will also help coach international teams.
The Associated Press contributed to this report.