Posted on
Sat, Sep 25, 2010 : 4:40 p.m.
Brian Griese returns to Michigan Stadium as a broadcaster, Alabama not a done deal and more
By Jeff Arnold
As a veteran sports broadcaster on ABC, Bob Griese spent countless hours in a cramped booth in the old Michigan Stadium press box.
His son, Brian Griese, enjoyed a little more room Saturday.
The former quarterback of the Michigan football team, now a broadcaster on ESPN2, worked his first game in Ann Arbor in the school's brand-new press box.
"My dad was giving me a hard time," he said before kickoff. "He said, 'all those years I came up to announce your games, and I had to sit in that press box, that old dilapidated press box, squeezed in tight."

Brian Griese played for the Wolverines from 1995 to 1997, and retired prior to the start of the 2009 season after 11 years in the NFL.
He hadn't planned on following his dad into broadcasting, but someone asked him if he wanted to try it out when he retired. He accepted the invitation, flying to Bristol, Conn. for an audition with ESPN last summer.
"They put me in a closet with John Saunders and said, 'OK, go,'" Griese said. "And that's what I did. I guess they liked what they saw and gave me a shot.
"It's crazy. You're sitting in there, and there's no emotion, no fans and no cheering. It's just a game on TV, and John Saunders starts out, 'Here's the kick' and we go."
He narrated half of a UConn-North Carolina game to earn the job. Last year, he did 3:30 p.m. regional games on ABC, and this year he's doing noon national games on ESPN2 with play-by-play man Bob Wischusen.
Griese usually returns to Ann Arbor for an annual golf outing in May that raises money for C.S. Mott Children's Hospital, but his week preparing for the Michigan-Bowling Green game gave him his first up-close look at the program in a long time.
"For me to stay connected to the game and to do college football has been so fun, because it's so different than the NFL," he said. "This week, it's been great to see some familiar faces and to meet some new faces," he said. "A lot has changed here."
First time
Saturday's victory included several firsts. Left tackle Taylor Lewan made his first career start, replacing Mark Huyge.
"I think I played all right," Lewan said afterward. "I made some freshman mistakes. I need to pick it up a little bit."
Redshirt freshman Jeremy Gallon registered his first career reception and touchdown catch on the same play, an 11-yard scoring toss that came from freshman Devin Gardner. The connection was Gardner's first career touchdown pass.
Gardner had his second career touchdown pass called back on a personal foul penalty minutes after Junior Hemingway dropped what would have been a touchdown pass in the second quarter.
Fullback John McColgan repeated Gallon's feat, recording his first career reception and touchdown catch on a 2-yard pass from Tate Forcier, which gave Michigan a 37-14 lead.
Running back Fitzgerald Toussaint scored his first career touchdown on his second career carry, capping Michigan's scoring in the fourth quarter. Toussaint's first run, which came on the previous carry, covered 61 yards.
Sweet home Alabama?
Michigan athletic director Dave Brandon said after Saturday's game that no agreement is in place for Michigan to face Alabama in 2012 at Cowboys Stadium in Dallas.
Crimson Tide coach Nick Saban said the teams will meet "probably for sure" during his weekly radio show.

"There have been a lot of discussions," Brandon said. "I've said that I am all for us occasionally playing on a big, prime-time stage and showing that we're not afraid to play anyone anywhere."
Number 9, Number 9
Michigan was assessed a 5-yard illegal equipment penalty during the first half when Martavious Odoms and Courtney Avery -- both whom wear uniform No. 9 -- were on the field at the same time. Game officials originally declared the penalty resulted in a loss of a timeout for the Wolverines. Following further discussion, though, the 5-yard penalty was called in one of the day's more bizarre turn of events.
Quotable
Right tackle Perry Dorrestein left the game in the second half with an injured toe. Asked about the injury in the postgame press conference, Rich Rodriguez laughed. "Perry is fine," he said. "I think he got a hang nail or something on his toe. When you put 320 pounds on a bad toe, maybe it's more painful than it is for you or I."
Kicker excels in pressure-free day
Seth Broekhuizen had an easy day Saturday.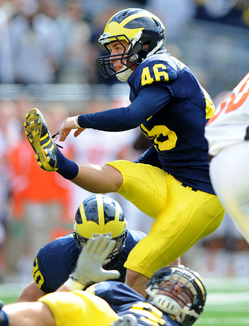 Lon Horwedel | AnnArbor.com
The redshirt freshman kicker who, along with fellow redshirt freshman
Brendan Gibbons
, have made 1 of 5 field-goal attempts this season, didn't have to even attempt a field goal Saturday.
All Broekhuzen had to do is make extra points -- eight of them. Walk-on
Scott Schrimscher
kicked the ninth and final PAT late in the fourth quarter.

"I thought they kicked extra points well," special teams coach Tony Gibson said. "If we can score 65 points, we don't need to kick field goals. I'm happy with kicking a lot of extra points."
When Michigan had chances to kick field goals Saturday, it declined. The Wolverines went for a 4th-and-5 from the Bowling Green 29-yard line in the second quarter and eschewed an opportunity to add points late with the game out of reach.
Broekhuizen, though, said he doesn't feel like he's won the job even though he handled all placekicking and kickoff duties requested Saturday before Michigan substituted its starters.
"Not at all," the Holland native said. "In my head, it's week by week. I've got to prove myself every week."
Earlier this week, former Michigan kicker Bryan Wright -- now the kicker for Bowling Green -- attributed the struggles to nerves. Broekhuizen agreed.
"It's a lot of nerves," Broekhuizen said. "It's a lot of confidence. As soon as you're confident you'll make a kick, you'll make it."
So is he confident?
"Yeah," Broekhuizen said. "Yep."
This and that
Michigan's third-quarter safety was the Wolverines' first since Sept. 6, 2003 against Houston. ... Michigan's 65-point output was the Wolverines most since a 69-13 win over Illinois on Nov. 1, 1986. The Wolverines scored 63 against Delaware State last season. ... Michigan now has six scoring drives covering at least 90 yards this season, including two Saturday. ... Michigan's 721 yards of total offense ranks second most all-time, trailing only last year's win over Delaware State when the Wolverines put up 727. ... Roy Roundtree registered his third 100-plus receiving yard performance of his career, catching nine passes for 118 yards. ... Defensive end Ryan Van Bergen had his first multi-sack game, notching two in the third quarter. Linebacker Jonas Mouton also had a sack -- the second of his career and the first in two years.
Pete Bigelow contributed to this report. Jeff Arnold covers sports for AnnArbor.com and can be reached at (734) 623-2554 or by e-mail at jeffarnold@annarbor.com. Follow him on Twitter @jeffreyparnold.