Posted on
Mon, Jun 20, 2011 : 2:46 p.m.
Latest investment is part of Michigan's plan to maintain Yost Ice Arena, not replace it
By Pete Cunningham
Looking out his office door at Yost Ice Arena, longtime Michigan hockey coach Red Berenson marveled at the sight of the new scoreboard sitting on what normally is center ice.
With suspension cables and workers in hard hats scattered about the iceless surface, Berenson wondered if the enormous new scoreboard would cause Yost to collapse once raised to the ceiling.
Berenson was joking. But with the Board of Regents approving a new $14 million renovation project -- the arena's fifth, and most expensive facelift since 1996 -- it begs the question of what the long-term plan is for one of college hockey's the most iconic, and oldest, arenas.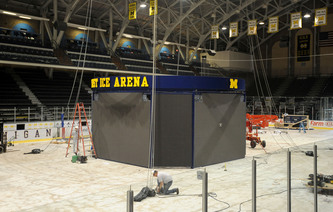 Angela J. Cesere | AnnArbor.com
Berenson speculated that "there will come a day" when the arena, built in 1923, will have to be replaced. Athletic director Dave Brandon said that day is not on his timeline.
"We don't plan a replacement," Brandon wrote in an email. "We believe this investment will take care of the immediate needs of the facility."
Berenson has been the coach of the Wolverines for 27 seasons and, in that time, has seen many colleges build new arenas, noting that "some of them have been really successful and some of them have been more of a basketball building."
Yost has been the home of the Wolverines for Berenson's entire tenure and is famous for not being new or state of the art.
Berenson likened Yost and its old barn feel to a classic car.
"Like keeping an old car, you gotta put new tires on it, you gotta paint it… like an old car, we're going to spruce (Yost) up," Berenson said.
"I think Michigan has been really happy with our building and our program for the most part and they'd like to maintain that at this point," Berenson added. "I think they like Yost so much that they don't see a reason to build another building. And so, if we like Yost that much, well then why don't we fix it up?"
The latest "spruce up" -- scheduled to begin at the conclusion of the 2011-12 season -- will include new loge boxes, improved lighting and an increased number of concession stands. It will bring the total amount spent on the arena to $22.9 million since 1996, plus the new scoreboard, which is part of a $20 million project project to add large, high-definition video displays to the football, hockey and basketball stadiums.
Brandon said he expects this investment to be the last major undertaking for awhile.
"Yost is an old building, and we will likely schedule other maintenance projects into the future," Brandon said. "But this phase will take care of most of the 'noticeable' changes."
"It's still going to look like an old car," Berenson said. "It's going to have a lot of the attractions that it always had, but it's going to be nicer."
Pete Cunningham covers sports for AnnArbor.com He can be reached at petercunningham@annarbor.com or by phone at 734-623-2561. Follow him on Twitter @petcunningham.