Red Berenson hopes differing personalities of Michigan hockey captains will serve team well
Posted on Sun, Oct 7, 2012 : 5:44 a.m.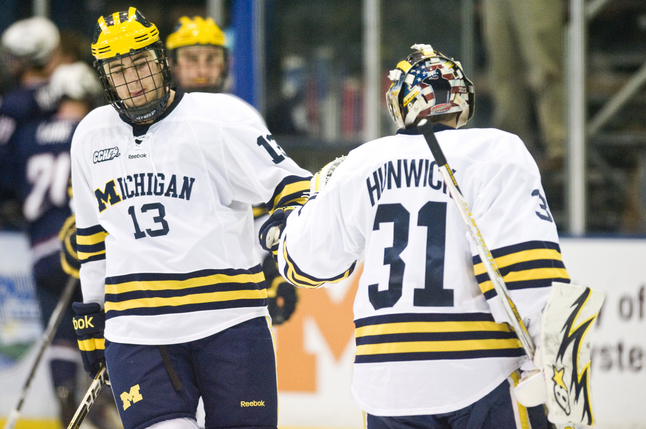 AnnArbor.com file photo

A.J. Treais is a small forward - 5-foot-8 inches, 178 lbs. - and quiet. He'd rather let his play on the ice do the talking.

Lee Moffie is big defenseman - 6-1, 207 - capable and willing to get in the face of an opponent, or teammate, if the situation calls for it.

Defenseman Mac Bennett fits somewhere in between physically - at 6-0, 193 - and on the personality scale.

Together they're the Michigan hockey team's captains. Michigan coach Red Berenson said the trio is proof that there's more than one way to be a leader.

"Moffie, has an outgoing (personality) he's more gregarious and outrageous at times…AJ's quiet, Moffie is…not quiet and then Mac Bennett is in the middle." Berenson said. "I think it's a nice combination of personalities and players."

Treais -- who will wear the captain's "C" -- admittedly isn't a "rah-rah" type of guy. But according to Berenson, Treais' performance on the ice during the first practices of the season has sent a message to everyone around him.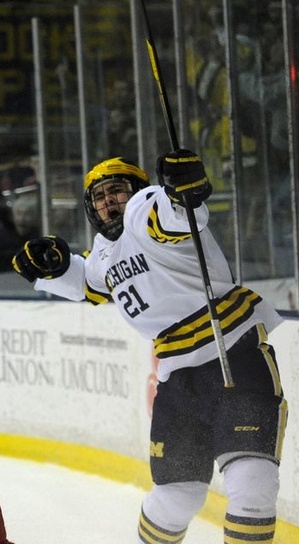 "He is a little bull out there now. I mean he is a different player. He's a different A.J.," Berenson said. "Whether it's his sense of being a senior or being a captain, but I notice a big change in him on the ice."
That "different A.J." seems to be the same one who had 17 points (seven goals, ten assists) in Michigan's final 14 games last season, after recording just three points (two goals, assist) in the previous 14.
During the stretch in which Treais struggled, Berenson publicly said he needed to be more "fiery," "abrasive" and "hungry."
Though Treais may never be the guy delivering a loud locker room speech, it appears he is becoming the player Berenson has been seeking all along.
"I kind of follow in the steps of Luke Glendening…he was just kind of an even keel guy, wasn't someone that needed to yell at you, but when you needed to be put in your place, he did it," Treais said.
With seven goals and 25 assists last season, Moffie's production during games was never questioned, but he said his new responsibilities as a captain are putting a pressure on him to produce in a different capacity.
"I definitely feel more responsibility. I feel like it's more my team now, which is a pretty special feeling," Moffie said. "You have to show up and there's no days off for me anymore. Maybe some days I'd come here and maybe hide out a little bit. But now, the spotlight's on us, and so, we take charge."
Bennett, the lone junior of the captains, said he feels the same pressure to not only step up his own game, but motivate his teammates.
"The past two years I would kind of come in and worry about myself," said Bennett, who had 21 points (four goals, 17 assists) as a sophomore. "I have to worry about everyone now. But it's a good role for me. I mean it's definitely a challenge, but it's something that I think I'm ready for.
"I want to be in this position. I think I can lead this team, hopefully to good things."
Berenson said he expects the complementing personalities to serve the team well.
The Michigan hockey team opens the 2012-13 season against Rochester Institute of Technology at Yost Ice Arena on Thursday, October 11.