Posted on
Wed, Nov 11, 2009 : 8:57 a.m.
Rich Rodriguez pleased with Michigan football team's progress on offense
By Dave Birkett
Michigan has one of the Big Ten's worst defenses for the second straight year, but coach Rich Rodriguez said Tuesday he's pleased with some strides his team has made offensively.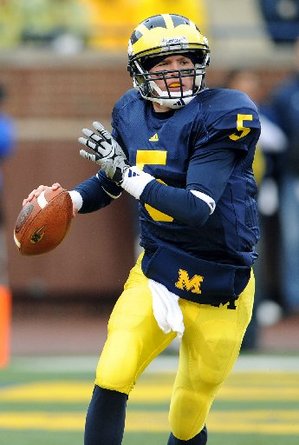 "We expected to make some because we had some guys coming back on the O-line and some skill positions," Rodriguez said Tuesday on the Big Ten coaches teleconference. "The X factor was quarterback. We didn't know how quickly our young guys would be able to step in. That's obviously the key position, so we've been OK."
Michigan (5-5, 1-5) leads the Big Ten in rushing and scoring offense, averaging 12 points more than it did last year.
True freshman Tate Forcier has struggled with turnovers, but he's been a clear upgrade over Steven Threet and Nick Sheridan at quarterback
Threet and Sheridan combined for 1,718 yards passing last year with 11 touchdowns and 12 interceptions. Forcier has 1,424 yards passing in 10 starts.
He also ranks fourth on the team with 214 yards rushing - more than Threet or Sheridan had last year - and is completing 55.4 percent of his passes. Michigan completed less than 50 percent of its passes last year.
"We've been a little inconsistent in some of our Big Ten games," Rodriguez said. "But there's also been some pretty good moments. So I've been pleased with our progress somewhat, but I know there's still a lot of work to be done."
Rich Rodriguez admires Barry Alvarez
• Rich Rodriguez and Wisconsin athletic director Barry Alvarez have been friends for some time. They grew up near each other - Rodriguez in West Virginia, Alvarez in Pennsylvania - and got to know each other when Rodriguez's West Virginia team played Alvarez's Badgers 7 years ago (Wisconsin won, 34-17) and have stayed in contact ever since.
"I've always thought an awful lot of what he's done there to build that program and that whole athletic department," Rodriguez said.
Rich Rodriguez on Wisconsin
Rich Rodriguez on what worries him about Saturday's game at Wisconsin: "The question's always how much they can control the football game and they've done it just about every week with their run game and their big offensive line and their big backs. They keep the ball, they keep the time of possession and then their defense has played so well. ... You got to do all you can to not let them control the game like they have many times this year."
Purdue coach declines to discuss post-game meeting
Purdue coach Danny Hope refused to address
his post-game handshake exchange
with Rodriguez last week, when he brought offensive lineman Zach Reckman over and blamed Rodriguez for getting Reckman suspended earlier this year.
"I'm not even going to elaborate on it," Hope said. "I made a statement after the game and I'm going to stick to it."
On Saturday, Purdue released a statement in which Hope also declined to elaborate on what happened.
Rodriguez on the 4-0 start
Rodriguez on whether he could have envisioned fighting for his bowl life after starting the season 4-0: "I never really thought too far ahead. I think that was one reason why we had some success early is that we just had the attitude, OK, what's next. ... We've taken that approach. We've had good practices and good focus all season, we just haven't played well recently like we think we're going to have to if we want to win."
Dave Birkett covers University of Michigan football for AnnArbor.com. He can be reached by phone at 734-623-2552 or by e-mail at davidbirkett@annarbor.com. Follow him on Twitter @davebirkett.