Associated Press:

Stanford athletic director: Jim Harbaugh not a candidate for Notre Dame job

Posted on Tue, Dec 8, 2009 : 3:59 p.m.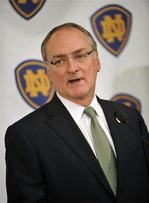 STANFORD, Calif. (AP) — Stanford athletic director Bob Bowlsby says he is confident coach Jim Harbaugh is not a candidate for the opening at Notre Dame. In an e-mail Tuesday, Bowlsby says he has talked to Notre Dame athletic director Jack Swarbrick and Harbaugh's agent, Jack Bechta, to confirm Harbaugh, a former University of Michigan quarterback, is not a candidate to replace Charlie Weis.

In an interview with ESPN before Monday night's Ravens-Packers game, Harbaugh denied a New York Times report that he was set to meet or had already met with Swarbrick. Harbaugh told ESPN "there's no meeting" and he hasn't "talked to Notre Dame about a meeting."

Stanford is close to announcing an extension with Harbaugh. He led the Cardinal (8-4) to their first bowl bid in eight seasons. Stanford plays Oklahoma in the Sun Bowl on Dec. 31.