Posted on
Sat, Feb 11, 2012 : 5:59 a.m.
NHL counts on Canadians, not Ann Arbor residents, for Winter Classic success
By Pete Cunningham
The NHL Winter Classic is coming to Ann Arbor, but guess what Ann Arbor? The NHL doesn't care if you buy a ticket.
You're the kid with the coolest house on the block, and the NHL wants to use your pool for a party. Show up if you want, but it's not mandatory.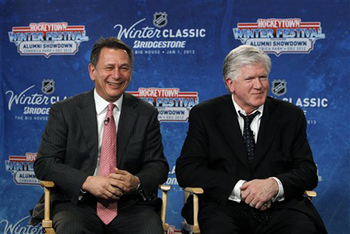 Associated Press
"We didn't throw darts to put this together," NHL commissioner Gary Bettman said Thursday at Comerica Park. Though Bettman will never be forgiven for taking hockey from fans for the 2004-05 season, the way he's handled the annual New Year's Day outdoor extravaganza has been nothing short of genius since its inception in 2008.
Bringing the Winter Classic to Michigan Stadium and ancillary events to Comerica Park — including the Great Lakes Invitational — is his latest masterpiece.
The NHL wants to break the world record for attendance at a hockey game that Michigan and Michigan State set in the Big Chill at the Big House in 2010, and he needed the Big House to do it. He also plans on breaking Michigan's record attendance of 114,804, set at the Michigan-Notre Dame night football game in September.
And they will do just that even if every University of Michigan student, season ticket holder and football fan is in Pasadena or on their couch watching the Michigan football team play in the Rose Bowl. That's because Bettman has figured out a way to break the records despite playing 40 minutes away from the "host" city in a college town that normally resembles a ghost town on New Year's Day.
He's including the game's best insurance policy: The Toronto Maple Leafs.
Red Wings fans will show up, no question. But even if they don't, one of the more rabid fan bases would surely pick up the slack.
"(The NHL) said, 'can you sell 30,000 tickets?' I said, 'I need 48 hours.' They said, 'can you sell 50,000?' I said, 'I need 72 hours,'" Maple Leafs general manager and president Brian Burke said Thursday.
Burke was joking, but Leafs fans' dedication is no laughing matter. I lived in Toronto for four years, and it became clear early on that the fans take their hockey seriously. Yell "Go, Leafs, Go" on a hot summer day in August on any city street and you'll get cars honking, and loud responses from passers by.
They're insulted by Detroit's self-proclaimed "Hockeytown" status.
This for a team that hasn't won a Stanley Cup since 1967 or been to the playoffs since 2004. I had a Canadian friend once visit and sabotage his chances with a very attractive blonde, who was way out of his league, because she jokingly asked him to admit the Leafs suck.
It was a deal breaker. It doesn't make sense, but it's true.
"It's Hockeytown versus the center of the hockey universe," Burke said.
And you're going to see a lot of Maple Leafs blue around Ann Arbor in the days leading up to the event. I've had friends fly to Atlanta to watch Leafs regular-season games because it was cheaper than getting a ticket at the Air Canada Centre.
Plus, you don't need to travel four-and-a-half hours to get to Leaf Nation. The Detroit River is the Berlin Wall of hockey, separating two different loyalties.
Which brings me to Detroit, the city which many, myself included, figured would be a more logical choice to hold the game. Who needs more of an economic boost than Detroit? As cool as setting the attendance record at the Big House is, it's not at the center of the city's downtown like Comerica Park. The sight of skyscrapers surrounding a hockey rink is one that never gets old.
Red Wings owner Mike Ilitch wanted to keep the entire event downtown, but the NHL creating a week-long Hockeytown Winter Festival — which will include the Michigan hockey team playing in an outdoor GLI — is an incredible compromise, estimated to draw between 150,000 to 200,000 people to Detroit in the days leading up to the game at Michigan Stadium.
Bettman and Ilitch described splitting up the event as the best of both worlds. If everything were in Detroit, or in Ann Arbor, everything wouldn't have been as feasible. The NHL normally puts a clamp down on the Winter Classic ice surfaces, as it will on the one in Michigan Stadium, but that won't be the case at Comerica Park.
"We wanted to make sure we were doing the right thing for the city of Detroit. Setting up two rinks is a huge undertaking in terms of manpower and expense, but we were committed because the Ilitches were committed to making sure that as hosts Detroit was properly included, and we think we're doing it in a big way," Bettman said.
As for the GLI, being outside for four games over two days is different than bundling up for one game, but Red Wings general manager Ken Holland said the alternative would seem foolish.
"People would think we were nuts if we had the Great Lakes Invitational over at Joe Louis Area when we have this beautiful, once-in-a-generation set up here at Comerica Park," Holland said.
As for sports purists who don't want to see Michigan Stadium rented to the highest bidder because the idea of corporate advertising plastered all over the Big House makes them queasy: Get over it.
The University of Michigan will receive up to $3 million for leasing the space. Athletic director Dave Brandon estimates the spinoff revenue for surrounding businesses to exceed the $14 million normally generated on football Saturdays. Plus, the NHL donated $250,000 to the university's general scholarship fund.
If you want to stand on your porch yelling at a bunch of Canadians to get off your lawn like a grumpy old man, feel free. But there's no denying that the university and surrounding community will benefit greatly.
So get ready, Ann Arbor. The NHL is throwing a party in your town. Your attendance is optional.
Contact Pete Cunningham at petercunningham@annarbor.com. Follow him on Twitter @petcunningham.