Posted on
Sat, Dec 11, 2010 : 10:34 p.m.
The Big Chill at the Big House: A comprehensive guide to Saturday's coverage
By Rich Rezler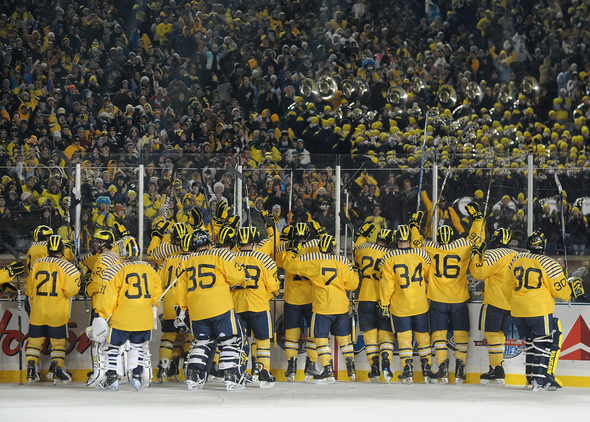 Lon Horwedel | AnnArbor.com
Fireworks exploded above Michigan Stadium and attendance records were shattered inside.
Yes, the Big Chill at the Big House was every bit the spectacle it promised to be.
Especially for the Michigan hockey team that, in the midst of the pageantry, skated to a 5-0 win over Michigan State.
About the only thing that didn't live up to the billing was the "Chill." Temperatures hovered in the low-40s, making the outdoor hockey experience all the more enjoyable for the 113,411 fans in attendance.
The crowd dwarfed the previous Guinness World Record of 77,803 for an outdoor hockey game, set at this year's world championship in Germany.
It was also more than the 113,090 that saw this year's season-opening football game against Connecticut, therefore becoming not only the largest crowd in Michigan Stadium history but also the largest at any NCAA athletic event.
AnnArbor.com had reporters and photographers covering the event from every angle. Here's a roundup of what you can find on our site, plus links to some additional coverage from around the internet.
AnnArbor.com coverage
We'll start off with Melanie Maxwell's "sights and sounds" video, which captures the entire event in 2 minutes, 33 seconds -- from tailgating, to the game and to a sped-up viewing of the post-event fireworks.
• In our main game story, Jeff Arnold writes it took a while for the days' events to soak in for Michigan players -- particularly surprise starting goalkeeper Shawn Hunwick and freshman defenseman Jon Merrill, who scored the game's first two goals.
• Michael Rothstein writes more about Merrill, who seemed like even he didn't believe what he had just done.
• And Arnold writes more about Hunwick, who made the most of the emergency start on "unbelievable" stage.
• Pete Bigelow column: On a perfect night, everything went right for Michigan's Big Chill at the Big House.
• Pageantry aside, Rich Rezler writes, there was still a rivalry hockey game being played. That made the Big Chill bittersweet for Michigan State.
• Notebook: Big Chill at the Big House attracts Guinness Book representative, record crowd makes an impression and more.
• News reporter Heather Lockwood visited fans who braved the cold to tailgate prior to the Big Chill.
• In another video report, Pete Cunningham takes a look at how fans enjoyed themselves throughout the day.
• Staff photographers Melanie Maxwell, Lon Horwedel and Angela Cesere compiled the images they captured into one big slideshow. Check it out:
• Jim Knight provided running updates throughout the game. Check that out here.
• Knight, Rothstein and Rich Rezler hosted a live chat from the Michigan Stadium press box. Find that transcript here.
• Five arrested, nine more cited during Big Chill at the Big House.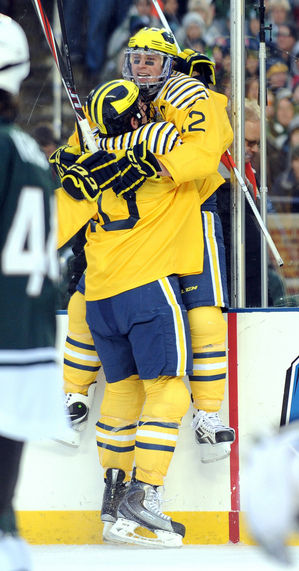 Lon Horwedel | AnnArbor.com
Around the Internet
• Boxscore
• CCHA standings
• MGoBlue.com coverage.
• Associated Press: Hockey attendance record falls at Michigan Stadium.
• USA Today: Michigan Stadium sets world record for hockey attendance.
• ESPN.com: The view from Saturday's 'Big Chill'.
• Detroit News: Michigan routs Michigan State in front of record crowd.
• Detroit Free Press: It was a great day of Michigan hockey
• Michigan Daily: Wolverines dominate Big Chill, win 5-0 in front of largest hockey crowd ever.
• Lansing State Journal: Wolverines blank Spartans, 5-0, in "Big Chill".
• State News: Icers fall in front of record crowd at 'Big Chill,' 5-0.