Posted on
Wed, Mar 20, 2013 : 2:17 p.m.
The perfect March Madness: beer, brackets and John U. Bacon
By Richard Retyi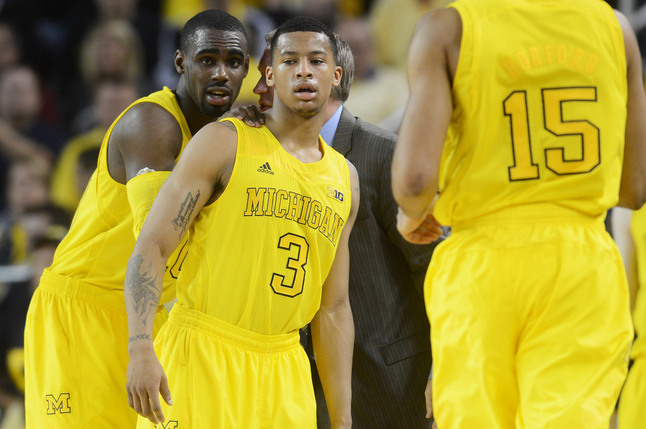 Melanie Maxwell | AnnArbor.com file photo
If you work in an office or date someone who knows what a Hoya is, chances are you know the importance of
March Madness
. Brackets, bragging rights, excuses to watch television at the office.
Each year, articles featuring combinations of the words "busted", "Cinderella" and "Gonzaga" run in reputable periodicals and on semi-reputable websites with prognosticator after prognosticator picking upset specials and Final Four darlings.
It's exhausting, even for those who get direct deposit for this stuff.
Just because I worked in sports doesn't mean I know a thing about picking March Madness winners. It might actually be a handicap. I remember when UNLV was good and Michigan didn't wear camouflage shorts.
The venerable John U. Bacon put it best: "The person who picks winners based on their favorite color will probably win. Once you come to terms with that, you'll be okay."
Without adequate knowledge to help you fill out your own March Madness bracket, I sought expert advice in the only place I knew to look: a brewery.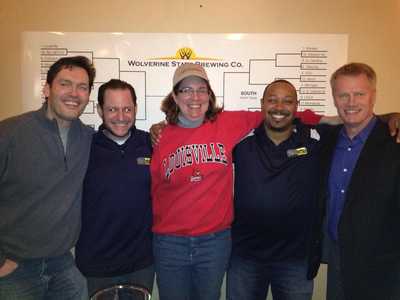 photo courtesy of E.T. Crowe
Beer, brackets and mad scientists
Tuesday evening, the
Wolverine State Brewing Co.
hosted Bracket Science Night—a loose term for the motley gathering of local radio celebrities, a best-selling author and one true basketball scientist.
Sam Webb
and
Ira Weintraub
from
"The Michigan Insider" on Sports Talk 1050 WTKA
anchored a gathering that featured author and noted
Rich Rodriguez Christmas Card recipient
John U. Bacon and CBS sportswriter and
Bracketscience.com
chemist
Pete Tiernan
. What better cross-section of brain power to help you pick the perfect bracket and properly waste your share of the expected
$134 million that Americans will cost their businesses
during March Madness.
Bracketology for beginners

Let's start with the first rule of the bracket. A No. 16 seed has never beaten a No. 1 seed. So don't pick North Carolina A&T to beat Louisville. They're not the good North Carolina.
Tiernan has analyzed the field with numbers and whatever other junk his cyborg computers cooked up and has determined that the No. 1 seeds in this tournament are as strong as ever, while the middle seeds are historically weaker than previous tournaments. Tiernan's analysis also showed that those sneaky upset-minded No. 11 and 12 seeds are better than they've been in previous years. Something to think about.
Another important thing to remember: Pick Michigan to win it all. That is, if you work for the Michigan athletic department. Just saying. On the QT. No pressure. (Shhhh, we're being watched).
Next, analyze the regions. East, West, South and Midwest. No North? A definite bias against Canada. You'll be hearing from lawyers at McGill University. The panel was unanimous in regarding the West Region as the weakest in the tournament.
"The throwaway region is the West," said Webb. "Ohio State has a cakewalk to the Final Four."
The West Region is also the bad coach region, according to Tiernan. Populated with teams led by perennial underachieving leaders Mark Few (Gonzaga), Jamie Dixon (Pitt), Mike Brey (Notre Dame) and Steve Alford (New Mexico). These coaches have been to the tournament many times but have never had much success. The links on their names will also take you to delightful photos of them screaming.
Who's in the Final Four?

All four prognosticators have Ohio State coming out of the West Region, and they're also across the board choosing Louisville to advance out of the Midwest.
That's where the uniformity ends. Webb and Weintraub pick Kansas to come out of the South and Miami out of the East, while Bacon and Tiernan choose Florida and Indiana to advance and dance.
Your winners? Bacon, Tiernan and Weintraub go with Louisville, while notorious Michigan hater Webb chooses the Buckeyes of Ohio State to cut down the nets.
Good luck getting Bacari Alexander to tweet at you now, sucker.
Upset specials and America's Team

The experts may have chosen all No. 1 and 2 seeds for their Final Fours, but which teams should you choose if you're not old and scared (in general and of public humiliation) like our esteemed experts?
No one likes Gonzaga. Especially Bacon.
"They can't be America's team if you don't know what state they're in," says Bacon of the loveable No. 1 seed from (Googling) Spokane, Washington.
Tiernan has run statistical models where Saint Mary's advances out of the play-in game into the Sweet 16. He also has a model where Belmont makes the Final Four. It turns out that Tiernan has a model for pretty much every tournament outcome, which leads me to believe that he's less Nate Silver scientist and more Walter White scientist.
Saint Mary's? Please!
What about the Wolverines?

The outlook isn't as grim as a loss to Ohio in the first round, but none of the experts predict that Michigan will end its season with a win. Tiernan is the most optimistic, predicting an Elite Eight berth, but Bacon, Webb and Weintraub see the Wolverines advancing to the Sweet 16 before being sent home by a superior Kansas squad.
"We romanticize this team a little too much," says Webb, "but I don't think this team will come close to the Fab Five teams or the 1989 team. This team isn't on that level. Trey Burke is tremendous, but as far as teams are concerned…"
For the record, Webb sees Glenn Robinson III and Tim Hardaway Jr. returning, but not a chance in heck that Burke is wearing the Block 'M' next year. Unless that's the 'M' of the Miami Heat, or Milwaukee Bucks. Or another professional basketball team with an M in its name. Minnesota? Montreal? Moncton?
We love you, Trey Burke. Stay golden.
Bracket intangibles

Like any science experiment, there are intangibles like mold or Doug McDermott that can mess with the results.
According to Tiernan, this is the lowest scoring tournament field in the modern era of the NCAA basketball tournament. He also states that defense wins championships, but it only takes you so far in the tournament. So no one can score, but you need to score to win.
Takeaway: My brain hurts.
"There is a model that has Creighton advancing over Duke," adds Tiernan, two sentences before demanding that the Earth revolves around the sun.
Takeaway: Scientist? Ha!
"Michigan State doesn't defend screen action well, says Webb.
Takeaway: So watch out for teams in the Midwest Region that (mumble mumble basketball talk something smart).
Finally, never deny destiny and a "higher purpose" (not my words). The Saint Louis Billikens lost former head coach Rick Majerus to heart failure in December and have played amazing basketball ever since. I don't like to compare real life tragedies to Danny Glover movies, but we might be smelling some Angels in the Backcourt this year.
"Sometimes when they play, you can see it," says Weintraub, who is on board with the higher power theory. And also a part-time ghost hunter.
Takeaway: I'm getting' too old for this, um, stuff.
Final unscientific thoughts

I picked Duke to win it all because I hate myself. I also picked Michigan to lose to Virginia Commonwealth in the second round because I won't pick against a coach named Shaka Smart, nor something called a "Havoc" defense. I also picked Eastern Michigan to win its first game, even though they aren't in the tournament, and Gonzaga to make it to the Final Four despite all the haters.
The question is: who do you have taking it all? Comment below so we can all make fun of your picks!
Richard Retyi returns to AnnArbor.com with his new column Hidden Ann Arbor. Rich will write about the hidden side of Ann Arbor and the things locals take for granted. In his day job, Rich is a social media director for a digital marketing agency in Ann Arbor. Read more of his stuff at RichRetyi.com or follow him on Twitter.