Posted on
Fri, Aug 26, 2011 : 11:13 a.m.
UCLA transfer Marlon Pollard itching to help improve Eastern Michigan's defense
By Rich Rezler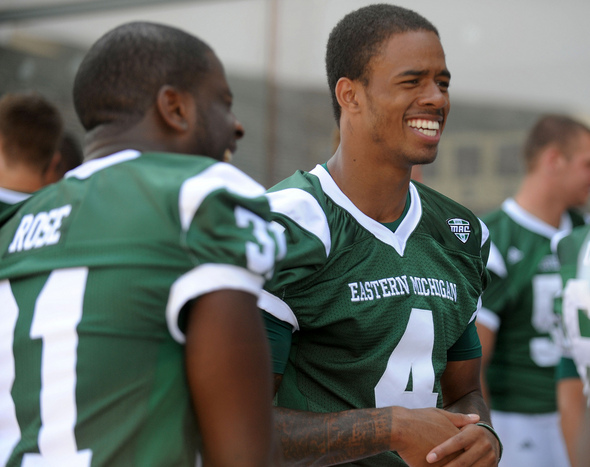 Angela J. Cesere | AnnArbor.com
It's not often a 4-star cornerback recruit simply drops into a program. Especially at Eastern Michigan, which has had one winning football season since 1990.
But when Marlon Pollard was looking to leave UCLA after the 2009 season, he called Ron English to see if there was room for him on the Eastern Michigan roster. The Eagles had just gone 0-12 in English's first season as head coach.
There was room.
"I actually contacted them. I knew when I was going to leave (UCLA) that I wanted to go to a school with great coaches," Pollard said. "(Defensive coordinator Phil) Snow and Coach E, those were the names that popped into my head because of their reputation with DBs."
EASTERN MICHIGAN PREVIEW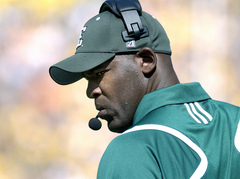 Coach:
Ron English (2-22 in two seasons at Eastern Michigan)
Last year: 2-10, 2-6 Mid-American Conference
Key returnees
Junior QB Alex Gillett threw for 1,633 yards and ran for 766 more in 2010, the fourth-best single-season total in program history. English said LT Korey Neal was "dominant" in spring practice and DE Andy Mulumba leads a defensive line that returns all four starters.
Key newcomers
CB Marlon Pollard is eligible after transferring from UCLA and seven junior college players add depth and competition on defense. LB Justin Cudworth should make the biggest impact from the JuCo group. Freshmen Ryan Brumfield and Bronson Hill enter fall camp in the mix for the starting running back job.
Key departures
Eric Davis, a four-year starter at center, leaves a big hole on an otherwise experienced offensive line. Dwayne Priest (716 yards, eight TDs) was the Eagles' most productive running back and TE Ben Thayer led the team with 30 receptions.
Outlook
The offense should be capable if a featured back emerges and the infusion of transfers should make the defense better, if only because it can't get much worse. Out of 120 teams playing Division I FBS football, Eastern was 119th in passing efficiency defense and 118th in rushing defense.
Chalk talk
"Playing against (the transfers in practice), I can see they can all play right now. They're ready to go, and I think they'll really help us." -- Gillett
It wasn't quite that anonymous, admits English, who was a long-time secondary coach before defensive coordinator stints at Michigan and Louisville.
Like English, Pollard grew up in Pomona, Calif. English went to school with Pollard's father, Marlon Sr., several uncles and some of his youth football coaches. They steered Pollard to make the call.
"I knew a little bit about him just from recruiting the West Coast, but I didn't know Marlon was looking to transfer," English said. "I think it's worked out pretty good for everybody. I think he found a place where he can be comfortable. His mother texted me just two days ago and couldn't believe how much he's grown up. I think he needed to get away to grow up."
Rated a 4-star recruit by Rivals and Scout and the No. 6 cornerback in the nation by recruiting analyst Tom Lemming, Pollard spent a redshirt year at UCLA in 2009. He excelled in the classroom, named to an honors' list for three straight semesters, but was fifth on the Bruins' depth chart after the spring of 2010.
Asked about his decision to leave Los Angeles for Ypsilanti, Pollard says he just "wanted another opportunity."
After a full year on the EMU scout team and rooting from the sidelines in team-issued warmups, Pollard (6-foot, 170 pounds) is itching to make the impact expected of him as a highly-touted recruit from Cajon High School.
"I just want to help where I can, whatever the team needs," he says.
The Eagles need the help. Out of 120 teams playing Division I FBS football in 2010, the Eagles (2-9) were 119th in passing efficiency defense, 118th in rushing and scoring defense, and 113th in total defense.
Pollard is part of an infusion of new, non-freshman talent on the Eagles' defense. Junior college transfers Blake Poole and Justin Cudworth are both projected to start at linebacker and defensive back Latarrius Thomas, a transfer from Louisville, returns for his sixth college season. He started two games for Eastern Michigan last year before a neck injury ended his season.
English won't project what Pollard will produce on game days, but hopes he plays with the same energy and consistency he's shown in practice since August 2010.
"He's got some length, he's smart, he can cover you and make plays," English said. "I think as he continues to be coached by Phil Snow and continues to work at it, I think he'll be a guy who can play the position and be complete."
Weeks away from returning to the field and after making it through his first Michigan winter - the only time he'd seen snow besides "a day or two on Bear Mountain" - Pollard says he's glad he made the phone call to English.
"The guys here embraced me. The coaches embraced me with open arms and have taught me a lot as a football player and young man," he says. "I'm here and liking it."
Rich Rezler is a sports producer for AnnArbor.com. Contact him at richrezler@annarbor.com or 734-623-2553.