Posted on
Fri, Mar 9, 2012 : 5:59 a.m.
4 things to watch for in the Michigan vs. Minnesota Big Ten Tournament basketball game
By Nick Baumgardner
INDIANAPOLIS — The Michigan basketball program grabbed its first Big Ten Conference banner in 26 years earlier this week.
Its quest for a second begins Friday (6:30 p.m., Big Ten Network).
No. 2 seed Michigan (23-8) will open Big Ten Tournament play against No. 10 Minnesota (19-13), which advanced to the tournament's quarterfinals by knocking off Northwestern on Thursday at Bankers Life Fieldhouse.
The Wolverines and Golden Gophers met once earlier this season, with Michigan grabbing a 61-56 victory in Ann Arbor on Jan. 1.
Here are four things to watch for Friday.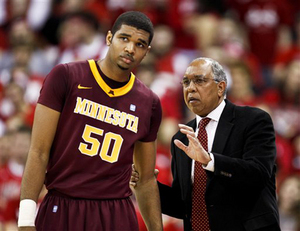 Associated Press
1. Crash the lane
Minnesota's sole proven big man presence was Ralph Sampson III. The key word there, being was.
The 6-foot-11 Sampson missed Minnesota's first-round victory against Northwestern on Thursday after suffering a knee injury earlier this week in practice. His status is unknown.
In his place, the Golden Gophers started freshman center Elliott Eliason.
Eliason, 6-foot-11, 260 pounds, doesn't have the scoring touch Sampson does, but he did grab 10 rebounds against the Wildcats.
If Sampson can't go again, the Golden Gophers' defensive presence will certainly be lacking inside, meaning the lane will be more spacious for drives from Trey Burke and Tim Hardaway Jr., as well as any type of interior play from Jordan Morgan or Evan Smotrycz.
Michigan also shouldn't have an excuse on the glass, either, as the Wolverines out-rebounded Minnesota 36-28 in Ann Arbor with Sampson in the lineup.

2. Pick and roll, again and again

Burke had the best scoring game of his season against Minnesota in January, and turned out to be Michigan's only reliable option on offense.
Minnesota could not handle the high screen and roll Burke and Morgan executed throughout the game.
Sampson struggled to adjust, and so did Eliason, as neither exactly moves quickly.
Against teams with athletic big men, Michigan has struggled to get Burke space on the screen and roll. The two best examples of that were losses at Michigan State and Ohio State.
But, fortunately for Michigan, the Golden Gophers don't boast a front line anywhere near the same level as the Spartans and Buckeyes' respective units.
Against Minnesota in January, Burke went 8-for-11 from the floor, 2-for-2 from 3-point range and 9-for-11 from the free throw line.

3. Push if possible

Michigan hasn't played a game since Sunday. Minnesota played, with five extra minutes, just one day ago.
So, in terms of fresh legs, Michigan clearly has the advantage right now.
Early in the game, this shouldn't be an issue. Minnesota's adrenaline will likely carry it through the game's first 20 minutes.
But, if Michigan can stretch its legs in open creases throughout the middle and back half of the game, then the Golden Gophers could get sluggish and sloppy.
It's only been one day, and these are young kids, but playing games on back-to-back days can take its toll on teams, mentally and physically.
Additionally, John Beilein's system isn't the easiest thing to prepare for on short notice. If Minnesota has tired legs and tired minds, Michigan should take advantage.

4. Play with fire

Michigan is entering this tournament in search of another banner, which is always more than enough motivation.
But, unlike previous years, the Wolverines aren't fighting for their lives in Indianapolis.
Michigan entered the week as the No. 10-ranked team in the country, and is projected by many to garner at least a No. 3 seed in the upcoming NCAA Tournament.
A loss Friday might put a damper on Michigan's tournament seeding, but not much. And it certainly wouldn't end the Wolverines' season.
For Minnesota, it's a different story. The Golden Gophers have an RPI of 85 and one more victory would get Minnesota to an even 20 on the season.
There are no promises of an NCAA Tournament future from there, but a win over Michigan would certainly put the Golden Gophers back into bubble territory.
Minnesota will once again be playing for its life Friday. To counter that, the Wolverines would be wise to pretend they are, as well.
Nick Baumgardner covers Michigan basketball for AnnArbor.com. He can be reached at 734-623-2514, by email at nickbaumgardner@annarbor.com and followed on Twitter @nickbaumgardner.
Want to stay connected to Wolverine basketball in your Facebook newsfeed? "Like" AnnArbor.com's Michigan Basketball News & Views.