Posted on
Sun, Jan 1, 2012 : 8:27 p.m.
Michigan basketball team hangs on, tops Minnesota, 61-56, for 7th consecutive victory
By Nick Baumgardner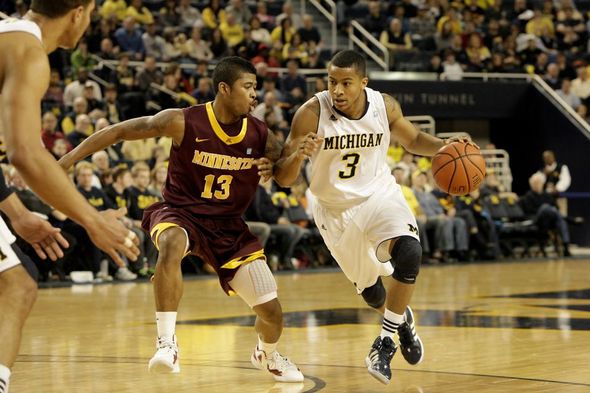 Chris Asadian | AnnArbor.com
Updated 8:27 p.m.
The offense wasn't pretty and the defense suffered lapses.
But thanks to a fabulous freshman, the Michigan basketball team is 2-0 in the Big Ten.
And the Wolverines will take it.
Freshman point guard Trey Burke led all scorers with a career-high 27 points as the 18th-ranked Wolverines slugged by visiting Minnesota on Sunday, 61-56, at Crisler Center.
"I just try to do whatever the flavor of the game is," Burke said. "I (just want to) make sure we get the win."
MICHIGAN 61, MINNESOTA 56

Nick Baumgardner's recap:
BIG SHOTS
Trey Burke's done a lot for Michigan in his first season on campus. On Sunday, he did pretty much everything. The freshman point guard continued his stellar rookie year with a career-high 27 points on 8-for-11 shooting from the floor and 9-for-11 from the foul line and was the only Michigan player to finish in double figures.
HARDAWAY STRUGGLES, RESPONDS
After scoring a season-high 26 points in a win over Penn State last week, sophomore forward Tim Hardaway Jr. finished with just seven points on 2-for-14 shooting. His last shot, though, was arguably the biggest of the night. His 12-footer with 35 seconds remaining put Michigan up three, effectively sewing up the victory.
BOARD WALK
Against Minnesota in Ann Arbor last season, Michigan grabbed just 13 rebounds in a losing effort. On Sunday, the script was flipped. The Wolverines out-rebounded the Golden Gophers 36-28 and finished with a season-high 15 offensive rebounds.
QUOTE
"I just try to do whatever the flavor of the game is. I (just want to) make sure we get the win."
— Michigan freshman Trey Burke
RELATED CONTENT
Photo gallery
Notebook:
Tim Hardaway Jr. overcomes woeful shooting with game-changing jumper late against Minnesota
Boxscore
|
Top 25 scoreboard
Burke was the lone offensive bright spot for the Wolverines (12-2, 2-0 Big Ten), who have won seven consecutive games and are 2-0 in the Big Ten for the first time under coach
John Beilein.
The freshman from Columbus, Ohio, was the team's lone double-figure scorer, finishing 8-for-11 from the field and 9-for-11 at the foul line.
Burke spent most of his night torturing the Golden Gophers on the pick and roll, routinely finding his way to the basket and consistently knocking down mid-range jumpers.
"We couldn't stop Trey Burke on the pick and roll," Minnesota forward Rodney Williams said. "He had 27 points tonight, and that was all him just getting to the rack and the free throw line."
Senior Stu Douglass added nine points off the bench for the Wolverines. Tim Hardaway Jr., who had a season-high 26 points last week, had just seven points on 2-for-14 shooting. As a team, the Wolverines shot 38.5 percent -- their worst shooting night of the season.
Minnesota (12-3, 0-2 Big Ten), which shot 59 percent after halftime, got 11 points each from Williams and Julian Welch.
"I think we saw a little bit of Big Ten basketball again," Beilein said afterward. "It reminded me a little of the end of last season, in the last 10 games where most of them were decided with a big shot or a stop late in the game."
After taking a four-point lead into the break, Douglass and fellow captain Zack Novak sparked a 10-3 run to push Michigan's lead to seven midway through the second half.
Minnesota had an answer, though, trimming the lead to four after a Chip Armelin triple, and then down to one after back-to-back 3-pointers from Welch, making it a 57-56 game with 2:04 left.
The Gophers then had a chance to take the lead on their next possession, but a deflected pass by Burke and tight defense led to a shot shot clock violation.
From there, Hardaway provided the dagger, nailing a 12-footer with 35.1 seconds to go.
"That shot wouldn't have gotten off if we didn't call the right play, Trey trusted me to pass me the ball and (Jordan Morgan) set a terrific screen for me," Hardaway said. "(But) defense, that's what we all stress in the locker room and at practice.
"We're not going to worry about the offense, coach Beilein does a great job of getting us open looks and we're going to knock them down. Defense wins championships, and that's what we're trying to build up to."
Williams misfired from deep on Minnesota's next possession, and Novak would follow with a pair of free throws with 5.4 seconds left, icing the game.
Michigan's defense provided the Wolverines with the early edge, holding Minnesota scoreless for more than seven minutes midway through the half, eventually moving in front 19-11 after a pair of Hardaway foul shots.
The Golden Gophers hung around, though, cutting that lead in half after Armelin's bucket made it 23-19 just before the break.
Morgan finished with seven points and 12 rebounds for the Wolverines, who out-rebounded Minnesota 36-28.
Michigan returns to action Thursday when it faces its first true road test in more than a month with a 9 p.m. game at Indiana.
"There was a couple times (tonight) I felt we could've broke them," Burke said. "Then they'd get a big shot.
"It took us until the last five minutes to get those big stops, but we did it."
Nick Baumgardner covers Michigan basketball for AnnArbor.com. He can be reached at 734-623-2514, by email at nickbaumgardner@annarbor.com and followed on Twitter @nickbaumgardner.
Want to stay connected to Wolverine basketball in your Facebook newsfeed? "Like" AnnArbor.com's Michigan Basketball News & Views.