Posted on
Wed, Nov 16, 2011 : 3:32 p.m.
4 things to watch Thursday when the Michigan basketball team faces Western Illinois
By Nick Baumgardner
The Michigan basketball team learned a few things in a 64-47 victory Monday against Towson, both good and bad.
Freshman guard Trey Burke can play, Evan Smotrycz continues to improve and Jon Horford and Jordan Morgan appear to have their moments in the paint.
Michigan started the game on a 21-0 run in the first 10 minutes, but promptly took its foot off the gas and found itself outscored 47-43 in the final 30.
The Wolverines have one final test (vs. Western Illinois, 8:30 p.m. Thursday) before shipping off to Hawaii for the Maui Invitational.
Here are four things to watch for Thursday in Michigan's final pre-Maui tune-up:
1. Playing more than a half

Michigan didn't do much in the second half in an exhibition against Wayne State, slumping to a sloppy nine-point win. Against Ferris State in the season-opener, the Wolverines had no offensive rhythm in the game's first 20 minutes.
On Monday, Michigan was stellar at both ends for 10 minutes, but average at best the rest of the way.
It's November. Nothing's going to be 100 percent just yet, and expecting a team to play to its full potential for a full 40 minutes is too much.
But there's nothing wrong with expecting a solid 30 to 35 minutes.
Michigan likely won't need that Thursday against Western Illinois, but against Memphis next week in Maui, it'll need a wire-to-wire effort.
Might as well start practicing now.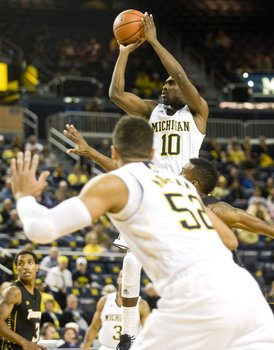 Joseph Tobianski | AnnArbor.com
2. Easy on the triples
When Michigan was rolling early against Towson, it was getting point production all over the floor.
Burke and Tim Hardaway Jr. combined for three early 3-pointers, but Michigan also got low-post buckets from Horford and Morgan, mid-range jumpers from Hardaway and Zack Novak and a pair of easy buckets in transition.
The floor was balanced, Michigan was moving the ball and it was feeding off its defensive effort.
From there, though, the Wolverines started falling in love with the 3-pointer. And it wasn't a good kind of love, either.
Michigan went 1-for-7 from behind the 3-point line in the final 10 minutes of the first half and finished 1-for-9 from long range after halftime.
Do the math, and that's a combined 2-for-16 from 3-point range in the game's final 30 minutes.
Michigan's roster is packed with shooters, and if the shot's in rhythm, those shooters have a green light. But most of the 14 misses during that stretch Monday weren't in rhythm, they were forced, off-balance and ill-advised.
The 3-pointer can, at times, be Michigan's best friend. The trick now, though, is to make sure it doesn't end up being its worst enemy.

3. Which Stu shows up?
In a starting role against Ferris State, Stu Douglass thrived, going for 14 points, five rebounds and four assists.
In a reserve role Monday, Douglass finished 0-for-7 from the floor, 0-for-5 from 3-point range.
Early in the game, Douglass' shot wasn't falling, but he was facilitating. He finished the first 0-for-4, but made up for the missed shots with four assists versus one turnover.
In the second, Douglass still couldn't find his shooting touch, and the assists stopped coming as well. Douglass doesn't have to be on fire every night for Michigan to be successful, but he does need to find shots within the flow of the offense.
And if his shot isn't falling, he still has the ability to find open looks for others.
Michigan coach John Beilein said that Douglass was comfortable coming off the bench, and he seemed confident the senior guard's shooting woes wouldn't be a lingering issue.
It's November, and he's more than likely spot-on. But it's pretty clear: When Douglass is right, Michigan's pretty good. When he's not, the Wolverines feel it.

4. Time for the youngsters?
It's clear at this point that Burke is going to play, and play a lot (he notched a team-high 30 minutes Monday).
But the other freshmen?
Guard Carlton Brundidge has played eight minutes of garbage time this season, scoring one point.
It's pretty clear Brundidge wasn't as advanced as Burke entering the season, but he's seen the floor, so it's not out of the question for him to earn more playing time moving forward.
Big man Max Beilfeldt, however, might not be in that boat. Beilfeldt has yet to play a minute this season during Michigan's pair of blowouts.
The campaign isn't a week old yet, so it's far too early to start handing out redshirts.
But it's a situation definitely worth watching moving forward.
Nick Baumgardner covers Michigan basketball for AnnArbor.com. He can be reached at 734-623-2514, by email at nickbaumgardner@annarbor.com and followed on Twitter @nickbaumgardner.