Posted on
Fri, Nov 11, 2011 : 10:33 p.m.
Surprise starter Stu Douglass leads Michigan basketball team to a 59-33 win over Ferris State
By Pete Cunningham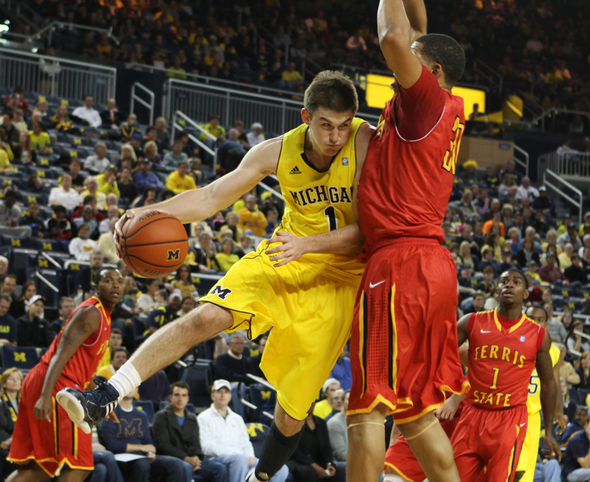 Jeff Sainlar | AnnArbor.com
Updated 10:33 p.m.
When Stu Douglass arrived at Crisler Arena on Friday, he was under the impression he would be coming off the bench in the Michigan basketball team's season opener.
But when Trey Burke -- named the starting point guard on Thursday -- was late for a pre-game walkthrough, coach John Beilein informed Douglass that he would replace the freshman in the starting lineup.
Douglass responded by leading the Wolverines with 14 points in its 59-33 win over Ferris State.
Douglass didn't deny it was gratifying to lead the team in scoring after being replaced in the starting lineup, but he didn't read too much into it, either.
MICHIGAN 59, WAYNE STATE 33
"It's fun in its own little way, but it's hard to look into something like that," Douglass said. "It's a long season. This is just the first game."
Burke finished with three points, four rebounds and no assists in 18 minutes of action and Beilein said the tardiness won't effect his future status in the lineup.
"He'll probably have some other things to do tomorrow at practice," Beilein said of the situation.
Evan Smotrycz also had 14 points for the Wolverines, which was a stark contrast to his scoreless performance in an exhibition game against Wayne State last week.
"During the exhibition game, my mind was kind of all over the place. I let my mind get the best of me and wasn't focused on the next play. I was kind of dwelling on the past," Smotrycz said. "Tonight, I tried to stay focused and coach myself mentally."
After struggling to get much going offensively most of the night, the No. 18-ranked Wolverines (1-0) ended the game on a 21-1 run to put away the Division II Bulldogs. Michigan made nine of its final 11 shots during the run, but still finished the game 22-of-56 (39.3 percent) from the field.
"I saw us going after the ball to start the fast break, I saw guys converging on the ball to start the fast break," Beilein said of the late run. "That's how we want to play."
The run was sparked by a hustle play by Matt Vogrich, who grabbed his own rebound in a crowd of Ferris State defenders. Vogrich scored and was fouled on the ensuing shot to put Michigan up 43-32 with 7:41 left in the game.
Tim Hardaway Jr. said the play inspired the team.
"That motivated us tremendously," he said. "That 's what we need to keep on doing, myself included, and everybody else coming off the bench. It just gets the crowd into it and it gets us fired up."
After trailing 22-16 at halftime, Ferris State scored the first five points of the second half to pull within one point.
Hardaway then connected on his first 3-point attempt and assisted on a Smotrycz 3-pointer on Michigan's next trip down the floor. Following a timeout, Hardaway came up with a rebound and drove the court for a layup to put Michigan ahead 30-21.
Hardaway finished with 12 points, including nine in the second half.
Beilein said he was pleased with Hardaway's ability to score inside, out and in a crowd.
Tied 6-6 early on, Michigan went on a 9-0 run to take its largest lead of the first half. Ferris responded with a 8-2 run of its own. Dan Chicote hit a 3-pointer to make the score 17-14 at the 6:16 mark.
Michigan started hot from beyond the arc, going 3-for-4 on 3-pointers. The Wolverines cooled down significantly, hitting just one of their next 13 to end the half and finished the night 9-of-28 from 3-point range.
"Our defense is a little bit better than our offense right now," Beilein said. "We're trying to find ways to score."
Daniel Sutherline led Ferris State with 11 points, but only had three second half points. Ferris shot just 28 percent (14 of 50) from the field.
"As long as we play defense like we did today again and again and again, no matter who we're playing against, we'll have a chance in those games," Beilein said.
Pete Cunningham covers sports for AnnArbor.com. He can be reached at petercunningham@annarbor.com or by phone at 734-623-2561. Follow him on Twitter @petcunningham.