Posted on
Tue, Apr 26, 2011 : 3:35 p.m.
A postseason chat with Michigan women's basketball coach Kevin Borseth - Part I
By Michael Rothstein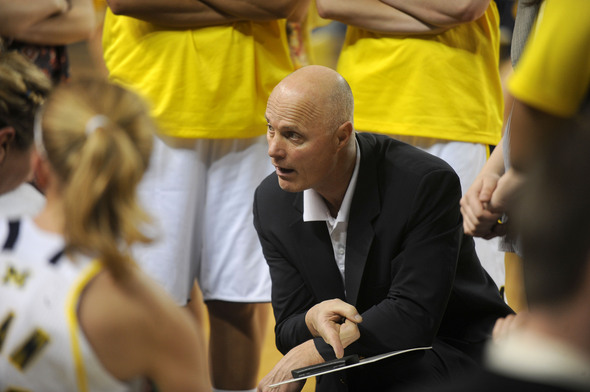 Angela J. Cesere | AnnArbor.com
For the second consecutive season, the Michigan women's basketball team sat on the cusp of the NCAA tournament but ended up playing in the WNIT.
Graduating one player — senior guard Veronica Hicks — Michigan returns a core of a team that looked like it would make the 64-team NCAA field until struggling in the season's final weeks.
A month removed from that, women's basketball coach Kevin Borseth sat down for a two-part interview. In Part I, Borseth breaks down the future of the program — both in personnel and how close he thinks the team is to making the NCAA tournament.
Q: Where do you feel you guys are at, off-season-wise? Plus, you lose (Veronica Hicks).
Kevin Borseth: We have a lot of kids coming back with a lot of experience, and we need to take it another step, be a little bit more serious in how we approach the game. We did a lot of strategic things last year to cover our bases for every imaginable place we could. We thought we had an answer for everything; if somebody presses us, they zone us. But as a result, we weren't very aggressive. We have to get ourselves to an aggressive state, back to an aggressive mode because the only way you're going to be good in this game is if you can make things happen on the defensive end of the court. This year, in my opinion, we didn't make enough happen. So we need to really re-adjust what we do and really need to get our kids, our focus really has to be on aggressiveness and getting ourselves in shape.
What we worked on in the short spring that we had, we worked on playing the game at an elevated pace, pushing each other in pickup games where before it was go with the flow and just play and go through the motions. That's not going to get it done.
Q: When you look at the season, how do you replace Roni?
KB: That's been going on forever. Every coach tells you when someone leaves, 'How are you going to replace them?'
In reality, your team is going to take on a new face, whatever that face is, and you've got players that have to step up and play. One year makes a whole difference in the world to a player, providing they get themselves in position to do it. But our makeup will change, the things that we do, the people we look to in crunch time offensively, defensively. That goes with the territory. So I don't know if you could ever replace a player that you lose, your team just takes on a new face. Same direction, but a different direction.
Q: Who becomes that face next year?
KB: I don't know. I look out, and a kid like Kate Thompson came off the bench and did a good job last year. Is Kate going to be the kid for us? Is Carmen (Reynolds) going to have a breakout year? I think last year Carmen plateaued, and a lot of people knew that Carmen could shoot the 3-point shot but couldn't really create enough off the dribble. That's her big thing this summer, being able to shoot the ball off the dribble. She's really good. Jenny Ryan: Will Jenny become a little bit more aggressive in her play? Sam Arnold, Rachel Sheffer. We've got kids who have played, have played significant roles and achieved success this year. But when the balls are rolled out next year, someone, if not everyone, has to step to the forefront and fill those holes.
Q: Having more height change things because all those players, every one of them you named but one is over 6 feet?
KB: Our size, we've never really had any size. Like two years ago we were small, Carmen was our four man at 5-11 and (Krista Phillips) was 6-6. Now you're starting to add some taller players with Sam and Kate, you get a little more size. But what you get in size, you have to make sure you get the same thing back in athleticism. That's really a push for us, to make sure our kids are in shape and athletic enough to be ready to compete. If they can and can do something on the defensive end and create for us, our chances of being successful are a lot greater."
Q: Your incoming freshman class, do you see any of them making an immediate difference for you?
KB: Our freshmen coming in have to make a contribution. Brenae Harris (a guard from Marion, Ohio) is a kid who has the ability to make a contribution. Aquashia (Anderson, a guard from Meridian, Miss.) blew her knee out at an all-star game in Mississippi so I don't know what her status is going to be. She's going to have surgery here in the next couple of weeks, and then it's a six-month waiting period to see how it all pans out. But she's a pretty good player, but how you do coming off a knee injury is too early to tell. Cyesha (Goree, a forward from Grand Rapids) has to be able to get herself in shape, great hands, good rebounder. But that time when you leap from high school to college is just different. All of a sudden you go from a practice where you practice an hour-and-a-half and you're sharing the gym with someone else to all of a sudden you're going to a commitment to basketball. All of a sudden it's sink or swim. Your game has a great deal to elevate because there is a great deal of emphasis placed on it.
Q: What are you going to do in the off-season? Any plans?
KB: We've been in here every day trying to go over this recruiting and stay on top of it because it is our lifeblood at this point. Try to get outside, get some exercise as best we can. That's allowed us to keep us fresh. You're sitting here and after a while you're staring at these walls, you know what I mean, stare at this computer, you can only stare at it so long until it drives you batty because you sometimes outthink yourself. But recruitment is extremely important, working hard to do that. We've got basketball camps we're going to deal with, recruiting in July. Somewhere in between there we have to make time for family and exercise and fun.
Q: So any trips planned?
KB: My parents are up north so we'll go up there, two or three times I'll travel up there, spend some time on the lake, get up there and swim and do all the things that you do along the water. Fish, try to do some of that.
Q: Looking at basketball again, you guys have been pretty close the last two years to the tournament. Do you feel like this is a make-or-break type of year?
KB: It's not make-or-break. I'll tell you what. When it turns, it turns. We've probably, we wanted to get into that tournament the past couple years, and we were in the postseason. We're slowly making the turn. I tell some people we're like the stock market, we're slowly making a climb, but every now and then there's one of these days where, 'Boom, you hit rock bottom.' But the next day, 'Boom, you bounce back up again.' Our program is at that stage. I don't know if we're looking for quick fixes. We're looking to build a good, solid foundation of kids that we have. Make sure that we're rock solid on the bottom and work our way up. In my opinion, it's not make-or-break. We're not putting ourselves mentally in a make-or-break capacity, the program's future. But we want to get better. We need to continue an upward climb and that's important.
Q: You've been successful everywhere you've been. Do you feel you guys are close? Or is it still a bit more away than it looks?
KB: We're moving in the right direction, the culture. Everything is moving in the right direction, and that's what we want it to do, move in the right direction. If we have a breakout year, when it changes, it changes and it changes forever. You become a major player in your conference and in the country and all of a sudden when it changes, it changes and it doesn't go back. From there, it just takes right off. Probably taking longer than I anticipated it was going to take, but right now we're taking baby steps and doing it the right way.
Michael Rothstein covers University of Michigan basketball for AnnArbor.com. He can be reached at (734) 623-2558, by email at michaelrothstein@annarbor.com or follow along on Twitter @mikerothstein