Posted on
Wed, Jan 27, 2010 : 2 p.m.
After Michigan State, Michigan basketball team deals with another fall-from-ahead loss
By Michael Rothstein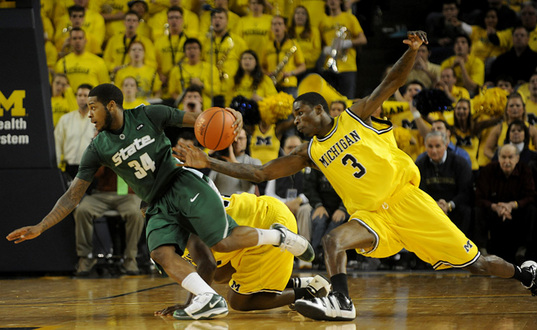 As Michigan State's
Kalin Lucas'
shot fell through the net and
DeShawn Sims'
bounced out a moment later on Tuesday night, the script of the
Michigan basketball team's
season can be written as a two-scene short film.
Hold a lead in the final minutes of play. Watch it slip away in another loss in what can only be categorized as a disappointing season.
Five times this season, Michigan (10-10, 3-5) has lost second-half leads. The latest: A 57-56 loss at Crisler Arena to the Spartans.
"It could be a far different season if we could win half of those," Michigan coach John Beilein said. "Let alone all of them."
The fall-from-ahead losses have come from a variety of ways.
There are complete meltdowns, like dropping a 17-point first-half lead and a three-point lead with 12:50 left against Northwestern. There have been soul crushers, like dropping a nine-point lead at hard-to-win Wisconsin with 9:03 remaining.
Then there are the devastators, like Tuesday's loss to No. 5 Michigan State, where Michigan led by three, 56-53, with 2:38 left and by one, 56-55, with 1:09 remaining.
All of the losses have common threads. Michigan has given up a tough shot late in a defensive possession. And the Wolverines' offense decided to take a break, often relying too much on their stars - Sims and junior guard Manny Harris.
"It comes down to the defensive end, we're up by three, one or two stops there in the last minute and we come away with a victory," senior forward Anthony Wright said, speaking specifically about Michigan State. "But that's how it goes sometimes."
Beilein, though, isn't as troubled by it as much as some coaches would be. In part, it is because of the way Michigan is losing.
It isn't a fall apart scenario at the free-throw line, where the Wolverines are missing end-game shots to finish off an opponent.
No, these losses come in the pace of play, so they are correctable in some ways. There is the possibility of playing better defense, drawing up a better offensive play, making a better decision.
That is where Beilein sees hope.
"It can get contagious, but I really would be even more concerned about it if we missed a bunch of 1-and-1's to lose all those games," Beilein said. "Our defense is our defense and it's good sometimes and we're just either outmanned or they are stronger or a guy makes a shot and we miss one.
"It comes down to be that simple."
This isn't to say Michigan has never rallied to win. It did against Connecticut, Ohio State and Creighton. But considering the way the Wolverines' season has gone, it the losses stand out.
"Just finishing plays. I know one time, Kalin Lucas had the ball, I fouled him and they got a fresh 35-second shot clock. Just the little things, a rebound that we're just a little bit outsized on the weak side, a rebound that went over the basket and Michigan State was able to grab that," freshman guard Darius Morris said. "Little things like that. We need to finish plays. We're playing great defense for 34 seconds, 35 seconds that shot goes up and we need to make sure that possession is ours."
All of this has left Michigan frustrated, annoyed and ready for it to stop, even if time is running out. Ten games remain until the Big Ten tournament, starting with Iowa (8-12, 2-5) at Michigan on Saturday for a 4:35 p.m. game. (Big Ten Network)
"Enough of this losing and learning experiences," Morris said. "It's time for wins."
Michael Rothstein covers University of Michigan basketball for AnnArbor.com. He can be reached at (734) 623-2558, by michaelrothstein@annarbor.com or follow along on Twitter @mikerothstein.