Posted on
Tue, Jan 26, 2010 : 11:19 p.m.
No. 5 Michigan State holds on to knock off Michigan basketball team, 57-56
By Michael Rothstein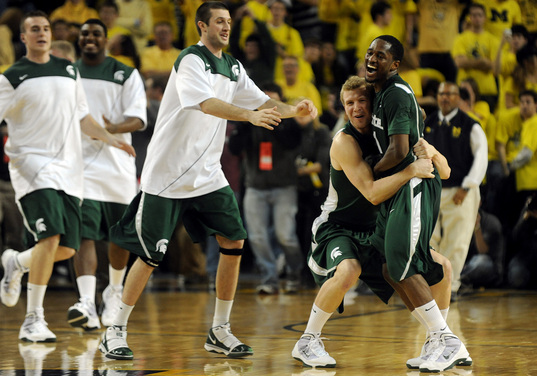 The tattoo near Kalin Lucas' left-hand thumb reads "Trust Few." At Michigan State, he's the one guy the Spartans can count on at the end of the game.
For the second straight game Tuesday, the junior guard lived up to his big-shot billing. 
The Big Ten Preseason Player of the Year caught the ball at the top of the key against Michigan, took one dribble and let the ball fly from just right of the free-throw line. The shot fell with 3.5 seconds left, quieting the Crisler Arena crowd and sending the No. 5 Spartans to a 57-56 win over the Wolverines.
"When it left my hand, it did feel pretty good," Lucas said. "But I just squared up to the basket and it left my hand and it did feel good and it went in."
It was the second time in four days Michigan State (18-3 overall, 8-0 Big Ten) needed a clutch shot from Lucas to remain unbeaten. He did it Saturday against Minnesota, burying a three-pointer to knock off the Gophers, 65-64. Then he did it again in Crisler, sending Michigan to its third straight loss against a Top 25 team.
The Wolverines had one last shot in a wild final minute. Senior forward DeShawn Sims was fouled near mid-court with 1.5 seconds left.
It set up an inbounds play drawn up almost perfectly - except the shot didn't fall. Sophomore guard Stu Douglass threw a perfect lob to Sims, who led Michigan (10-10, 3-5) with 19 points.
Sims caught the ball over Michigan State guard Durrell Summers and lofted the ball in the air. It hit the backboard, front rim and bounced out as the buzzer sounded.
"That would have been a tough score," Michigan coach John Beilein said. "Would have been a hell of a score."
Initially, Michigan had been looking for junior guard Manny Harris - fresh off a one-game suspension for unsportsmanlike conduct in practice - for the final play. But Harris was covered so the play went to Sims.
"He was going to make a great play or he was going to miss it," Summers said. "Thank God he (missed)."
As Sims approached the pass - reading the ball like a wide receiver trying to grab a touchdown pass on a jump ball in the end zone - Summers appeared to tug on the right side of Sims' jersey. Arms flailed about.
Nothing was called. Sims said he was grabbed. But he said it was too late in the game for the foul to be called.
"Yeah, a little bit, but, you know, Big Ten," Sims said. "Last play, if I was on the other team, I wouldn't have wanted the call."
Earlier, Sims had a chance to put Michigan ahead by two possessions. After MSU's Raymar Morgan hit a layup for the last of his game-high 20 points to cut the U-M lead to one, 56-55, Sims airballed a three-pointer attempt. 
The miss gave Michigan State a chance. Of course, Michigan State put the ball in the hands of Lucas, who sent Beilein to 0-3 against the Spartans with his jumper.
"My teammates, when they come down to the last shots, I think my teammates have a lot of confidence in me and the coaches do as well," Lucas said. "They want me to make the big shot or the big play."
He did - and he sent Michigan to yet another close loss. Because of the in-state rivalry and the fact they were within one point of knocking off the Big Ten leader, this one stings more than prior losses to Wisconsin and Purdue.
"It's real disappointing. They're a Final Four team, top-5 team right now and we was right there beating them," Harris said. "And we let it slip away, so it hurt a lot."
Michael Rothstein covers University of Michigan basketball for AnnArbor.com. He can be reached at (734) 623-2558, by e-mail at michaelrothstein@annarbor.com or follow along on Twitter @mikerothstein.