Posted on
Fri, Jan 13, 2012 : 4:52 p.m.
John Beilein not concerned with heavy minutes for Trey Burke, Tim Hardaway Jr.
By Nick Baumgardner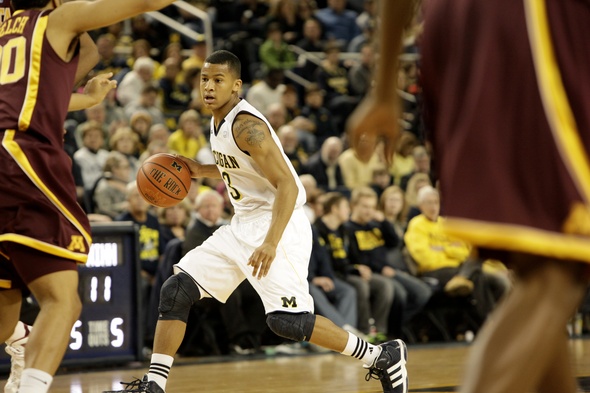 Chris Asadian | AnnArbor.com
Both Trey Burke and Tim Hardaway Jr. played the full 45 minutes Wednesday during the Michigan basketball team's 66-64 overtime win against Northwestern.
And now, with just two days rest, the duo will have to gear things back up as the Wolverines look for their first true road victory at Iowa on Saturday (1 p.m., BTN).
Is coach John Beilein worried about tired legs for his two leading scorers?
"They did have the day off (Thursday)," Beilein said. "I think that was great to refresh them. I worry more about scaling back (minutes) in practice than (I do) in a game."
Beilein said neither player would be overly exerted during practice on Friday, explaining how the Wolverines will typically use a heavy player rotation during team drills, with the scout team never leaving the floor.
With Iowa's fast-paced style of play being something Michigan will have to prepare for, Beilein did say the team will get up and down a bit during practice, but not too much.
Being in his second season, Hardaway seems to be less of a concern when it comes to extended minutes. He averaged 30.7 minutes per game as a freshman.
Burke is a different story. He's averaging a team-high 34.8 minutes per game during his first season as a college player.
But, again, Beilein doesn't seem concerned. Because, bluntly, the fifth-year Michigan coach says he's never had a freshman point guard quite like this one.
"I look at (ex-Michigan point guard Darius Morris') year-long stats from his freshman year," Beilein said. "Here's Darius, who was playing with Kobe the other night, and Trey already has more assists in this season than Darius had his whole freshman year.
"And Darius was a heck of a player. It's not normal. I can't recall (a freshman point guard) having this type (of year). It's been very rare that we've had (play a freshman this much). It's rare, but it's been very good."
Iowa coach Fran McCaffery seems to agree with Beilein. He offered some rather kind words with regard to Burke in the Cedar Rapids Gazette.
"With all due respect to the guy in the NBA (Morris), I think (Michigan is) better," McCaffery told the newspaper. "I'm a big Trey Burke fan, always have been. As good as Morris was getting to the rim, Trey's a better shooter."

Amping it up on the road

Michigan enters Saturday's game with an 0-2 record in true road games, a 12-point loss at Virginia in November and a two-point loss at Indiana earlier this month.
Asked what the next step is to achieve road success, Beilein said his team can't be just a bit better than the Hawkeyes, they have to be markedly better.
"If you look at the records of the teams from our three losses we have, those teams have pretty good records," Beilein said. "You have to win one and just find a way, and then it can get to be contagious. But the fact is that it's a hard thing to do and we have to look at ourselves and say we have to be special. We have to be not just better than that team, but play significantly better than this team today in order to win.
"If you're going to win on the road in conference play, you have to play your top game. If you're having an off night, it's probably not going to happen."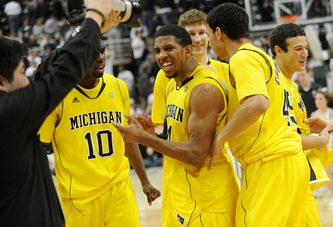 File photo
No look ahead
Asked if it would be difficult for his team to focus on Iowa with a rivalry game looming next week, Beilein said no.
Following the Wolverines' date in Iowa City, Michigan will welcome Michigan State into the Crisler Center on Tuesday, the first of two meetings between the schools this season.
The Wolverines swept the season series with the Spartans last season.
"I think we understand and we have been very good at that," Beilein said. "We're going to be focused on Iowa, there's no question about it. It's not necessarily about leadership, it's about all 20 of them taking it one day at a time.
"All 16 of those guys and the four coaches, it's one day at a time."

Iowa's Marble uses Beilein's words as motivation

Earlier this week, Beilein discussed Michigan's recruitment of both Hardaway and Iowa sophomore forward Roy Devyn Marble.
The Wolverine coach explained how Michigan had a choice to make between Hardaway and Marble -- a Southfield native -- for a scholarship. Michigan obviously opted to go with Hardaway, though Beilein said Michigan "wouldn't have gone wrong with Devyn," and that "Iowa and Michigan won in that selection."
Marble didn't take those words as complimentary, though, according to the Cedar Rapids Gazette.
"Yeah, it has to (be used as motivation)," Marble said. "He obviously feels Hardaway is better than me, so of course it's motivation.
"I'm not about to make this a one-on-one battle. At the end of the day, I still want to win the game. I probably won't defend Hardaway too much. I'll probably be defending Burke. I still want to have a good performance and lead this team to a victory."
Nick Baumgardner covers Michigan basketball for AnnArbor.com. He can be reached at 734-623-2514, by email at nickbaumgardner@annarbor.com and followed on Twitter @nickbaumgardner.
Want to stay connected to Wolverine basketball in your Facebook newsfeed? "Like" AnnArbor.com's Michigan Basketball News & Views.