Posted on
Thu, Aug 19, 2010 : 6 a.m.
By getting away, Michigan basketball's Stu Douglass hopes his game comes back
By Michael Rothstein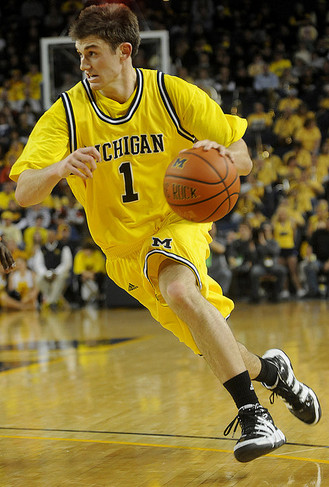 The first thing is the smile.
Six months have passed since Stu Douglass' smile-crushing slump came to a merciful end a few miles south of his Carmel, Ind. home.
In the weeks before Michigan's season ended at the Big Ten tournament in Indianapolis last March, Douglass admitted he needed to escape. The Michigan guard needed to get away from Ann Arbor, from basketball, from a sophomore season he still can't quite grasp.
"I was real disappointed with last year," Douglass, now a junior, said. "Even freshman year, you're learning, you're going to have disappointments and all that stuff. Last year was disappointment overall, especially individually.
"You have your own personal goals and I've always been hard on myself, been my harshest critic."
So he reevaluated. Everything.
He had help, too. Based in Carmel, he was close to Champions Academy in Zionsville, where many Purdue players and former Butler star Gordon Hayward worked out.
It was there that Douglass -- with an unexpected push from Hayward -- rediscovered himself and redefined his goals.
The two had known each other for a long time, back to when they were both 6-foot point guards on the same AAU team in eighth grade. Hayward, now 6-8, kept growing and was selected by the Utah Jazz with the ninth pick of the 2010 NBA Draft.
Douglass grew a little, but not much more.
"It definitely made me hungrier," Douglass said. "I'm really happy for Gordon, but at the same time I'm very competitive. I have to keep it real. I'm not striving for a lottery pick, but obviously making it to the next level … makes you very hungry to get there."
So Douglass worked constantly. He looked at his numbers from last season -- 6.8 points a game, a 33.3 shooting percentage and a 32.9 three-point shooting percentage -- and knew it wouldn't be enough. Not with the disappointment he had.
Not with Michigan losing its top two scorers in DeShawn Sims and Manny Harris.
"That's kind of what I re-evaluated," Douglass said. "And had to sit back and think, 'What do I really need to do to get to that point?'"
The first thing was work harder than he ever had. Not relax and leave the gym when his shot felt good, but to work when it flowed so he'd remember the rhythm. Then he worked on his mid-range game, adding a 14- to 18-foot jump shot to his arsenal.
Through it, the instincts he had in high school, when Michigan coach John Beilein recruited him, returned.
"I think there were times last year when he went through a slump and it affects your whole game," Beilein said. "Right now, he's worked so hard all summer. I know he worked with some trainers in Indianapolis, he's been working out here, whatever it is, some days there has been up to four hours out here in split sessions.
"I've never seen him stop one second."
It goes back to his goal of making sure he never has a season like he had last year. It's how he keeps up with sophomore point guard Darius Morris in the team sprints, usually racing alongside him to the finish line to place first or second.
It's how his demeanor and physical confidence -- obviously missing by the end of last season -- returned.
Stu Douglass is smiling again. His summer of rediscovery brought it back.
"Not like the fire wasn't there, but it reignited it a little bit," Douglass said. "You can always say you're motivated. But until you put in the work and really physically show that you're motivated. I've done that more this summer."
Michael Rothstein covers University of Michigan basketball for AnnArbor.com. He can be reached at (734) 623-2558, by e-mail at michaelrothstein@annarbor.com or follow along on Twitter @mikerothstein.