Posted on
Sat, Dec 17, 2011 : 3:02 p.m.
Carlton Brundidge plays first important minutes, Jon Horford to have MRI and more Michigan basketball notes
By Nick Baumgardner
Carlton Brundidge wasn't sure if Saturday was going to be any different than what has become normal for him this season.
He did, however, have a feeling.
"I can tell at practice sometimes when (Michigan basketball coach John Beilein) works me out more or tells me to pay more attention to certain things," the first-year guard from Southfield said. "I had a good week of practice, so I kind of felt it might be different (Saturday)."
His inkling was correct, because for the first time this season, Beilein received valuable minutes from a freshman guard not named Trey Burke.
Brundidge logged three points and two rebounds in 13 minutes during Michigan's 87-57 win over Alabama A&M. It was the first extended amount of playing time he has had as a college player, and a moment he says he's been ready for.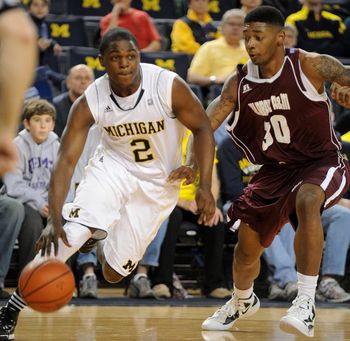 Angela J. Cesere | AnnArbor.com
"(This season) has been kind of tough," said Brundidge, who had played only 15 total minutes during the team's first 10 games. "But talking to my friends back home and talking with my dad, my brother and my sister, they helped me stay positive.
"And that's one thing that will always be there in my game, I'm always positive."
On Friday, Beilein said he was encouraged with Brundidge's progression recently in practice, saying the 6-foot-1 guard was doing a better job of letting the overall pace of the game slow down.
Beilein was quick to say, though, that he wouldn't rush the freshman onto the floor if he wasn't ready to play. Apparently he was deemed ready Saturday, as he made his first appearance just nine minutes into the first half.
Brundidge logged five first-half minutes and eight second-half minutes, sporadically entering the game to allow Burke an extended breather, something that was also new this season.
Burke had played 38 minutes and 37 minutes, respectively, over his past two games, and said the chance to sit and watch his classmate for a few minutes Saturday was a nice change of pace.
"That helped me a lot," said Burke, who scored 19 points in 30 minutes. "I know Carlton's capable. And with him being able to give us a big spark from the bench, that's one of the biggest reasons we were able to win by so much.
"(Alabama A&M) pressured a lot with full-court pressure, and Carlton was another (capable) ball-handler."
Burke said afterward that he's not feeling any adverse effects of his extended minutes this season, but wasn't exactly upset to yield a portion of his ball-handling duties on to someone else.
As for Brundidge? He's not yet established as a rotation player, but his first step toward cracking the lineup was made Saturday.
It wasn't over-the-top or jaw-dropping, but it was positive.
And right now, Beilein says he'll take it.
"We've been sort of working toward this," Beilein said with regard to finding minutes for Brundidge. "We were able to spend some time with him over the last week and we just said, 'If we're going to find out (if he can play), we've got to put him in games.'
"We have to give Trey five minutes of rest every half from somebody, and Carlton's certainly a candidate (to do that)."

Horford doesn't dress, will have an MRI

Michigan sophomore forward Jon Horford was not in uniform Saturday, missing his second straight game with a right foot injury. On Tuesday against Arkansas-Pine Bluff, Horford dressed, but did not see any game action.
Beilein described Horford's injury as a "stress area" to the fifth metatarsal of his right foot.
"We shut him down today and we're going to do an MRI this week to see where he is," Beilein said.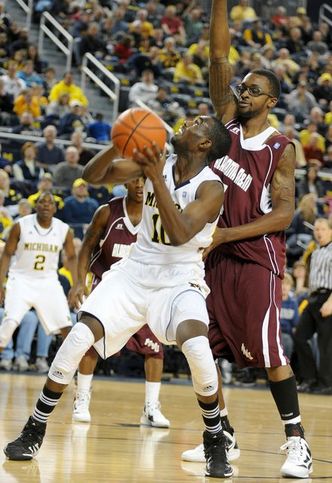 Angela J. Cesere | AnnArbor.com
Hardaway not slowed
by tailbone bruise
Saturday wasn't exactly a sparkling effort for Michigan sophomore forward Tim Hardaway Jr., but it was a healthy effort.
Hardaway made just 5-of-13 shots from the floor, 1-of-6 from 3-point range, for 13 points. But he showed no problem signs with regard to the tailbone bruise he suffered Tuesday against Alabama A&M.
Beilein said he did not feel Hardaway's shooting inconsistencies had anything to do with the back bruise.
"He had really good looks," Beilein said. "I thought most of those had a chance of going in, they did not.
"He was too open a couple of times."

Turnover trouble continues

Michigan had a positive assist-to-turnover ratio Saturday, but still finished with a high number of cough-ups for the third-straight game.
The Wolverines, who recorded 19 assists, had 15 turnovers against Alabama A&M after recording 19 against Arkansas-Pine Bluff on Tuesday and 17 against Oakland last week.
On the season, Michigan has just 12 more assists (156) than turnovers (144).
"As long as we keep (having) double-digits like this, it's going to be hard to beat really good teams," Beilein said. "The lower the (turnover) number, the better we are.
"Some of them are from playing too fast, faster than you need to play. Just slow down, look at everything and make a good play."
Odds and ends

Former Michigan basketball manager Daniel Pinedo was officially commissioned into the Marine Corps during a halftime ceremony Saturday. ... With another sharp-shooting afternoon from 3-point range (10-for-22), Michigan is now up to 38 percent as a team on the young season from behind the arc. ... Michigan's 41 rebounds Saturday was a season-high. ... Attendance at Crisler Arena was 10,497.
Nick Baumgardner covers Michigan basketball for AnnArbor.com. He can be reached at 734-623-2514, by email at nickbaumgardner@annarbor.com and followed on Twitter @nickbaumgardner.
Want to stay connected to Wolverine basketball in your Facebook newsfeed? "Like" AnnArbor.com's Michigan Basketball News & Views.