Posted on
Sat, Dec 17, 2011 : 3:10 p.m.
Michigan basketball team dominates Alabama A&M wire-to-wire for 87-57 win
By Nick Baumgardner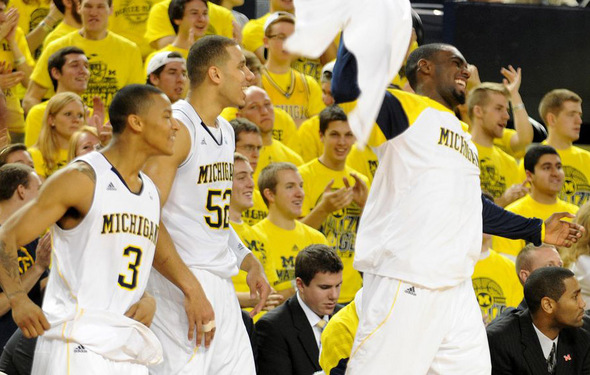 Anglela J. Cesere | AnnArbor.com
Updated 3:10 p.m.
This one had no late rally, no spoiled lead and no frustrating final five minutes.
As far as blowouts go, this was wire-to-wire.
Trey Burke had a game-high 19 points to go along with four assists and Evan Smotrycz recorded his first career double-double with 17 points and 11 rebounds Saturday as the No. 20 Michigan basketball team slammed Alabama A&M, 87-57 at Crisler Arena.
MICHIGAN 87, ALABAMA A&M 57

Nick Baumgardner's recap:
BIG SHOTS
After allowing other teams to creep back into potential blowouts, Michigan offered no such luxury to Alabama A&M. The Wolverines led by as many as 34 points in the second half, completing their first real wire-to-wire blowout win of the year. The Wolverines continued their recent hot-shooting stretch, making 54.5 percent of their shots. Over the last three games, Michigan has shot 50.3 percent from the floor.
SMOTRYCZ DOUBLES UP
Sophomore forward Evan Smotrycz continued his maturation process, posting 17 points and 11 rebounds, the first double-double of his career. He went 4-for-5 from the floor, 3-for-3 from 3-point range. In his last three outings, Smotrycz is averaging 17.7 points and 9.3 rebounds. In that stretch, he's shot 78.9 percent from the floor (15-for-19) and 83.3 percent from 3-point range (10-for-12).
BRUNDIDGE FINDS THE FLOOR
For the first time this season, freshman guard Carlton Brundidge saw extended minutes. After totaling three points in 15 minutes through 10 games, he finished with three points and two rebounds in 13 minutes against Alabama A&M. Brundidge's playing time allowed Trey Burke to get more rest than usual. He played 30 minutes.
QUOTE
"I'm just letting the game come to me. Open shots are just kind of finding me and sometimes the hardest ones to make are the ones where no one's near you. I've been fortunate enough to knock some of those down, knock on wood."
— Michigan sophomore Evan Smotrycz
RELATED CONTENT
Photo gallery
Notebook:
Carlton Brundidge plays important minutes, Jon Horford to have MRI and more notes
Boxscore
|
Top 25 scoreboard
"We had some great days of preparation going into this one," said Smotrycz, who is averaging 17.7 points and 9.3 rebounds in his last three games. "We got right down to business."
After allowing the likes of Towson, Iowa State and Arkansas-Pine Bluff to creep back in games earlier this season, Michigan never let off the gas against the Bulldogs, pushing the lead to 30 points in the second half and keeping it there throughout.
Tim Hardaway Jr. and Zack Novak each finished with 13 points and four assists for the Wolverines (9-2). As a team, Michigan made 30-of-55 (54.5 percent) shots from the floor, including 10-of-22 from 3-point range.
Defensively, the Wolverines held Alabama A&M to just 32.3 percent shooting. Casey Canty led the Bulldogs with 15 points.
"We're pleased, that was one where we put together 40 minutes of consistency," said Michigan coach John Beilein, whose team has now won four straight. "We needed that."
Just as it did Tuesday against Arkansas-Pine Bluff, Michigan jumped out to a comfortable margin early.
A Jordan Morgan layup ended a 13-0 run to give the Wolverines a 13-2 edge in the game's opening minutes.
The lead swelled to 16 points after a Burke three-point play with 7:42 to go in the half, but Alabama A&M gave itself some life with a 10-2 run two minutes later, drawing within eight at 33-25.
Michigan had an answer, though, scoring eight of the final 10 points of the first half to take a 41-27 edge into the break.
Unlike its previous lopsided starts, the Wolverines never let up.
Burke sparked an early 8-0 start to the second half with a bucket and a 3-pointer before a Hardaway jumper ended a 15-2 run, giving Michigan a 56-29 lead four minutes in.
The lead only continued to grow from there, hitting 30 after a Smotrycz layup at the 7:52 mark before two free throws by Burke made it a 34-point game, 80-46.
And unlike previous blowouts, Beilein was able to get extended minutes for his entire bench down the stretch.
Michigan freshman guard Carlton Brundidge saw his first significant time of the season, finishing with three points and two rebounds in 13 minutes of play. Stu Douglass added seven points off the bench for the Wolverines, while Blake McLimans finished with four points and six rebounds.
"We're just trying to get better every day and improve," Novak said. "This team has a high level of want-to, we really try to focus on what coach has to say.
"As long as we keep that up, then sky's the limit. But we understand we've still got work to do."
Michigan sophomore forward Jon Horford (foot injury) did not dress Saturday, and Beilein said he'd receive an MRI on his foot at some point this week. Despite his absence, Michigan still dominated on the glass, out-rebounding A&M 41-30.
The Wolverines return to the floor Thursday for their final pre-Christmas contest, a 6:30 p.m. home game against Bradley.
"Just to stay focused all the way through a game (was) huge," Smotrycz. "We can't be letting teams creep back in, because anything can happen."
Nick Baumgardner covers Michigan basketball for AnnArbor.com. He can be reached at 734-623-2514, by email at nickbaumgardner@annarbor.com and followed on Twitter @nickbaumgardner.
Want to stay connected to Wolverine basketball in your Facebook newsfeed? "Like" AnnArbor.com's Michigan Basketball News & Views.