Posted on
Sun, Jan 8, 2012 : 6:39 p.m.
Cazzie Russell returns to see his renovated 'house,' celebrate Michigan basketball with other greats
By Nick Baumgardner
The general sentiment Sunday was that for the Michigan basketball program, this was a long time coming.
It's been nearly 50 years since Cazzie Russell first set foot on Michigan's campus in 1962, beginning a legendary career that sparked fan interest in Wolverines basketball and eventually forced to school to build Crisler Arena.
More affectionately known now as 'the house that Cazzie built.'
Recently, Cazzie's house has been given a few facelifts -- and for the first time in a long time, Russell and plenty of other Michigan basketball legends were welcomed home to celebrate it.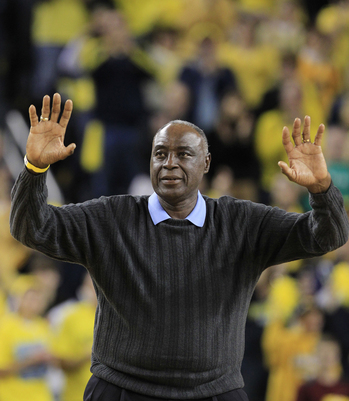 AP Photo
"I've been asked these questions for years of 'why don't we come back?'" Russell said Sunday during a basketball alumni tailgate event, featuring players from the past six decades of Michigan basketball. "Why don't we have camps in the summer where we can talk about the 60s, 70s and 80s? This was a long time coming.
"I don't know if they had some type of revelation to do it, but I was really moved to come back."
Video: Russell discusses the PDC, Crisler Center, John Beilein and a hoops reunion

Russell was on hand as part of a group of ex-players that included Rudy Tomjanovich, Phil Hubbard, Daniel Horton and others, as Michigan capped off a weekend of festivities aimed at dedicating its new Player Development Center.
The weekend began Friday with a tour of the PDC, and continued Saturday with a dinner reception and more festivities during the Michigan womens' team's upset of No. 8 Ohio State. Prior to the Wolverines 59-41 win over Wisconsin on Sunday, former players gathered for a pregame kickoff tailgate inside the Junge Champions Center.
Russell was honored at mid-court during the first half, while the rest of the players were honored as a group at halftime.
The reaction among the former players with regard to the new practice facility, and the new upgrades to the Crisler Center, was the same: awe, joy and even a bit of jealousy.
But perhaps more striking was the overall consensus that the Michigan basketball program is finally beginning to bridge the gap between old and new -- something most former players have waited on for some time.
"There's still a gap with the 80s and 90s guys," said former Michigan guard Daniel Horton, who was a Wolverine from 2002-06. "It'll go from Mr. Russell to Mr. Hubbard to the Fab Five and then, boom, there's really nothing.
"They're doing a good job of bridging that gap, but there's still work to be done."
Michigan athletic director Dave Brandon said Sunday that the opportunity to bring together former players, both young and old, was something that's always been on his radar. And, moving forward, he said he has plans for future reunions.
Brandon said that next season, when the final pieces of the Crisler renovation project are complete, Michigan will host a "massive celebration." Brandon said the event will likely be held during a weekend next January or February, against a "big brand opponent."
"This is a real important weekend for us. One of the things I stated the first day I got this job was that we wanted to do everything we could to reach out and bring the Michigan family together," Brandon said. "That's not just one sport, that's all of our sports. And with our men's basketball program, with the coaching changes we've had over the years and some of the other things, it's caused a lot of former (players) to scatter.
"These things have not been organized and coordinated, but now they are."
Russell, who was inducted into the College Basketball Hall of Fame in November, said he's confident both Brandon and current Michigan coach John Beilein will be able to further bridge the gap between young and old.
Michigan is known as a football school, but its basketball program's most celebrated player is hoping that hoops is on the verge of becoming a major priority once again.
"(Brandon) came to my induction, and he didn't have to do that," Russell said. "But he's that type of athletic director, it seems like.
"He seems to be the type of guy that will find out why that gap is there, and do what it takes to remedy it."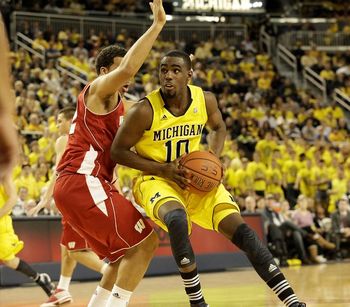 Chris Asadian | AnnArbor.com
Hardaway's double-double
Michigan sophomore Tim Hardaway Jr. posted his first double-double of the season Sunday against Wisconsin with a 17-point, 10-rebound effort.
It was a breakout on the glass the Michigan coaches had been waiting for. Beilein had called Hardaway's rebounding numbers unacceptable.
"I'm just trying to take what the defense gives me," Hardaway said. "I'm just trying to make a play and make things happen."
Hardaway is now averaging just 3.5 rebounds per game. Entering the game, he had seven offensive boards through 15 games.
He had two offensive rebounds against Wisconsin, and was consistently a factor near the paint on the defensive glass, as well -- helping Michigan out-rebound Wisconsin 38-29.
"It's a thing he's working on," Beilein said. "It's easier said than done when you have a long way to run, but he's really working on it.
"He's arguably one of our best, if not our best, athlete. When the ball's around the rim, he needs to be a guy that's in there competing. He's doing that little by little, it's baby steps."

Bo Ryan says he's a Zack Novak fan

Wisconsin coach Bo Ryan said the reason he challenged an official's call during the second half Sunday was to see whether Michigan senior guard Zack Novak hit Wisconsin forward Mike Bruesewitz in the head following a Michigan layup.
The arm motion was determined to be inadvertent, as Novak was just celebrating a Wolverine made basket. Had it been deemed intentional, Michigan could have been whistled for a technical foul on the play.
Afterward, Ryan said he held no hard feelings toward Novak, and actually paid him a compliment.
"At a time like that in a game, if I can get two free throws and the ball, (I'm doing it)," Ryan said. "But Novak was great, he came up to me and said 'coach, if I was where you were, I'd have done the same thing.'
"He was great. I like that guy."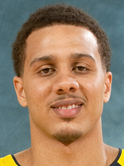 Morgan strong on the glass again
Michigan sophomore forward Jordan Morgan posted his second double-digit rebounding effort of the season, grabbing a season-high 11 boards.
Through four Big Ten games, Morgan -- who had 12 points and nine rebounds against Indiana on Thursday -- is averaging 8.8 rebounds.
"He was really big," Beilein said. "He was in foul trouble again and (I think) he got winded quickly today. He's playing so hard, he's playing outside of himself and he wasn't doing that as much early in the year.
"I really love how he's playing right now."

Odds and ends

Michigan's 41 points allowed was the team's fewest against a Big Ten opponent since the Wolverines limited Minnesota to 40 points during the 2007 Big Ten Tournament. ... Stu Douglass tied a career-high with five steals in the victory. ... Trey Burke has now scored in double figures in 10 straight games. ... Announced attendance Sunday was 12,721, a sellout.
Nick Baumgardner covers Michigan basketball for AnnArbor.com. He can be reached at 734-623-2514, by email at nickbaumgardner@annarbor.com and followed on Twitter @nickbaumgardner.
Want to stay connected to Wolverine basketball in your Facebook newsfeed? "Like" AnnArbor.com's Michigan Basketball News & Views.