Posted on
Sun, Jan 8, 2012 : 5:03 p.m.
Michigan basketball team bounces back to shut down No. 18 Wisconsin, 59-41
By Nick Baumgardner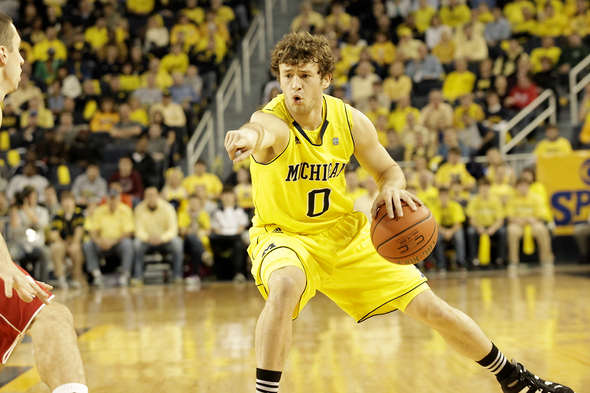 Chris Asadian | AnnArbor.com
Updated 5:03 p.m.
Old school met new school Sunday at the Crisler Center.
And the kids didn't disappoint.
Tim Hardaway Jr. racked up his first double-double of the season with 17 points and 10 rebounds and the 16th-ranked Michigan basketball team bounced back from its first Big Ten loss of the year with a 59-41 drubbing of No. 18 Wisconsin.
"This was such a team win for us, and what really makes it special was who we played and how we played against them," Michigan coach John Beilein said. "Wisconsin has done such a great job of not beating themselves over the years, and that's a big part of our formula.
"To have them come to our place, and beat them like that, is a good step in the right direction."
The game was part of a special dedication weekend for the Michigan basketball program's new Player Development Center.
MICHIGAN 59, WISCONSIN 41

Nick Baumgardner's recap:
IMPRESSING THE GREATS
With Michigan legends Cazzie Russell, Rudy Tomjanovich and Phil Hubbard in attendance to help dedicate its Player Development Center, Michigan put together perhaps its best defensive effort of the season. The win snapped a 10-game losing streak to the Badgers, and was coach John Beilein's first victory against Wisconsin.
GRIT PERSONIFIED
Wisconsin was struggling to score entering the game, shooting just 34 percent over its last two games. Michigan took no pity. The Wolverines forced Wisconsin into ugly shots all day, limiting them to 16 field goals and a 31.4-percent shooting night. From two-point range, Wisconsin was 9 of 30. Michigan also forced 12 turnovers, four more than Wisconsin's average.
BURKE OUTPLAYS TAYLOR
Trey Burke's just a freshman and Jordan Taylor's an All-American. It didn't matter Sunday. Burke turned in 14 points, three rebounds and two assists, but more importantly, was crucial in limiting Taylor. Burke spent most of the afternoon chasing the Badger senior, and was successful, limiting him to 12 points on 5-of-15 shooting. Taylor also had three turnovers.
QUOTE
"(Wisconsin) has done such a great job over the years of not beating themselves, playing high-level, high-IQ basketball, and that's a big part of our formula. So, to have them come to our place and be able to beat them like that was a good step in the right direction."
— Michigan coach John Beilein
RELATED CONTENT
Photo gallery
Trey Burke buying into defense, and it pays off against Wisconsin All-American
Cazzie Russell returns to see his renovated 'house,' celebrate Michigan basketball with other greats
Video: Russell discusses the PDC, Crisler Center, John Beilein and a hoops reunion
Boxscore
|
Top 25 scores
|
Big Ten scores
The Wolverines welcomed back several basketball alums from the past six decades to be a part of the festivities, including
Cazzie Russell
,
Phil Hubbard
,
Rudy Tomjanovich
and
Daniel Horton
.
"That was awesome," Michigan senior guard Zack Novak said. "To have those guys come and talk to us before the game, I mean, they call it 'the house that Cazzie built.'
"It was kind of surreal."
The win also served as a bounce-back game for Michigan (13-3, 3-1 Big Ten). The Wolverines suffered their first league setback of the year on the road at Indiana on Thursday.
It also marked Michigan's first win over the Badgers in 10 tries. The last Wolverine win in the series came by way of an 85-76 victory over the Badgers on Jan. 28, 2006.
As for Wisconsin, the Badgers have now lost three straight, falling to 12-5, 1-3 in the Big Ten.
"Sometimes getting burned is a great lesson teacher," Wisconsin coach Bo Ryan said. "The light's got to go on with some of these guys, now that they're getting major minutes."
Freshman point guard Trey Burke finished with 14 points and three rebounds for the Wolverines, while Novak added 12 points.
Michigan hounded Wisconsin defensively all afternoon long, holding the Badgers to 31.4 percent shooting. Wisconsin was led by senior Jordan Taylor, who finished with 12 points on 5-for-15 shooting.
With baskets at a premium early, Michigan found itself with an early deficit after a Taylor breakout layup capped a 10-0 Badger run to make it 12-10 Wisconsin midway through the first.
The Wolverines climbed back, though, embarking on a lengthy 9-2 run that took six minutes of game time. The stretch was polished off by a Burke jumper giving Michigan a 23-16 edge just before the break.
After taking a six-point lead into the half, the Wolverines seized control of the game to start the second half.
Michigan held Wisconsin without a point for the first five minutes of the half, rattling off a 7-0 run of its own to move in front 32-19, its largest lead of the night.
Wisconsin got back within 10 three minutes later, but no closer, as Burke's coast-to-coast 3-point play got a roar from the crowd and capped a 7-0 Michigan run, pushing the edge up to 17 at 43-26 with 10 minutes left.
Novak and Stu Douglass, the team's co-captains, then summarized Michigan's gritty afternoon minutes later when Douglass dove to the floor to force a turnover near midcourt. Novak, also on the floor, gathered the ball before dropping a pass over his head into the waiting arms of Burke.
The freshman did the rest, sprinting the other way for an uncontested layup, drawing the loudest roar of the night and effectively taking the rest of the air out of Wisconsin's sails.
"They'd won a few 50-50 balls early, and we just wanted to win the rest," Novak said. "When you're not going to get many possessions with the ball, you've got to get every one that you can.
"It was a dog fight. You couldn't be afraid to get on the floor."
Michigan shot 39.6 percent from the floor and also out-rebounded the Badgers, 38-29. Sophomore forward Jordan Morgan ended his day with four points and 11 rebounds for the Wolverines, who will host Northwestern on Wednesday (6:30 p.m., Big Ten Network).
Beilein said Michigan's defensive performance was "as good as its been since I've been here." Players said the victory was the team's best overall effort to date.
Considering the numbers, it was hard to argue.
"I think it really is the best game we've played," Burke said. "We're coming off a loss to Indiana, and we came out to prove that we can still play with some of the best."
Nick Baumgardner covers Michigan basketball for AnnArbor.com. He can be reached at 734-623-2514, by email at nickbaumgardner@annarbor.com and followed on Twitter @nickbaumgardner.
Want to stay connected to Wolverine basketball in your Facebook newsfeed? "Like" AnnArbor.com's Michigan Basketball News & Views.