Posted on
Sat, Mar 5, 2011 : 8:07 p.m.
Confrontation at midcourt dismissed by Darius Morris and Kalin Lucas; Evan Smotrycz's hot hand and more
By Rich Rezler
Just in case the Michigan basketball team's season sweep of Michigan State didn't do enough to re-ignite a one-sided rivalry, a brief tussle at the end of Saturday's game may have fanned the fire a bit more.
After Michigan guard Darius Morris laid in a finger-roll layup in the closing seconds of the Wolverines' 70-63 win at Crisler Arena, he had a few words for Michigan State senior Kalin Lucas.
The two crossed paths again after the final buzzer sounded, coming chest to chest at midcourt. They chatted a little more and Lucas threw the basketball in Morris' direction.
"I didn't throw it at him, at him. I threw it toward him a little bit," Lucas said after the game. "That's basketball. Things are going to happen like that. Guys are going to get into it. But we still shook hands after. Everything's fine."
Both Morris ("It's all good. It was probably just collective frustration.") and Lucas ("He was talking smack, I was talking smack. It's part of basketball.") seemed to brush off the confrontation after the game.
RELATED CONTENT
Michigan State coach Tom Izzo said he wasn't happy with the interaction, but that Morris may have had it coming.
"I'm not for that, so I'll straighten that out. But at the same time, going for a layup with three seconds left …" Izzo said. "He talked a lot of stuff the whole game, including at our place. Maybe he deserved it."
Michigan coach John Beilein said that he didn't see the incident but that he would investigate.
A week to prepare

With seven days passed since Michigan's last game at Minnesota, Beilein referred frequently this week about the possibility of "rest or rust." When the Wolverines got out to a 15-5 lead in the game's first seven minutes, it was apparent there was little rust.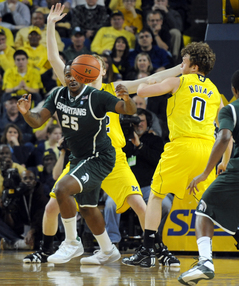 Lon Horwedel | AnnArbor.com
Michigan junior Zack Novak says the extra time off helped Michigan prepare for the Spartans.
"This is the first time we've had a week to prepare for a team in months," he said. "You give (Beilein and his staff) that kind of time, and we're going to come at you with a pretty good gameplan.
"(Beilein) draws the plays up for us and puts us in great positions. Him and our assistants put a lot of work in and they're just a really good group."
When asked about Novak's comment, Beilein laughed and said, "Zach wants to play lots of minutes, huh?"
"The extra time helped, but to be honest with you the first three days were rest and reshaping what we want to do as a team. It wasn't about Michigan State on Monday, Tuesday or Wednesday," he said.
"But on Thursday and Friday we were able to focus and they were playing a game Wednesday night. They played Sunday, Wednesday and Saturday. That's a tough cluster. The rest helps, but it never really determines the outcome."
Green feeling green

Michigan State junior Draymond Green called the loss "one of the most frustrating of my career" and pointed to his own 3-of-14 shooting performance as a determining factor in the game.
"I missed layups and jump shots. You're going to miss some jump shots, but the layups. I can't explain that. It's a layup. It's something I learned to do when I was in kindergarten," said Green, who finished with seven points and six rebounds.
"Layups were the difference in the game. Just go back and look at the film. I missed all the layups."
Recruiting help?

Beilein dismissed his team's first season sweep of Michigan State since 1997 being an in-state recruiting boost for his program.
"Michigan State does a wonderful job recruiting and, I believe, in our future we'll be doing a wonderful job recruiting," he said. "We certainly recruit the same guys sometimes, sometimes we don't."
Horford hurting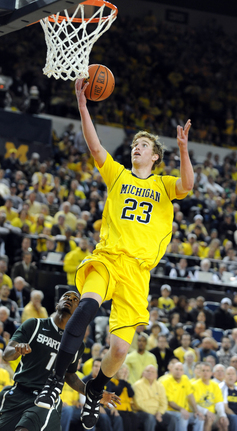 Lon Horwedel | AnnArbor.com
With freshman Jon Horford missing the game due to a knee bruise, fellow freshmen Blake McClimans (2 minutes, 2 points) spelled Jordan Morgan at the center position.
Evan Smotrycz, who's spent most of his freshman season on the wing, also saw some time in the post. He finished with 14 points, but didn't pull down a rebound.
Beilein said they've been giving Smotrycz time at the center position in practice since January, working on both offensive and defensive post moves. He said it gives him an alternate way to contribute to the team if opponents take away his 3-point looks.
Welcome home
Nick Giard, a 2009 Pioneer High School graduate, returned to his hometown as a walk-on member of the Spartans. He has played in five games for Michigan State, but has not scored. Giard, who grew up a Spartan fan in Ann Arbor, was part of Pioneer's 2007 team that reached a Class A state semifinal. The Pioneers lost to Giard's current teammate, Saginaw High graduate Draymond Green, at the Breslin Center in East Lansing.
This and that

Michigan manager Brandon Verlinden dressed for the game. The Clarkston native, who has played intermittently with the team in practice, wore No. 40. ... Beilein had 30 friends from the Buffalo and Lockport, N.Y., visit for Saturday's game. They take the five-hour one-way trip once a season and planned on staying overnight Saturday night. ... Beilein and his wife, Kathleen, became grandparents last week when Shauna and Ryan Hendricks gave birth to a daughter, Finley Rose. Since Finley's birth, Michigan is 2-0. Shauna is Beilein's eldest child and only daughter. ... With six assists, Morris passed Mike Griffin, who played from 1986-90, for 14th all-time at Michigan. Griffin had 290. Morris has 294 and is five away from Louis Bullock, who had 299.
AnnArbor.com's Michael Rothstein and the Grand Rapids Press's David Mayo contributed to this report. Contact Rich Rezler at richrezler@annarbor.com.