Posted on
Sat, Mar 5, 2011 : 6:55 p.m.
Michigan basketball team beats Michigan State, 70-63, sweeps Spartans for first time since '97
By Michael Rothstein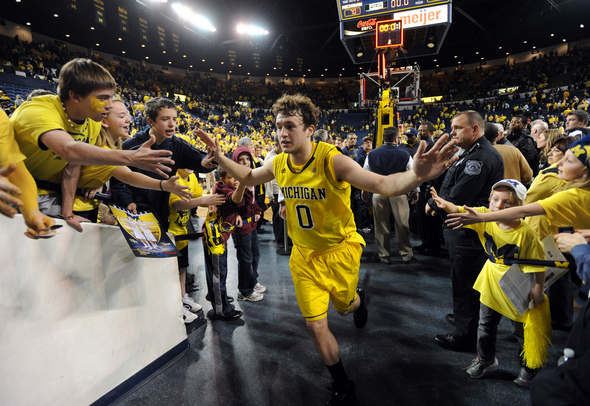 Lon Horwedel | AnnArbor.com
Darius Morris couldn't help but crack a smile through the pain.
He helped lead the Michigan basketball team to this point, to a 70-63 win over Michigan State on Saturday, to a season sweep of the Spartans. For a moment, those things made his flu-like symptoms go away.
He fought back vomiting earlier in the day. Spent a good portion of the morning on the toilet, too. But for two hours Saturday afternoon, the sophomore point guard from Los Angeles held on.
Michigan followed along.
"I had to push through for my teammates," Morris said. "In the second half, my body started aching but I had to step up as a competitor."
RELATED CONTENT
And as he drove through the entire Michigan State defense in the final seconds Saturday to clinch the Wolverines' first season sweep of the Spartans since 1997, he could exhale.
His in-pain body — Morris said he hadn't been that sick in a while — was suspended for a moment. Morris, after scoring 13 points, making six assists and grabbing five rebounds, could celebrate.
And Michigan lived in its moment, having completed a turnaround few could have seen coming when the Wolverines entered East Lansing 1-6 in the Big Ten on Jan. 27.
The culmination came Saturday. The moment started that night, when Michigan beat Michigan State, 61-57.
In that moment on the road, Michigan (19-12, 9-9 Big Ten) found its swagger. It knew that if it wanted to have a chance to play in the postseason, it needed to be better.
"We knew we had to play better," Michigan forward Jordan Morgan said. "We couldn't even respect how we played at first because we honestly didn't feel that we had done our best and going forward, we had to play our best basketball and win or lose, we had to leave it all on the court.
"At that point, we were almost like we had to win the Big Ten tournament to even have a chance to get to the tournament."
ANNARBOR.COM THREE STARS
First Star: Tim Hardaway Jr., Michigan
The freshman got hit on the head and didn't score in the first half. In the second, he showed why he might sneak on an All-Big Ten team Monday. He scored all 20 of his points after halftime, including 10 in the first six minutes. It has gotten to the point where Michigan has come to expect this type of performance from their star freshman.

Second Star: Kalin Lucas, Michigan State
The senior had a game-high 25 points and single-handedly kept the Spartans in the game. He consistently made contested shots and almost pulled Michigan State back from a 14-point deficit.

Third Star: Evan Smotrycz, Michigan
The freshman had almost no post game when Michigan's season started. On Saturday, he scored from both the post and from the outside. His 14 points are his most he's scored since he put up 14 against Iowa on Jan. 30. He also made all five of his free throws and had three steals.

Readers' choice

He doesn't need to say that anymore.
From that January night on, Michigan won 8 of 11 games, a streak that puts the Wolverines in decent position to secure their second NCAA tournament berth in three seasons.
They earned its first Big Ten tournament bye since 2005 on Saturday and will be off until Friday, when they will be either the No. 4 or 5 seed against Illinois in the second game of the Big Ten quarterfinals.
The possibility of being the No. 4 seed in the Big Ten tournament, which will happen if Penn State beats Minnesota on Sunday, is something Michigan coach John Beilein couldn't have imagined in January when Michigan was still a team struggling.
"No, I couldn't have seen that," Beilein said. "But I did like what we saw."
He saw the potential of breakout performances from freshman guard Tim Hardaway Jr., who finished with a team-high 20 points, all in the second half.
He saw glimpses of Morgan becoming a reliable scorer in the post and of freshman forward Evan Smotrycz developing a post game he debuted Saturday with 14 points.
It all came together perhaps better than at any point this season in the first half, when Michigan started the game on a 10-1 and kept Michigan State (17-13, 9-9) without a field goal for the first 6 minutes, 18 seconds before Kalin Lucas hit a jump shot.
"It wasn't just offense," Morgan said. "It was defense. Then, on the offensive end just executing and looking for the best shot.
"When we do that, we're a hard team to play against."
Lucas, the Michigan State senior who led the Spartans to two Final Fours in his career, almost brought the Spartans back, cutting the Michigan lead to two, 56-54, with 5:48 left as part of his game-high 25 points.
Then Morgan, who fought foul trouble, and Morris, who fought his body, returned to the game for a final push. Morgan scored four of Michigan's next six points to give the Wolverines a cushion again and a realistic chance of a sweep.
In doing so, Michigan reignited a rivalry that, prior to this season, Michigan State had dominated, winning 18 of the past 22 meetings.
"It's unbelievable," said Michigan freshman forward Jon Horford, who grew up in the Lansing suburb of Grand Ledge. "I think everyone knows it is a big deal but I don't think everyone knows just how big of a deal this is.
"This is huge. This is program-changing stuff."
Michael Rothstein covers University of Michigan basketball for AnnArbor.com. He can be reached at (734) 623-2558, by e-mail at michaelrothstein@annarbor.com or follow along on Twitter @mikerothstein