Posted on
Tue, Jun 7, 2011 : 5:53 p.m.
Darius Morris advises Trey Burke not to read into the hype and other notes
By Michael Rothstein
When Darius Morris joined the Michigan basketball program two years ago, there was immediate pressure.
On a team with big expectations and with no other true point guard on the roster, Morris was looked at as the immediate replacement for graduated seniors C.J. Lee and David Merritt.
He started the first game of his career but eventually struggled, losing his starting job and his confidence at different points during the 2009-10 season.
A year later, Morris became the most improved player in college basketball and left Ann Arbor after his sophomore year for a shot at the NBA.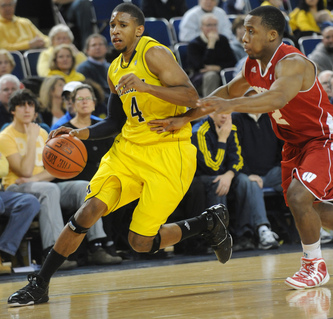 AnnArbor.com file photo
His departure left Michigan in a similar situation to his arrival: A team with high expectations and the only true point guard on the roster being incoming freshman Trey Burke.
Morris' advice to fans? Don't hype him up too much. His advice to Burke? Don't believe anything you hear.
"I've just been telling him, 'Don't get caught up in the hype,'" Morris said at the NBA Combine in Chicago last month. "Honestly, I wish that people wouldn't even hype him up, per se, because I went through that freshman year and a lot of freshmen, especially when you're talking about somebody (ranked) in the top 100, is not going to be perfect.
"You might experience some ups and downs, whether it is in the summer, before the season, in the middle of the season. It's not going to be smooth and everybody is hyping it up like it's going to be smooth. That makes it a little bit tougher. So I told him don't feed into that. Don't read into that stuff."
Coming out of Windward High in Los Angeles, Morris was the No. 15 point guard and No. 77 recruit nationally by Rivals.com. Burke is the No. 26 point guard and No. 142 player overall according to the same service.
Burke became a larger commodity for Michigan after two things happened: He was named Mr. Basketball in Ohio after a standout senior year at Columbus Northland and Morris left the team.
Instead of learning from Morris for a year, he now might have to come in and run an otherwise experienced Michigan team.
The Wolverines' other freshman guard, Carlton Brundidge, also felt the effects of Morris' departure. Brundidge, considered more of an off-guard, planned to learn the point from Morris.
Now, he'll compete with his future college roommate for a potential spot in the starting lineup.
"A lot of people try to compare us, like we're going against each other, but we're on the same team," Brundidge said. "Trey is a good guy. He played point all his life. I'm not going to hate on him. He's my roommate, my teammate, and I want to win. I just want to win. If I have to sit down when I come in, I just want to win."
The taunts As the NBA playoffs continue, Michigan sophomore guard Tim Hardaway Jr. has become more aggressive.
He's working on his game in preparation for the USA Basketball Under-19 team tryouts later this month and for next season, but he's also been perfecting his trash talking skills.
He's been staunch in his support of his favorite NBA team, his hometown Miami Heat. And he's taken joy in the Heat beating his teammates' favorite teams.
In the second round, the Heat beat Boston - the hometown team of Hardaway's roommate, Evan Smotrycz. Next up was the Chicago Bulls, the favorite team of Michigan players Zack Novak, Matt Vogrich and Josh Bartelstein.
"(They) were all on my back because they won their first game, but we came back and swept them after that first game and gave them their first four-game losing streak of the season," Hardaway said.
"It was great taunting them and texting them like 'Hey, how are the Bulls doing?' Just trying to get in their head a little bit."
Hardaway -- whose father, Tim Hardaway Sr., played for the Heat from 1996-2001 -- attended all of the Heat-Celtics and Heat-Bulls games in Miami. He also went to Game 1 of the NBA Finals against the Dallas Mavericks.
He missed Game 2, when the Heat collapsed.
"I should have went because all the games I went to, they ended up winning," he said. "I didn't go (Thursday), so I don't know what to say."
Entering tonight's Game 4, the Heat have a 2-1 lead.
This and that Lee was named to Michigan governor Rick Snyder's Council on Physical Fitness, Health and Sports. Lee worked on Snyder's gubernatorial campaign in 2009. … According to the Indianapolis Star, Michigan commit Glenn Robinson III had nine points, four rebounds, two assists and two steals in the annual Junior-Senior All-Star games in Indiana.
Michael Rothstein covers Michigan basketball for AnnArbor.com. He can be reached at (734) 623-2558, by email at michaelrothstein@annarbor.com or follow along on Twitter @mikerothstein.