Posted on
Wed, May 4, 2011 : 12:44 p.m.
Darius Morris officially leaves Michigan basketball for shot in the NBA
By Michael Rothstein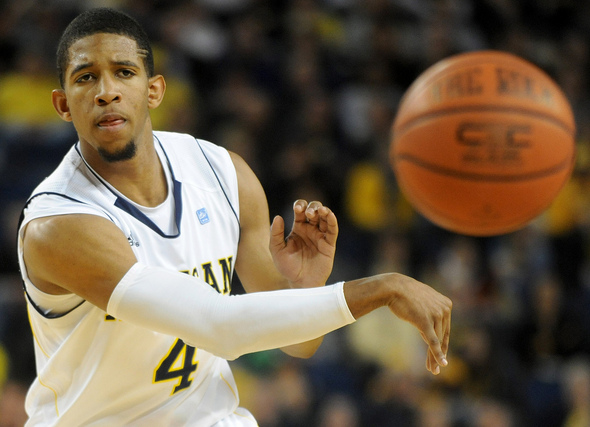 AnnArbor.com file photo
The Michigan basketball team needs to find a new starting point guard.
Sophomore Darius Morris officially announced Wednesday he will forgo his final two years of eligibility with Michigan to pursue the NBA.
"This was a difficult decision; however, in the end I decided to go with my heart," Morris said in a statement. "Playing professional basketball has always been a dream for me. I feel this is the right time for me to pursue that goal. It will be hard to leave the University of Michigan; however, I truly believe the basketball program is moving in a very positive direction."
Morris finishes his career tied with Lester Abram for 19th all-time in minutes per game (29) and 12th in career assists (319). In his two-year career, Morris averaged 4.8 assists. Last season, he set a single-season record with 235 assists, breaking Gary Grant's mark by one.
The 6-foot-4 point guard's 6.7 assists per game last year was second all-time in a single year, behind Grant.
"He's got good size, got a good body, good lateral quickness and speed to go along with it and he can break down the defense," an NBA scout told AnnArbor.com last month on the condition of anonymity. "That size can be used at the 1 and the 2 position at both ends of the floor. In our league now, if you just touch a guy, just breathe on a guy real hard, they'll call a foul.
"You've seen that, where a guy his size, 6-4, that length really bothers people and we really like length as far as defense now because you can stay off a guy and length really causes a problem. He's got that."
The main concerns of scouts is Morris' shooting and ball-handling skills with his left hand. He is a career 46.9-percent shooter and makes 22.3 percent from beyond the 3-point line.
Both scouts that spoke with AnnArbor.com felt it would be beneficial for Morris to return to school for one more year and that he could play his way into the draft lottery with another good season at Michigan.
Morris is the second player in as many seasons to leave Michigan early for the NBA. Manny Harris left before his senior season. Harris went undrafted, but made the Cleveland Cavaliers as a rookie free agent.
Morris' departure also leaves a hole in the Michigan lineup. The Wolverines return every player besides Morris from last year's team and add top 100 recruits Carlton Brundidge and point guard Trey Burke, who was named this year's Mr. Basketball in Ohio.
"We, as a staff, have watched Darius grow as a person and as a player these past two years," Michigan coach John Beilein said in a statement. "His improvement on the court has been the result of his God-given talent and his intense desire to become the best player he can be. His work habits, especially in our individual skill development time, have been outstanding, and we all witnessed the results of his efforts this season."
The NBA Draft is June 23 in New York. Most mock drafts have Morris slated as a late first or early second-round selection.
However, the NBA is looking at similar labor strife to the NFL. The New York Daily News reported last month the league has decided to cancel its Las Vegas summer league, typically a place for second-round draft picks to show off their skills and attempt to solidify roster spots.
The NBA denied the report.
If the NBA does have a lockout on July 1, all offseason activities, including the summer leagues, would be canceled.
Michael Rothstein covers Michigan basketball for AnnArbor.com. He can be reached at (734) 623-2558, by email at michaelrothstein@annarbor.com or follow along on Twitter @mikerothstein.