Posted on
Tue, Apr 26, 2011 : 5:56 a.m.
Two NBA scouts say Michigan guard Darius Morris would be better served returning to Michigan
By Michael Rothstein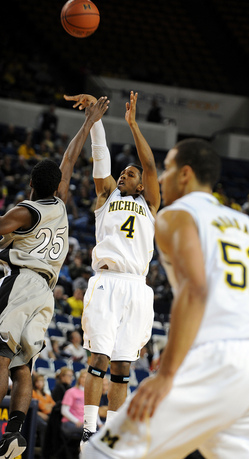 AnnArbor.com file photo
Darius Morris has 12 days to decide if he will come back to Ann Arbor for his junior year or seek a professional career in the NBA.
As Morris starts preparing for workouts over the next two weeks, training in his native Los Angeles, scouts are beginning to figure out their opinions of the Michigan basketball team's point guard.
Two NBA scouts who spoke with AnnArbor.com on the condition of anonymity (the league instructs its scouts not to discuss underclassmen) both said Morris improved greatly this past year. He went from a player they weren't focused on prior to the season to one that had to be scouted during it.
Still, they weren't expecting to have to evaluate Morris as a candidate for this year's draft.
"I'm surprised," NBA Scout No. 1 said. "I thought that he came on, I thought he had a pretty solid year and came on really strong at the end. But I'm really surprised that he decided (to declare for the draft)."
Both scouts agreed that Morris isn't likely to be a first-round pick in the June draft. Scout No. 1 said he envisions Morris fitting somewhere between picks 35-45.
"It's not a pie-in-the-sky ridiculous thing, but it is also probably not in his best interests to be in the draft right now because I don't think he's in the first round," NBA Scout No. 2 said.
"If somebody is in good academic standing and still needs to improve his game, which I think he is in both of those categories, then it only makes sense to come out if you're going to be in the first round.
"And I don't think he would be."
Both scouts think Morris could be a first round pick in the 2012 NBA Draft if he returned to Michigan. They raved about his size and his ability to drive into the lane. As a 6-foot-4 point guard, he has good quickness for his height and his length can cause problems for smaller defenders.
They saw the 20-year-old jump from scoring 4.4 points and 2.6 assists a game as a freshman to 15 points and 6.7 assists as a sophomore, including breaking the all-time single season record for assists at Michigan with 235.
But Morris isn't a flawless player. There were times he struggled to find open shots and points during the season when his shot seemed to abandon him.
Making an improvement in those areas would make Morris a surefire first round choice, one scout said.
"One, he doesn't look to shoot enough," NBA Scout No. 1 said. "And, two, he doesn't shoot it well enough. (And he doesn't create) that shot off the dribble.
"The number one factor to me is the shooting part. He's a good playmaker and no one can keep him out of the lane, but the shooting is a big-time negative."
"He had a big jump, but I saw him a few times this year and I didn't think 'Boy, he's wasting his time here, he's got to go to the NBA,'" Scout No. 2 said. "I thought 'Here's a player who has made some definite improvements, he's playing with a lot more confidence and he's playing where he has much more impact on the game and those are all good things.'
"But I didn't think I was looking at an NBA-ready player when I watched him, no."
He can improve these things, the scouts said, by returning to Michigan for his junior year.
They are high on his versatility — Scout No. 1 said Morris could play either guard slot in the NBA because of his height and length — and his ability to see passing and driving lanes.
"He finds people, finds the open guy and is really unselfish getting in the lane and kicking the ball out and he can create plays, make plays, things you can't teach," Scout No. 1 said. "I'm very impressed with his game, like him a lot."
Both scouts liked the talent around Morris and said playing with talented players could help boost Morris' standing, along with improved shooting and finishing plays with his left hand.
Michigan's talent level has increased and if Morris returns, the Wolverines will have every player back from last season.
"If you aspire to be a NBA player, it helps to not be the only one on the team that is going to be a NBA player," Scout No. 2 said. "It helps to be on a team with other guys who might have that kind of ability and they are starting to get that now. That's a good thing for him because that will enhance his prospects."
"He's teetering," Scout No. 1 said. "He's right there, but not quite there yet."
Michael Rothstein covers Michigan basketball for AnnArbor.com. He can be reached at (734) 623-2558, by email at michaelrothstein@annarbor.com or follow along on Twitter @mikerothstein.