Posted on
Thu, Nov 3, 2011 : 9:01 a.m.
Decision day: Will Michigan basketball land super recruit Mitch McGary?
By Nick Baumgardner
For Mitch McGary, Thursday is the day.
The country's top power forward prospect will grab the attention of a national audience this evening when he announces his college decision live on ESPNU at 5 p.m.
Will it be Michigan? Duke? Or Florida?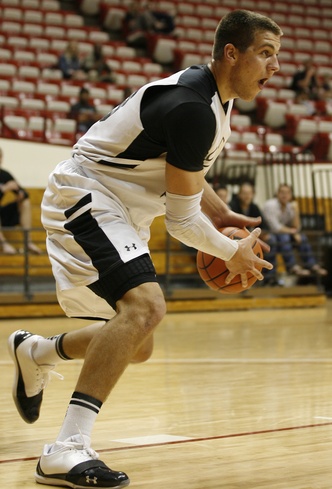 Bloomington Herald-Times
National analysts seem to believe he's
leaning toward Michigan
, though McGary himself says no decision has been made.
Should McGary call for the Wolverines, he'd be joining an already highly thought of two-man recruiting 2012 recruiting class of small forward Glenn Robinson III and shooting guard Nick Stauskas.
On Wednesday, ESPN.com allowed recruits from Michigan, Duke and Florida to offer one final sales pitch to McGary. Robinson III, an AAU teammate and close friend of McGary's, wrote the following.
"We've been playing together for years in AAU and we've combined to do big things on that level," he wrote. "I know we'll only continue it in college. We'll have a top five recruiting class and we'll bring Michigan back to the Fab Five days. We'll change the whole program around and bring them back to national title contenders if you come.
"Plus, Michigan is one of the most fun campuses in the country. All of the students are so supportive of the basketball program. All of the students know everything about you. You'll get so much more attention here. We've got a great academic reputation, of course, and we've got some of the best looking girls in the country. Everything that you want and need is here at Michigan."
The top-ranked power forward in America and the 2nd-best player in the 2012 class, according to ESPN.com, McGary is a 6-foot-10, 250-pound southpaw big man that can finish at the rim, run the floor and knock down an 18-footer.
He's been evaluated as a player with a high motor, a love for playing at both ends of the floor and a threat to go coast-to-coast at any moment.
But what else?
He's serious in the classroom

Jason Smith, McGary's prep school coach at Brewster Academy, told AnnArbor.com in August that the big man has come a long way off the court since transferring from Chesterton (Ind.) High School (the alma mater of Michigan senior Zack Novak) prior to the 2010 season.
McGary struggles with attention deficit disorder, but according to Smith, has worked very hard to improve his school work.
"He came in with a reputation of not doing well academically," Smith said. "But I think that was a case where he was at a large public school and he has attention deficit disorder. And we have a support system and academic support available to students who would benefit from that -- whether it be attention deficit or dyslexia or what have you. The largest class size he had here last year was probably 10 or 11 students.
"I think the ultimate reason why he's done so well here, though, is because he's a tremendous self-advocate. He communicates very well on campus with his teachers and if he needs extra help, he gets it."
He's not afraid of a little broken glass

As if his name wasn't big enough, this happened:

"They gave me the name 'White Chocolate' a few days ago," McGary said. "But I guess they call me 'White Thunder' now because I break down backboards."
He's about more than hoops

Throughout his recruiting process, McGary also took time to update readers on his taste in music. After explaining his thoughts on which schools he liked best, McGary always closed his ESPN.com blogs with a music review.
In his latest blog, he outlines his love for Drake, Wale and Mac Miller as artists he follows.
He's already a household name

Entering college as a superstar shouldn't be much of an issue for McGary.
He has his own personal blog, and he's a Twitter icon. At the moment, McGary has more than 4,000 followers and can routinely be found interacting with just about anyone via social media.
Does the pressure of massive exposure get to him? Not really.
"He saw (the whole recruiting process play out) last year where eight of his teammates went Division I," Smith told AnnArbor.com in August. "The life at a boarding school is extremely structured and their entire day is planned out. He saw how kids were able to handle school visits with college coaches, study hall, meeting with academic advisors, lifting, training and all that stuff.
"We've provided advice here or there, but for the most part, he's been able to handle all of it himself."
***
McGary's recruitment has been a hot topic in basketball circles to say the least.
But this evening, it gets even bigger.
You have the nation's ear, Mitch.
We await your decision.
Nick Baumgardner covers Michigan basketball for AnnArbor.com. He can be reached at 734-623-2514, by email at nickbaumgardner@annarbor.com and followed on Twitter @nickbaumgardner.