Michigan basketball recruit Mitch McGary: 4 things you may not know
Posted on Mon, Aug 29, 2011 : 5:58 a.m.
By now, anyone who knows anything about college basketball knows Mitch McGary can play.
At 6-foot-10 and 250 pounds, the Chesterton, Ind., native and Brewster Academy (N.H.) power forward was already a hot name inside the recruiting world before the summer began -- but now he's seemingly everywhere.
McGary, who will make his first official college visit to Michigan on Sept. 3, has his own blog at ESPN.com, he's a Twitter powerhouse and he's toward the top of every popular recruiting service in the country. He's ESPN's top-rated power forward, Scout.com's third-best player overall and Rivals.com's fifth-best player overall.
He's so good, in fact, that a recent report pondered the idea of McGary, who will actually be 20 next June, just skipping the whole college thing altogether.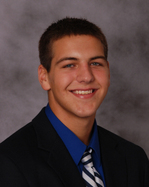 Photo courtesy of Brewster Academy
Life's moving fast for McGary, but according to Brewster coach Jason Smith, the big man with the soft touch is still just trying to be a kid.
As one of the country's hottest basketball prospects begins his journey to a decision, here are a few things about him you may not know.

He means no disrespect
"Unlike a lot of kids that really enjoy the recruiting process and get caught up in it, Mitch is, frankly, the complete opposite," Smith said. "Up until the last few weeks my phone was ringing non-stop from coaches panicking because they would leave Mitch a voicemail message and wouldn't hear anything back. And that wasn't Mitch being disrespectful, it was Mitch not really wanting to devote 10 hours a day talking with college coaches.
"He was really more looking forward to being a kid for the last summer that he had the chance to be one. He spent last year in boarding school away from all of his childhood friends, he got to spend some time (this summer) at home and when he was there, he would rather go to the beach with friends rather than sit at home and talk with coaches every single day."

His in-classroom performance has grown just as much as his game
"Mitch does very well here academically. He came in with a reputation of not doing well academically," Smith said. "But I think that was a case where he was at a large public school and he has attention deficit disorder. And we have a support system and academic support available to students who would benefit from that -- whether it be attention deficit or dyslexia or what have you. The largest class size he had here last year was probably 10 or 11 students.
"I think the ultimate reason why he's done so well here, though, is because he's a tremendous self-advocate. He communicates very well on campus with his teachers and if he needs extra help, he gets it. He's going to tutorials with peers and I think if he feels like he needs extra time or assistance with something, then he takes advantage of those resources."

He can handle the attention
"He saw (the whole recruiting process play out) last year where eight of his teammates went Division I," Smith said. "The life at a boarding school is extremely structured and their entire day is planned out. He saw how kids were able to handle school visits with college coaches, study hall, meeting with academic advisors, lifting, training and all that stuff. We've provided advice here or there, but for the most part, he's been able to handle all of it himself."

He has an open mind about where he'll end up
"It's the whole spectrum for him -- what's the campus like, what's his relationship with the staff like, the style of play, the overall feel when he's on those visits for 48 hours," Smith said. "I think he's definitely going to take at least three official visits. Maybe he takes all of them, but in my 12 years at Brewster we've had maybe one or two kids that have taken all five."