Posted on
Fri, Jan 15, 2010 : 1:05 a.m.
Defenses made both Michigan and Indiana's offenses look 'sloppy'
By Michael Rothstein
Melanie Maxwell | AnnArbor.com
Anthony Wright turned to his freshman teammate Darius Morris and cracked a joke. Neither the Michigan basketball team nor Indiana had looked good in the first half on Thursday night. It was, in fact, ugly.
"Someone on the bench said 'Is this what you signed up for,'" Morris said. "I signed up for us to guard like this but not to produce offense like this."
The way the game played out was almost a shock to the Californian, who is used to games with more pace and tempo. Yet he knew he'd eventually see what some deem a typical Big Ten defensive game.
This was it.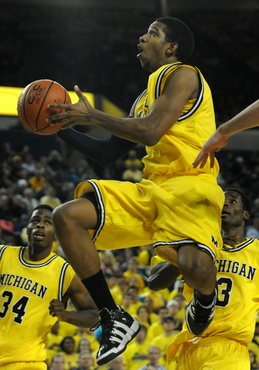 Melanie Maxwell | AnnArbor.com
Both teams were nothing short of below average on offense in the first half of Michigan's 69-45 win over the Hoosiers: Neither team cracked 30 points. Both shot under 33 percent in the first half. Both teams had at least double the amount of turnovers to assists.
And both teams had more turnovers than made baskets.
"I think the defense made them both sloppy," Michigan coach John Beilein said. "I was really impressed with the way they improved defensively and how much we've improved since December 31st."
Could Steve Lavin coach again?
The coaching carousel officially kicked off earlier this week when DePaul fired fifth-year head coach Jerry Wainwright.
One of the ways the school could look to go is with a familiar name to most college basketball fans - former UCLA coach and current ESPN broadcaster Steve Lavin. He had been mentioned as a candidate when the school hired both Wainwright and Dave Leitao before.
Lavin, 45, said he could entertain a return to coaching. DePaul, to Lavin, could be intriguing.
"If it was a good fit, I would consider returning to the sidelines for a second tour of duty, put the armor back on and go into the gladiator pit of coaching," Lavin said before the Michigan-Indiana game, which he called for ESPN. "But this has been such a great opportunity to build a second career in broadcasting that it would have to be a really good fit and I'd be very prudent and deliberate in terms of examining the opportunities."
While it is unknown if DePaul is interested in Lavin again, he could be an intriguing choice for the Blue Demons. He has name recognition, proven success on the college level and the familiarity of coaching in a big city from his time in Los Angeles.
Lavin also went to five Sweet 16s with UCLA in his seven seasons.
"The elements I miss related to coaching is the camaraderie with the coaching staff and players and the competition at the highest level and being a part of a college campus or community and the mentoring of young people," Lavin said. "But I'm just grateful I've been able to have a second career and to work with people at ESPN and to learn from a sports television giant like Brent Musberger, to have him as a mentor breaking into the business has been a real godsend."
Vogrich makes most of minutes again
Freshman guard Matt Vogrich has settled into his role as the backup to star guard Manny Harris. As his comfort level has increased, so has his production.
Vogrich played 10 minutes, his most since 11 minutes of mop-up duty against Coppin State and his longest stretch of meaningful minutes since Utah on Dec. 9, and scored five points along with grabbing two rebounds. He also got a steal.
He also hit his first three-pointer since that Coppin State game, when he made two.
"It's hard to play a lot when you're backing up an NBA player," Vogrich said. "I understand that Manny is going to be in the game for 90, 95 percent of the time and when I come in for him, to play hard and do everything I can."
This and that

Beilein had a small shiner on the side of his left eye, coming from himself accidentally being hit by a briefcase after a strap broke. … When the students entered Crisler Arena more than an hour before the game, they immediately spotted Brent Musberger and Lavin, chanting both announcer's names until they acknowledged the crowd. … Michigan's 11 bench points were the most for the Wolverines since they scored 12 against Coppin State.
Michael Rothstein covers University of Michigan basketball for AnnArbor.com. He can be reached at (734) 623-2558, by e-mail at michaelrothstein@annarbor.com or follow along on Twitter @mikerothstein.