Posted on
Wed, Mar 21, 2012 : 5:59 a.m.
Eyeing the future: How the Michigan basketball team should look in 2012-13
By Nick Baumgardner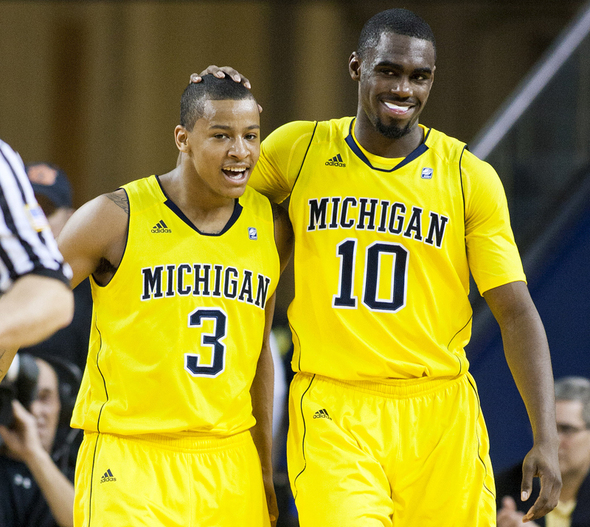 File photo
Update: The content of this story changed with the announcement Wednesday that Evan Smotrycz, Colton Christian and Carlton Brundidge have opted to leave the Michigan basketball program

It'll take some time for the pain of last week's NCAA Tournament fizzle to completely wash away from the William Davidson Player Development Center.
And maybe, in the end, it'll never completely go away.
But for the Michigan basketball program, life goes on.
And it'll have to go on without Zack Novak and Stu Douglass, the two cornerstones of John Beilein's Wolverine reclamation project over the past four seasons.
Novak and Douglass will have to be replaced, but that doesn't mean Beilein's cupboard is bare.
On the contrary. In 2012-13, the longtime coach may have the most physically gifted roster he's ever coached. And in part because of that, the expectation level at Crisler Center will rise even higher.
Here's an early look at what the Wolverines could look like next season.

Post players

There's no subtraction here, but there is one gigantic addition.
And suddenly, Michigan's front court is really, really crowded.
When 6-foot-10, 260-pound power forward Mitch McGary finds his way to campus, he'll change everything in Beilein's system.
He may not be completely polished, it might take him some time to adjust to the speed and complexities of the college game, but he's not going to shrink. Meaning, for the first time in the Beilein era (and beyond that), the Wolverines will have a legit shot-blocking presence inside and a player who should be able to rebound with anyone in the Big Ten.
McGary should push for minutes instantly, and could be used in many different combinations. He could play alongside Jordan Morgan in a two-post set, he could play next to Evan Smotrycz at the four, allowing Smotrycz to float out as a shooting five-man.
PROJECTED LINEUP
Michigan coach John Beilein isn't likely to give any serious hints at what his starting five will be until the ball gets tossed up for the first regular-season game next fall. But we can still speculate, right?
POINT GUARD
Starter: Trey Burke

Reserves: Carlton Brundidge, Nik Stauskas

Obviously, Burke will be expected to receive 30 to 35 minutes per game again next season, but surely Beilein would like to see more of the former than the latter. Brundidge will have to seriously improve his ball handling in the offseason to see time here. Stauskas, meanwhile, handled the ball plenty in prep school, and Beilein didn't initially rule out giving him a look at the point down the line.
SHOOTING GUARD

Starter: Nik Stauskas

Reserves: Matt Vogrich, Glenn Robinson III

Stauskas, like Mitch McGary, spent last season on the prep school circuit and should be ahead of the curve when it comes to college-game adjustments. He's got the length and shooting ability to compete at this spot in the Big Ten, but he'll need to prove he can defend. Vogrich will see more time next season, which should help him, and Robinson could probably play here in a pinch.
SMALL FORWARD

Starter: Tim Hardaway Jr.

Reserve: Robinson

Physically, these guys are borderline clones. And both being on the same floor, likely opposite each other in practice every day, will do nothing but help both moving forward. Hardaway is obviously the starter here, but Robinson will likely see more than his fair share of minutes here, and possibly as a hybrid four or two, depending on lineup circumstances.
POWER FORWARD

Starter: Evan Smotrycz

Reserves: Max Biefeldt, Jordan Morgan, Robinson

Smotrycz had a very strong close to the season, and even with his midseason struggles, had a better statistical year this past season. He'll only get better. Bielfeldt would be a huge bonus if he can contribute anything next season. Morgan might also see time here in a two-post set.
CENTER

Starter(s): Morgan, Mitch McGary

Reserves: Jon Horford, Blake McLimans

Both Morgan and McGary are going to play. Recruiting rankings would have you believe McGary will instantly pass Morgan on the depth chart, but reality should tell you that Morgan won't give that job up without a fight. Either way, Michigan will be markedly better here, possibly as good as it's been in a decade.
Or, he could be the anchor in a smaller, more athletic lineup, filling lanes on the fast break and serving as a rebounder in perimeter-oriented sets.
McGary, Morgan and Smotrycz seem to be in line to be Michigan's top three post rotation players. But they won't be alone.
This past season, Michigan had little to no depth up front. Next year, that'll change. Jon Horford's foot will be fully healed, and he'll have another summer to add mass and athleticism to his 6-foot-10, 250-pound frame.
Max Bielfeldt spent most of this past season healing the tendonitis in his knees, and at 6-foot-7 and 240-pounds, he could conceivably provide eight to 10 minutes of rebounding help if multiple players wind up in foul trouble.
Beilein, and big man coach Bacari Alexander, will have a lot to work with up front next season. And in the end, the trickiest part might just be the number-crunching involved with minute distribution.

Guards, wings

Never say never, one way or another, but both Tim Hardaway Jr. and Trey Burke said they'd be back at Michigan next season immediately after the team's loss to Ohio last week.
Keep in mind that Hardaway just turned 20 and Burke's only 19. Kids change their minds. It has happened before.
But, as of now, neither Burke or Hardaway are projected to be NBA Draft choices. Meaning Michigan will likely have its two best players back in the fold.
Should they both have mature, productive summers, the Wolverines could be in possession of two of the best backcourt scoring options in America.
Burke will be the unquestioned starting point guard, and Hardaway will remain at the three-spot. Who plays the off-guard, though, is a bit trickier.
This is where the on-court loss of Novak and Douglass ends up hurting Michigan, as both players had the ability to play -- and defend -- the two, while Douglass could also run the point from time to time.
Expect freshman Nik Stauskas to compete for heavy minutes at the two right away, but don't sleep on Matt Vogrich, either. Vogrich isn't overly scary defensively, but he's better than most give him credit for, and he's most effective with his shot when he's seeing heavy minutes.
From there, Michigan will likely have Carlton Brundidge continue to work at becoming a steady backup for Burke at the point, though his natural skill-set could see him steal minutes at the two as well (should he progress this summer).
That leaves four-star wing Glenn Robinson III.
Reports have Robinson approaching 6-foot-7, and he's an emphatic slasher and finisher. His outside game has also started to form into shape, leading some analysts to already peg him as a player with NBA potential.
Robinson seems to be a natural three, but could probably also see time as a two and maybe even a four, in a smaller lineup.
One way or another, Michigan will find minutes for Robinson -- he appears to be too talented to not find a way on the floor in some capacity.
Michigan still needs a backup for Burke, and the two-guard spot will be hotly contested. One way or another, the Wolverines' overall length in the backcourt is about to go up exponentially.
This should make Michigan a much more effective zone team, both in the 2-3 and 1-3-1 sets.

Intangibles

This, above all else, is the big void left by Novak and Douglass.
Who controls the locker room? Who brings the club together when things get a bit rocky? Who makes sure everyone puts the team first, rather than individual success?
Novak hinted earlier this season that Burke would be a prime candidate to serve as a sophomore captain, and that's really not far-fetched. Although it'll be an awful lot more heaped on his already full plate.
In Beilein's perfect world, Hardaway would step forward and help Burke in the leadership role, but it seems it'd be a bit more difficult for Hardaway, personality-wise, to put himself out there as much as a Novak and Douglass did.
Overall, this will have to be a collective effort. Morgan and Smotrycz will be juniors who will need to be more vocal, as will Hardaway.
The team's senior class includes Vogrich, Blake McLimans and walk-ons Eso Akunne and Josh Bartelstein. Together, that foursome might not play a ton, but they'll have to contribute as much as they can in a leadership capacity.
Nick Baumgardner covers Michigan basketball for AnnArbor.com. He can be reached at 734-623-2514, by email at nickbaumgardner@annarbor.com and followed on Twitter @nickbaumgardner.
Want to stay connected to Wolverine basketball in your Facebook newsfeed? "Like" AnnArbor.com's Michigan Basketball News & Views.