Posted on
Wed, May 4, 2011 : 4:47 p.m.
5 reasons Darius Morris is making the right decision to leave Michigan for the NBA
By Michael Rothstein
Darius Morris is leaving for the NBA, and now the Michigan basketball team has a hole to fill at point guard.
Instead of having five starters and every player back from a team that reached the Round of 32 in the NCAA tournament, Michigan will return four starters and likely have either freshman Trey Burke or senior Stu Douglass starting at point guard.
Morris' decision may hurt Michigan as a team, but he made a wise individual decision today to stay in the NBA Draft.
Here are five reasons Morris chose the NBA: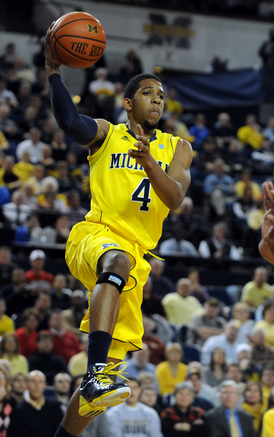 File photo
1. His stock is high
Scouts noticed Morris' improvement from his freshman season (4.4 points, 2.6 assist per game), to his sophomore year (15 points, 4.0 rebounds, 6.7 assists per game). And the NBA drafts more on potential — analyst Hubie Brown's favorite word might be "upside" — than the NFL. Right now, Morris' stock is higher than ever. Yes, the looming lockout does complicate matters, but say this is Morris' ceiling — there is no guarantee he would make a similar leap from sophomore to junior year as he did from freshman to sophomore year — his stock likely wouldn't get higher.
2. The Manny Harris example
If Manny Harris, a former Michigan guard, left after his sophomore season at Michigan, he likely would have been a first-round pick in the 2009 NBA Draft. He stayed for his junior year, injured his hamstring, played on a struggling team and ended up undrafted as scouts had another year to dissect his game. During Harris' junior year scouts saw that Harris couldn't shoot and struggled to go left — coincidentally, the same things people note about Morris' game — and it hurt him.
3. A weak draft class
With the NBA almost certainly headed toward a lockout, now is the right time for a fringe first-round prospect like Morris. Most analysts and scouts agree this is a weak draft class. Plus, the 2012 draft could be loaded with more talent than this year's class. Besides players returning to school who are first-round locks this year such as Ohio State forward Jared Sullinger, Baylor forward Perry Jones and the North Carolina trio of Harrison Barnes, John Henson and Tyler Zeller, there will be new breakthrough stars. While those are all frontcourt players, they also opened at least five more first-round slots this year. The freshman college class of 2011 is immensely talented as Draft Express has 10 current high school seniors in the first round of its 2012 mock draft. If, for some reason, high school players are once again allowed to declare, the numbers in the 2012 draft could be massive, let alone talented. There is no guarantee what contracts and rookie wage scales will look like after a new Collective Bargaining Agreement in 2012-13.
4. A minutes issue
Combining with his current stock, there was always the chance Morris could see his minutes slashed in 2011-12. Burke is going to play minutes at the point and Michigan was looking at a minutes crunch at the three guard spots between Morris, Burke, freshman Carlton Brundidge, Douglass, Matt Vogrich and Tim Hardaway Jr. It was also possible Eso Akunne, who has seemed on the cusp of playing time the past two seasons, could have forced his way into the rotation. Had Morris lost minutes — or somehow lost his starting job to Burke — his stock would have plummeted. Also, if his production had dipped, it would be another bad sign for Morris.
5. Would you turn down a million dollars?
Face it. If Morris is picked in the first round — and it is entirely possible with some good workouts — he will have a guaranteed contract and be paid close to a million dollars. Could you turn that down if you had a chance at that? Would you? Even if Morris doesn't make the NBA, he will have a good, lucrative career in Europe and make money.
Michael Rothstein covers University of Michigan basketball for AnnArbor.com. He can be reached at (734) 623-2558, by email at michaelrothstein@annarbor.com or follow along on Twitter @mikerothstein